The new coronavirus, COVD-19, has spread to more than 229,000 people across nearly 160 countries. More cases are now being reported outside China, where it was first detected, than within, according to the latest figures from Johns Hopkins University.
But there's no need to panic or fear the worst if you are infected or think you might be. The best way to address either situation is to monitor your symptoms, know the risks and minimize transmission. There are simple ways to prepare for any potential quarantine too.
While nearly 9,300 have died after contracting the virus, more than 84,500 have recovered from it to date. China, which has seen at least 70,000 recoveries, claims the outbreak is largely now contained within the country.
Symptoms of the virus can develop between two and 14 days after exposure and range from mild to severe. Some people who are infected don't have any symptoms or feel unwell.
The most common symptoms include fever, tiredness and a dry cough. Some may experience aches, pains, nasal congestion, runny nose, sore throat or diarrhea. These symptoms tend to be mild and appear gradually, the World Health Organization (WHO) explains.
What do I need to buy?
In the event that you might need to isolate yourself at home, it would be useful to buy food and a few other essential items, such as soap and disinfectants, in advance. You only need enough to last you for about two weeks, which is the typical period of quarantine for suspected patients.
Bear in mind that if you do run out of supplies during your quarantine period, you can always have someone else (who isn't in quarantine) get some items on your behalf and leave them at your doorstep.
What should I do if I am infected or might be?
The U.S. Centers for Disease Control and Prevention (CDC) advises the following:
Stay home
Do not leave your home, except to get medical care.
Do not visit public areas.
Stay in touch with your doctor. Call your doctor before you get medical care.
Stay away from others. As much as possible, you should stay in a specific "sick room" and away from other people in your home. Use a separate bathroom, if available.
Cover your mouth and nose with a tissue when you cough or sneeze
Throw used tissues in a lined trash can and immediately wash your hands with soap and water for at least 20 seconds. If soap and water are not available, clean your hands with an alcohol-based hand sanitizer that contains at least 60% alcohol.
Wear a mask if you are sick. You should wear a facemask when you are around other people and before you enter a healthcare provider's office.
Clean and disinfect surfaces
Routinely clean high-touch surfaces in your "sick room" and bathroom. Let someone else clean and disinfect surfaces in common areas, but not your bedroom and bathroom.
High-touch surfaces include phones, remote controls, counters, tabletops, doorknobs, bathroom fixtures, toilets, keyboards, tablets, and bedside tables.
Clean and disinfect areas that may have blood, stool, or body fluids on them.
Household cleaners and disinfectants: Clean the area or item with soap and water or another detergent if it is dirty. Then, use a household disinfectant.
What should I NOT do?
Avoid touching your eyes, nose, and mouth with unwashed hands.
Avoid using public transportation, ride-sharing, or taxis.
Avoid sharing personal household items
Do not share dishes, drinking glasses, cups, eating utensils, towels, or bedding with other people in your home. After using these items, wash them thoroughly with soap and water or put in the dishwasher.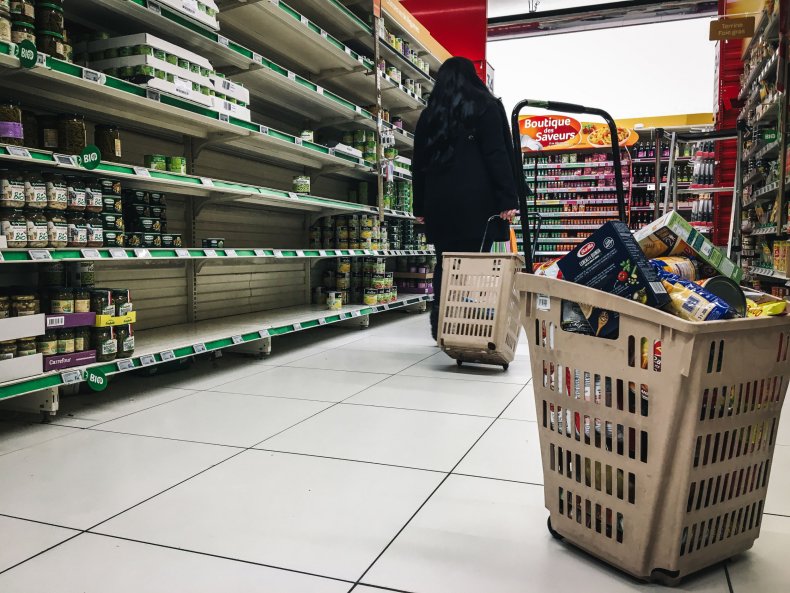 What are the risks?
"Most people (about 80%) recover from the disease without needing special treatment," WHO notes.
"People who are mildly ill with COVID-19 are able to recover at home," the CDC adds.
WHO adds: "Around 1 out of every 6 people who gets COVID-19 becomes seriously ill and develops difficulty breathing. Older people, and those with underlying medical problems like high blood pressure, heart problems or diabetes, are more likely to develop serious illness."
The CDC also: "If you develop emergency warning signs for COVID-19, get medical attention immediately." Emergency warning signs include:
Difficulty breathing or shortness of breath. Persistent pain or pressure in the chest
New confusion or inability to arouse
Bluish lips or face
The symptoms listed above are not exhaustive and patients are advised to consult their doctor for any other symptoms that are severe or concerning.
The graphic below, provided by Statista, illustrates the spread of the COVID-19 virus across the world.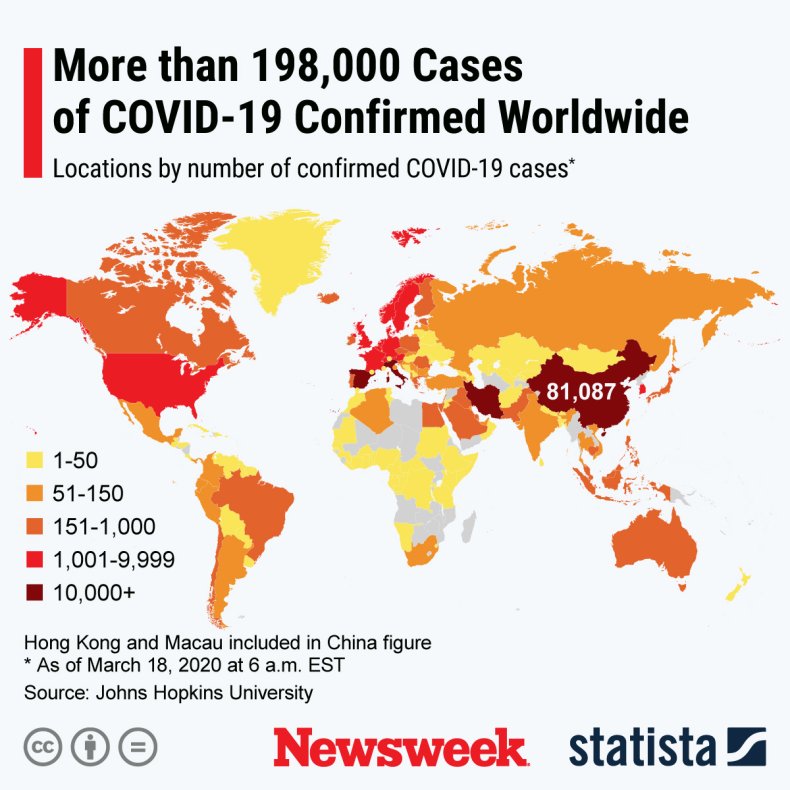 World Health Organization advice for avoiding spread of coronavirus disease (COVID-19)
Hygiene advice
Clean hands frequently with soap and water, or alcohol-based hand rub.
Wash hands after coughing or sneezing; when caring for the sick; before; during and after food preparation; before eating; after using the toilet; when hands are visibly dirty; and after handling animals or waste.
Maintain at least 1 meter (3 feet) distance from anyone who is coughing or sneezing.
Avoid touching your hands, nose and mouth. Do not spit in public.
Cover your mouth and nose with a tissue or bent elbow when coughing or sneezing. Discard the tissue immediately and clean your hands.
Medical advice
If you feel unwell (fever, cough, difficulty breathing) seek medical care early and call local health authorities in advance.
Stay up to date on COVID-19 developments issued by health authorities and follow their guidance.
Mask usage
Healthy individuals only need to wear a mask if taking care of a sick person.
Wear a mask if you are coughing or sneezing. Masks are effective when used in combination with frequent hand cleaning.
Do not touch the mask while wearing it. Clean hands if you touch the mask.
Learn how to properly put on, remove and dispose of masks. Clean hands after disposing of the mask.
Do not reuse single-use masks.
Uncommon Knowledge
Newsweek is committed to challenging conventional wisdom and finding connections in the search for common ground.
Newsweek is committed to challenging conventional wisdom and finding connections in the search for common ground.
About the writer
Soo Kim is a Newsweek SEO Reporter is based in London, UK. She reports on various trends and lifestyle stories, from health, fitness and travel to psychology, relationships and family issues. She is also a South Korea expert who regularly covers Korean culture/entertainment for Newsweek, including the latest K-dramas, films and K-pop news, and is the author of the book How to Live Korean, which is available in eight languages. Soo also covered the COVID-19 pandemic extensively from 2020 through 2021 after joining the general news desk of Newsweek in 2019 from the Daily Telegraph (a U.K. national newspaper) where she was a travel reporter/editor from 2010. She is a graduate of Binghamton University in New York and the journalism school of City University in London, where she earned a Masters in international journalism. Languages spoken: English and Korean.
Follow her on Twitter at @MissSooKim or Instagram at @miss.soo.kim
You can get in touch with Soo by emailing s.kim@newsweek.com