Coronavirus in the Age of Protest: How the Pandemic Could Change the Way We Organize
As one of the most recognizable voices in Hong Kong's pro-democracy movement, there are few people who might believe in the power of protest more than Joshua Wong.
Rising to prominence as a figurehead of the 2014 Umbrella Movement, which saw protesters use umbrellas to shield themselves from police-fired pepper spray, and going on to play a pivotal role in the 2019 Hong Kong protests, Wong has dedicated countless hours to mobilizing people across the city and around the world to take to the streets and demand change from and in their governments.
Now, however, in the wake of the coronavirus pandemic, he has little choice but to ask them to stay home.
"We are suffering under the outbreak...and how, with the government, there is still a lack of transparency," Wong told Newsweek in a phone interview on Wednesday. However, he said, "with the outbreak of the virus, it is really difficult for us to mobilize people."
With Hong Kong enforcing strict social distancing rules to help prevent the spread of COVID-19 and with protesters equally concerned about putting themselves and others in danger of contracting the virus, Wong said people have little choice but to turn away from physical demonstrations and find other ways of showing dissent.
While many have turned to social media campaigns and online petitions to make their voices heard, other less obvious platforms have also risen to the fore as means of protest, including, Wong said, the Nintendo game Animal Crossing: New Horizons.
As a platform without political censorship, the open-ended life simulation game, which lets players live on tropical island and interact with anthropomorphic animals, has become a place for protesters in Hong Kong and around the world to demonstrate without having to leave their homes.
"That's a good platform," Wong said, as it allows protesters to get creative by decorating their islands in the game to be "a protest site." Wong's own island in Animal Crossing, of which he recently tweeted out a screenshot, shows a black protest banner along with portraits of Chief Executive of Hong Kong Carrie Lam and China's President Xi Jinping.
"It fuels creativity and shows that we can still keep on our fight and ask for freedom and democracy," Wong said.
Still, the gap left by the absence of physical protests cannot be easily filled, the activist suggested; there is strength in numbers and power in seeing those numbers come together for a common cause.
In recent years, that much has become increasingly clear. Across the U.S. and around the world, we have been living in an age of mass protests that have been historically unprecedented in their "frequency, scope and size," according to a recent report from the Center for Strategic and International Studies.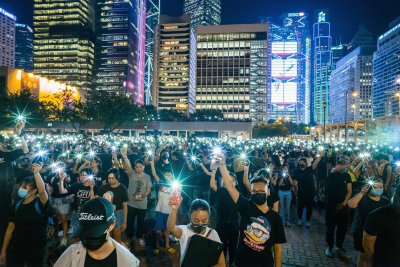 Looking at protest data from 2009 to 2019, the Washington-based think tank found that the mass demonstrations that have made headlines over the past year, from protests in the U.S. to Chile, to Hong Kong and Lebanon, have, in fact, been part of a "decade-long trend line affecting every major populated region of the world." That progression, the CSIS study said, has seen protests grow in frequency by an annual average of 11.5 percent, with the events of the Arab Spring appearing to mark not one "isolated phenomenon, but rather an especially acute manifestation of a broadly increasing global trend."
Published early last month on March 2, at a time when the international community was just beginning to grasp the global implications of the COVID-19 outbreak, the CSIS report predicted that given the "root causes" driving mass protests in recent years, the surge in demonstrations would be likely to continue and could even "increase in 2020 and beyond."
In the wake of the coronavirus outbreak, however, activists around the world have, instead, been forced to press pause.
For Iryna Verity, who has been overseeing anti-Trump "Kremlin Annex" protests outside the White House since July 16, 2018, having to suddenly suspend operations amid the coronavirus after nearly two years of protest action has been hard.
The Kremlin Annex protests began outside the White House after President Donald Trump returned from the now-infamous Helsinki summit, where, after speaking privately with Russian President Vladimir Putin, he publicly rejected U.S. intelligence findings of Russian meddling in the 2016 election. Trump later said that he had misspoken and had meant to say "I don't see any reason why it wouldn't be Russia," an explanation that protesters did not accept, accusing the president of "treason."
The Kremlin Annex protests, Verity told Newsweek, are "very much about in-person presence."
Having to turn to online mediums, Verity said, goes against "what we've been advocating for: activism, not clicktivism."
"Activism is when you come out and protest and clicktivism is a term we use when people are just on social media, outraged and just clicking, liking, but not necessarily doing as much," she said. "Clicktivism is not inspiring enough because you click while sitting on the sofa, but you're not protesting, you're not interacting. You're not breathing fresh air with other people."
"All of these activities are very much unifying and they're important for protest but we can't do this right now out of respect for health guidelines and we don't want to jeopardize other people," she said.
Like Wong, Verity said she was hopeful that protesters would be back out on the streets across the U.S. and around the world. However, neither she nor the Hong Kong activist can say when that might be or what it might look like with the future so uncertain.
"The coronavirus will change our lives as we know it and already did, because it directly affects our ability to gather together and to continue voicing our dissent with this administration, even though this administration, during the pandemic, has given us so many reasons to show dissent," she said.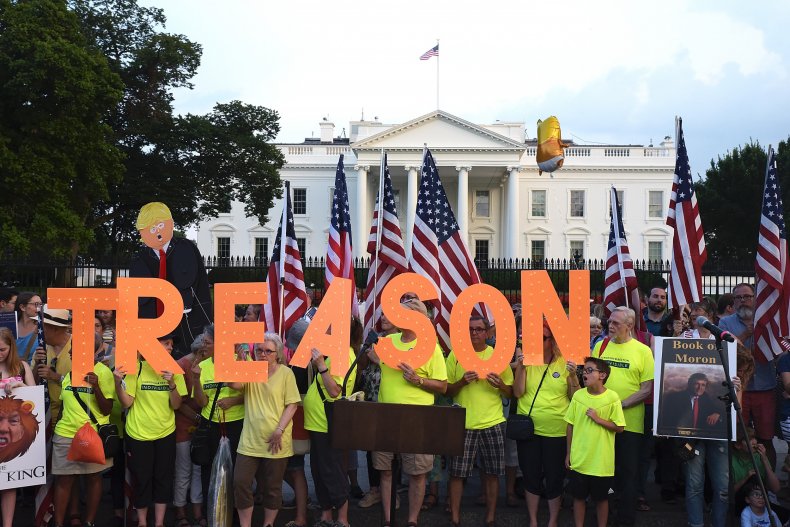 Verity believes there will eventually be a way for people to make their way back to the White House to protest, even if it means changing the way protests are carried out, with fewer people and more space between demonstrators.
"It's going to be a challenge," she said. But, even if it means a future where protesters have to stand "six feet apart," Verity said: "It's important to be there, in front of the White House. It's symbolic."
For now, and as long as the coronavirus poses a threat, however, Verity said she would not want any protester to put their health and safety at risk to rally. "We're calling for social responsibility from others," she said. "So, why would you not be socially responsible to other people during a pandemic?"
"There's a certain human magic in being together," Verity said. But, in the wake of the pandemic, "that is, kind of, you know, it's changing, evolving. I don't want to say it's disappearing."
For his part, Wong said, "I feel optimistic that we can get people on the streets again."
Already, the activist is looking forward, with his sights set on July 1, the anniversary of Chinese rule over Hong Kong. Traditionally marked by demonstrations, Wong said he felt hopeful that by then, the city might see protests rise again.
Whether or not that will be the case remains to be seen. In an interview last month Dr. Anthony Fauci, the U.S.'s leading infectious disease expert, warned that when it comes to determining how long the coronavirus might affect our lives, ultimately: "You don't make the timeline. The virus makes the timeline." All that we can do, Fauci said, is "respond" to the outbreak as best as we can. "You've got to go with what the situation on the ground is," he said.