Alabama's COVID Health Chief Wears Bulletproof Vest amid Death Threats and Anti-mask Sentiment
Alabama State Health Officer Dr. Scott Harris, the infectious disease specialist who has been helping to navigate the state's COVID-19 response by supplying Republican Alabama Gov. Kay Ivey with the latest information on the outbreak, has been forced to wear a bulletproof vest for his own safety.
Following death threats throughout the pandemic and growing anti-mask sentiment across the state, Harris has had to take the extraordinary safety measure at some public appearances, according to the Montgomery Advertiser.
Last week, Ivey extended the state's mask mandate to December 11. "Individuals will be required to wear a mask or other facial covering when in public and in close contact with other people," the governor's office stated on November 5.
The latest extension received a flood of opposition on Facebook in a post from the governor announcing the measure, with some users calling the mask mandate "ridiculous" and the governor a "disgrace."
One user, Randall Nations, wrote: "She [Ivey] just does whatever Scott Harris tells her to do. WTH [what the hell]!"
The governor told the Montgomery Advertiser: "Dr. Harris is not in this for any spotlight or recognition and wants to do the best for his home state. He wants to see Alabama succeed and recover from the pandemic.
"I understand folks are bone-dead-tired of the masks. I understand that. I'm tired of it, too. But asking for the mask mandate is just a minimal ask to keep us safe so that our businesses can stay open and people that are employed can keep working," she added.
The extended mask mandate forms part of the state's amended "Safer at Home" order, which also includes some eased restrictions.
Ivey noted on Facebook: "In order to alleviate the burdens placed on our retailers and other small businesses, we'll be rolling back those restrictions placed on the occupancy rate.
"A number of our businesses will be permitted to increase capacity by using plexiglass partitions or other dividers. This change will help restaurants, close-contact service providers like hair salons/barber shops, and athletic facilities like gyms/fitness centers.
"The KEY to this is if you #MaskUpAL and keep people separated, you can increase occupancy in your businesses," the governor warned.
Newsweek has contacted Alabama Public Health and the governor's office for comment.
As anti-mask sentiment continues, total confirmed cases in Alabama are approaching 210,700, as of Friday, according to Johns Hopkins University (JHU).
The seven-day moving average of daily new cases in the state has been climbing since early October, after declining since mid-July when it peaked at 1,918 on July 16, according to data compiled by JHU.
Earlier this week, the state recorded its highest daily death toll since the outbreak began, with 81 new deaths reported on November 11, according to JHU.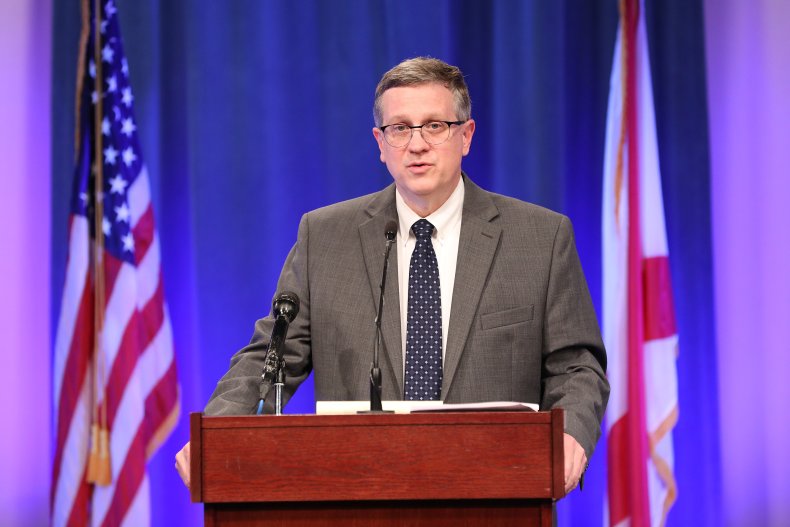 The wider picture
The novel coronavirus has infected more than 52.7 million people since it was first reported in Wuhan, China.
Globally, more than 1.2 million have died while more than 34.1 million have recovered as of Friday, according to Johns Hopkins.
The graphic below, provided by Statista, the spread of COVID-19 cases across the U.S.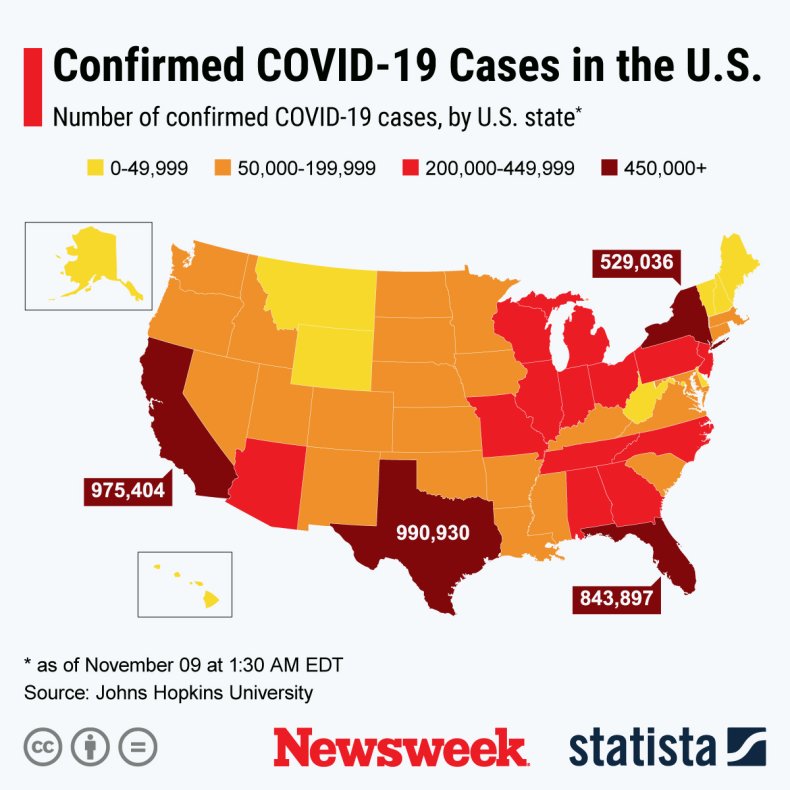 The graphic below, also produced by Statista, the number of U.S. COVID-19 hospitalizations reported from March to November.