Coronavirus Antibodies Found In One-Quarter of All New York City Residents, Cuomo Says
New York Governor Andrew Cuomo said Monday that nearly one-quarter of New York City residents tested positive for coronavirus antibodies, suggesting that Covid-19 spread farther than previously believed.
Cuomo initially announced on Thursday that antibody tests suggested around 21 percent of New York City residents and 13.9 percent of state residents had been infected with the virus. Both figures were updated on Monday, with the statewide number increasing to 14.9 percent and the city's total rising to 24.7 percent.
"When we tested five days ago it was 13.9, 13.9 to 14.9, one point, statistically it's in the margin of error. I'd like to see the margin go the other way," Cuomo said during a press briefing. "New York City is up a couple of points."
A sampling of 7,500 residents throughout the state were tested for the antibodies. The governor followed the update by announcing that he hopes to allow some businesses to reopen in certain areas of the state when his "PAUSE" order prohibiting nonessential businesses expires on May 15.
"We want to unpause," said Cuomo. "May 15 is when the pause regulations expire statewide. I will extend them in many parts of the state. But in some parts of the state some regions you could make the case that we should unpause on May 15."
"But you have to be smart about it," he added. "We all have to be smart about it. As we said there is no light switch where you flip a switch and everybody goes back to doing what they are doing."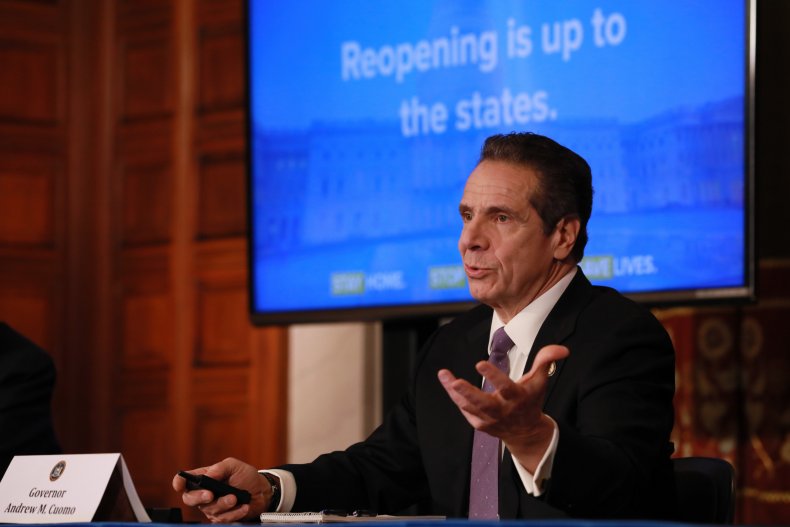 Cuomo said that multiple factors will play a role in which areas of the state reopen first. The number of cases and whether or not new cases are consistently declining in a given area will be considered, along with the regional capacity of health care infrastructure. Testing and contact tracing ability will also be considered.
The governor said that antibody testing will continue in the state, with plans to test health care workers, public transportation workers and police soon. However, it is unclear how much of a role ongoing antibody testing will play in making decisions about reopening areas of the state.
Newsweek reached out to Cuomo's office for comment but did not receive a response in time for publication.
Antibody testing has been conducted in several areas of the country and early results appear to indicate that Covid-19 infections are likely to be significantly more widespread than confirmed cases. Results released last week from California's Los Angeles County suggested that infections could be up to 55 times higher than the official number.
Some experts have warned that the antibody tests have not been proven to be accurate. They have also cautioned that the tests should not be heavily relied upon as a metric for ending preventative measures since the degree to which the presence of antibodies may confer immunity against the virus is currently unknown.