A test for the new coronavirus can determine if a person has ever been infected with COVID-19, thereby giving officials a clearer picture of the full scope of the outbreak.
Unlike the nasal swab that determines if a person is currently infected, the antibody test, which requires a blood sample, can determine if a person was ever infected even if they didn't know it. While both tests are beneficial, being able to determine what portion of the population has had the virus, including those who were asymptomatic or had mild cases and weren't tested, helps show the extent of the outbreak and who is possibly immune.
"It also means we can have a better option than to say save the economy or save health," Anup Malani, a professor at the Pritzker School of Medicine at the University of Chicago, told Newsweek.
Malani considers randomly testing the population to be the "most important, helpful" action we can take. It can guide policies and determine the actual mortality rate, which is the number of deaths divided by the number of people who have coronavirus.
"If we don't know the number of asymptomatic cases we'll get the denominator wrong," Malani said.
One question hovering over the outbreak is how much community spread there was before states started implementing stay-at-home measures. In a "good world," Malani said there was a lot of community spread in February that involved a lot of asymptomatic people, meaning there's a large population of recovered people. In that instance, lockdowns may be able to be lifted earlier because people can potentially go back to work and address the shock to America's supply chain.
However, if there hasn't been widespread community transmission, that means there's still a large portion of the population that's vulnerable, she said.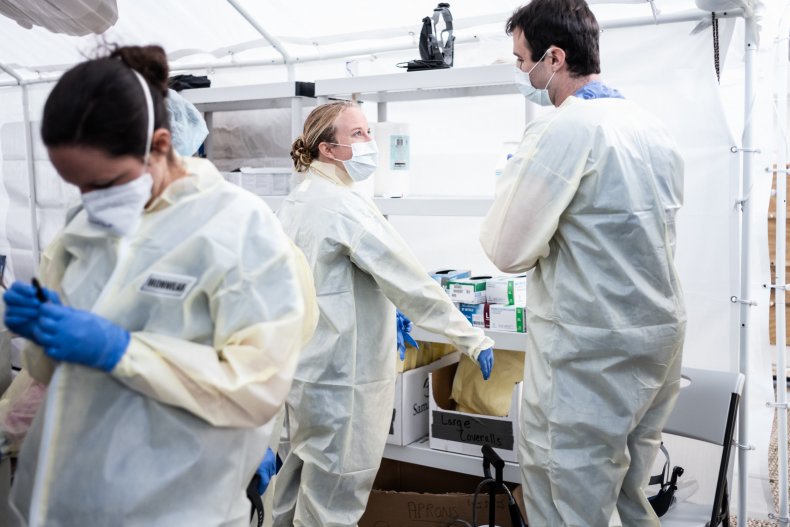 It's still unclear the level of immunity a person has after they've recovered from the virus. On Wednesday, Dr. Anthony Fauci, director of the National Institute for Allergy and Infectious Diseases, told the Journal of the American Medical Association, that it's reasonable to assume people will have antibodies in their system until September or October.
Therefore, if there's a second wave of COVID-19 infections in the fall, as officials have predicted, officials have to worry less about the recovered population driving an outbreak than those who have never been exposed. Regardless of how much immunity a person has, Fauci said the test will play a "major role" in developing a framework for "getting back to normal," because recovered people could go back to work, especially in critical infrastructure jobs.
The Centers for Disease Control and Prevention (CDC) began conducting antibody tests on Saturday, according to Stat News. Joe Bresee, deputy incident manager for the CDC's pandemic response, told Stat that they've started obtaining blood samples from people in COVID-19 hot spots. Then, they examine the blood to look for antibodies to the virus.
The CDC is going to expand testing nationwide in a second phase, according to Bresee. The FDA approved a test created by Cellex on April 1 after the company requested an Emergency Use Authorization. Only authorized laboratories are permitted to use the test, according to an FDA letter, which means only labs certified under the Clinical Laboratory Improvement Amendments of 1988.
In a Wednesday letter to Health and Human Services Secretary Alex Azar, Senators Lamar Alexander and Roy Blunt called the test "vital" to slow the spread of the virus and America's economic and educational well-being. Therefore, in accordance with the Families First Coronavirus Response Act and Coronavirus Aid, Relieve and Economic Securities Act, the senators made "clear" that the antibody test had to be covered at no cost to patients.
It's also possible that having a larger recovered population could benefit those who are seriously ill because of the virus. One treatment that's being tried is the transferring of plasma from recovered COVID-19 patients to current patients in an attempt to give them some immunity. If there are more people who are recovered, then there are more people who can donate.
It's too early to tell if it's a viable treatment, but South Korea claims to have had success with two patients.
"The idea of convalescent plasma clearly [has] a lot of enthusiasm," Fauci said. "That's at least a good approach that's worth going and trials are underway."