Hundreds of parents in Arizona have rallied for the reopening of schools, despite the state having the highest number of child COVID-19 cases per capita in the U.S. Total novel coronavirus numbers in Arizona are approaching 188,000.
Arizona has 1,206.4 COVID-19 cases per 100,000 children, the highest figure among the 49 states included in a study by the American Academy of Pediatrics (AAP) and the Children's Hospital Association (CHA).
The state reported 22,180 child infections, around 11.8 percent of Arizona's current total case count. Some 1.2 percent of the state's total child population of 1,838,598 gad tested positive as of August 6, the study reported.
Arizona also had the second-highest number of child COVID-19 deaths among the 49 states in the study. Children in Arizona formed 0.3 percent (11 deaths) of the total COVID-19 fatalities reported for Arizona as of August 6.
The child age range varied by state and most states provided case data for those up to 19 years of age, such as in Arizona. However, the data for some states represented a wider range, such as Alabama, which showed cases for those up to 24 years of age, while Florida only showed cases for those up to 14.
Speaking to Newsweek, Dr. Mary Ellen Rimsza, from the Arizona Chapter of the AAP, said: "The recent report from the American Academy of Pediatrics and Children's Hospitals that revealed the high prevalence of COVID-19 in Arizona children is not surprising, because Arizona has a high prevalence of COVID-19, a high childhood poverty rate—which is associated with crowded living conditions— and a diverse population."
"The Native American communities have been especially hard hit and in these communities, as well as other rural communities, access to safe running water is also limited. All of these factors can increase the risk of spread of COVID-19 to children," she added.
The Arizona Chapter of the AAP also noted in a statement: "Arizona's decisions regarding school openings should be guided by science, take into consideration community spread of COVID-19, and include financial support for schools."
"Flexible strategies which may require intermittent closures, phased reopening, and isolation protocols will need to be developed by each school district," the statement said.
Last month state officials in Arizona released a set of benchmarks to help school districts decide how and when to reopen for in-person learning. Under an executive order issued by Arizona Gov. Doug Ducey, it's recommended that schools meet these benchmarks before they are reopened.
But parents claimed these metrics were unrealistic, with no schools reported to meet the criteria to safely reopen.
Becca Clarkson, a mother of four who is a co-organizer of the AZ Open Our Schools rally, told the KJZZ radio station in Phoenix: "We don't think the guidelines are realistic. The benchmarks are not attainable and we want them [local school boards] to go against the benchmarks and open up."
Brittny Smith, who has four children in the Mesa Public Schools District, told ABC15 Arizona: "Eighteen weeks this year, school would've been canceled if we had to meet the same statistics, the same metrics for the flu as we have for coronavirus."
"I would say nobody cares about their kids more than parents. Nobody wants to put anybody at risk here, but we also have to think about the whole health of the child," she added.
Raising concerns over emotional health issues and families in need of support services, parents argued for the reopening of schools citing guidelines from the Arizona Department of Health Services, which reportedly states "little evidence of efficient transmission in school settings" and "special attention should be given to prevent staff-to-staff transmission."
"It's impossible and what we've been provided by our school district is completely inadequate," Rachelle Liddle, who recently transferred two of her four children from public school to a micro-schooling program, told ABC15 Arizona.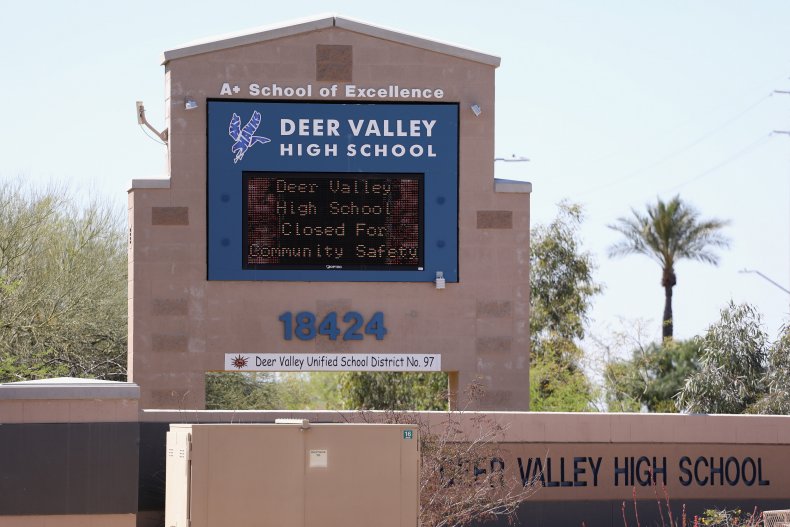 "It's not just because I want somewhere for my kids to go so I can get other errands done," she said. "That is absolutely not anything to do with that."
The majority of the crowd at Monday's rally was reported not to be wearing masks. More rallies are expected to take place Tuesday in the Gilbert, Mesa and Queen Creek school districts.
Speaking to Newsweek, a spokesperson for the governor's office said: "These decisions [about school reopenings] should be informed by data and the recommendations of public health experts, and that's the approach Arizona is taking.
"Last week, the Department of Health Services released school benchmarks rooted in data and the input of education leaders from across the state. Superintendents have asked for the tools and flexibility to be able to make data-informed decisions to keep our kids and educators safe — and Arizona's plan provides it," he added.
Newsweek has contacted the CHA and the Arizona Department of Health Services for comment.
New infections in Arizona have been mostly declining in recent weeks. The seven-day rolling average of daily new cases sharply increased from around May 30 to July 7, before mostly decreasing through August.
The graphic below, provided by Statista, illustrates the spread of COVID-19 cases in the U.S.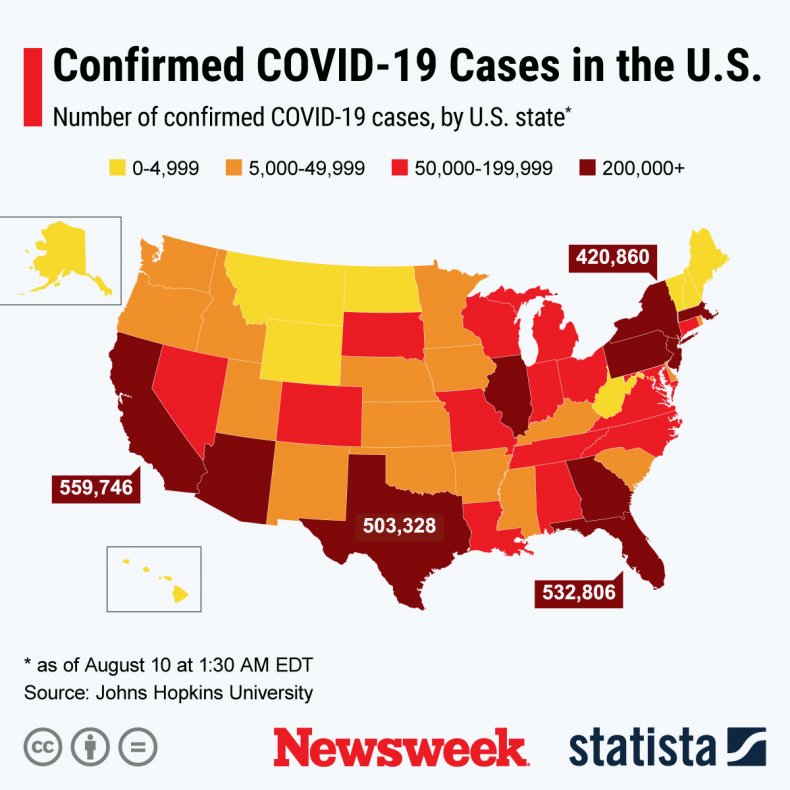 Over 20 million people globally have been infected since the virus was first reported in Wuhan, China, including more than five million in the U.S. More than 12.1 million globally have reportedly recovered from infection, while over 736,200 have died, as of Tuesday, according to Johns Hopkins University.
The graphics below, provided by Statista, illustrate countries with the most COVID-19 cases and a comparison of average new cases in the U.S. and the European Union.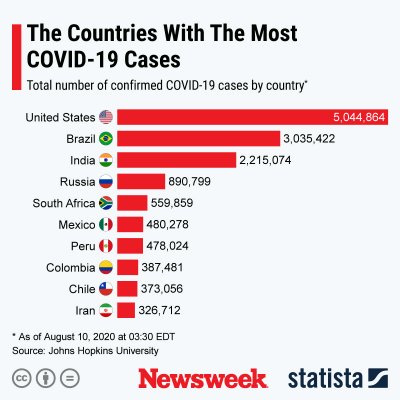 This article has been updated with comment from the governor's office and the Arizona Chapter of the AAP.

Uncommon Knowledge
Newsweek is committed to challenging conventional wisdom and finding connections in the search for common ground.
Newsweek is committed to challenging conventional wisdom and finding connections in the search for common ground.
About the writer
Soo Kim is a Newsweek SEO Reporter is based in London, UK. She reports on various trends and lifestyle stories, from health, fitness and travel to psychology, relationships and family issues. She is also a South Korea expert who regularly covers Korean culture/entertainment for Newsweek, including the latest K-dramas, films and K-pop news, and is the author of the book How to Live Korean, which is available in eight languages. Soo also covered the COVID-19 pandemic extensively from 2020 through 2021 after joining the general news desk of Newsweek in 2019 from the Daily Telegraph (a U.K. national newspaper) where she was a travel reporter/editor from 2010. She is a graduate of Binghamton University in New York and the journalism school of City University in London, where she earned a Masters in international journalism. Languages spoken: English and Korean.
Follow her on Twitter at @MissSooKim or Instagram at @miss.soo.kim
You can get in touch with Soo by emailing s.kim@newsweek.com