Veteran Who Voted for Trump in 2016 Switches to Biden After Wife Dies of Coronavirus
An Arizona resident who recently lost his wife to COVID-19 has said he is switching his support to Joe Biden in the upcoming presidential election.
Dave Dahlstrom, a retired Air Force veteran living in Goodyear, a suburb of Phoenix, has made the decision after the death of his wife of over 30 years back in July after the contracted the coronavirus, Phoenix-based ABC15 reported.
The veteran's 72-year-old wife Cindy was reported to have worked for the federal government for most of her career, mostly with the Department of Defense, before she retired.
Dahlstrom, who has reportedly been a life-long conservative and voted for President Donald Trump in the 2016 election, said he is "switching my vote to Biden in November," ABC15 reported.
He said he believed government leaders downplaying the threat of the virus resulted in more deaths in the U.S.
"Our leadership really failed the American people, and they failed my family, and they failed our friends. I'm really bothered by all of that," he told ABC15.
Back in June, Cindy traveled on a flight from Phoenix to Denver, Colorado. She was meeting their daughter and grandchildren who were due to move west from North Carolina.
Dahlstrom told ABC15: "It was really important for her to do that. But she [my wife] understood the risks. She was an exceptionally cautious woman.
"She probably touched her eye somewhere along the line and contracted the disease. The next day she started complaining about altitude sickness," Dahlstrom noted.
His wife was placed on a ventilator at the Abrazo West Campus hospital in Arizona just four days after the flight.
"She went through the full protocol to even include the convalescent plasma, and she died on July 6."
Just 15 days after his wife was infected, "they [health workers] pulled the ventilator. Two minutes later she [my wife] passed away," Dahlstrom recalled. "It was just a dynamic I would never wish on anybody. It was just terrible."
Her only underlying condition was reported to have been a previous battle with valley fever. "So she had a left lung that was scarred," Dahlstrom noted.
Following retirement, every week Cindy reportedly spent hours working at a kitchen that served the homeless on the west side of Phoenix. "She looked forward to it every single week," Dahlstrom said.
Newsweek has contacted the White House for comment.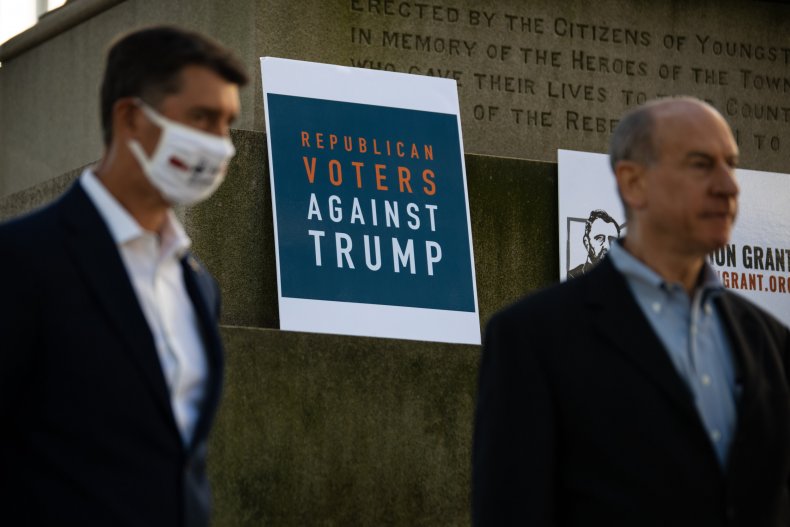 Confirmed COVID-19 cases in Arizona have surpassed 217,500, with 5,624 deaths, as of Tuesday, according to the latest report from Johns Hopkins University (JHU).
The three-day moving average of daily new cases in the state were reported to be on a downward trend in the recent two-week period from September 13 to 26. The average daily case count has been declining since July 1, when it peaked at 4,300, according to the latest report Monday by JHU.
The seven-day moving average of daily new deaths in Arizona has been increasing since late March. The average peaked in late July before declining through September, according to data compiled by Worldometer.
The wider picture
The novel coronavirus has infected over 33.3 million people across the globe, including 7.1 million in the U.S. Over a million people have died globally, while more than 23.1 million people have reportedly recovered from infection, as of Tuesday, according to the latest figures from JHU.
The graphic below, provided by Statista, illustrates U.S. states with the most COVID-19 cases.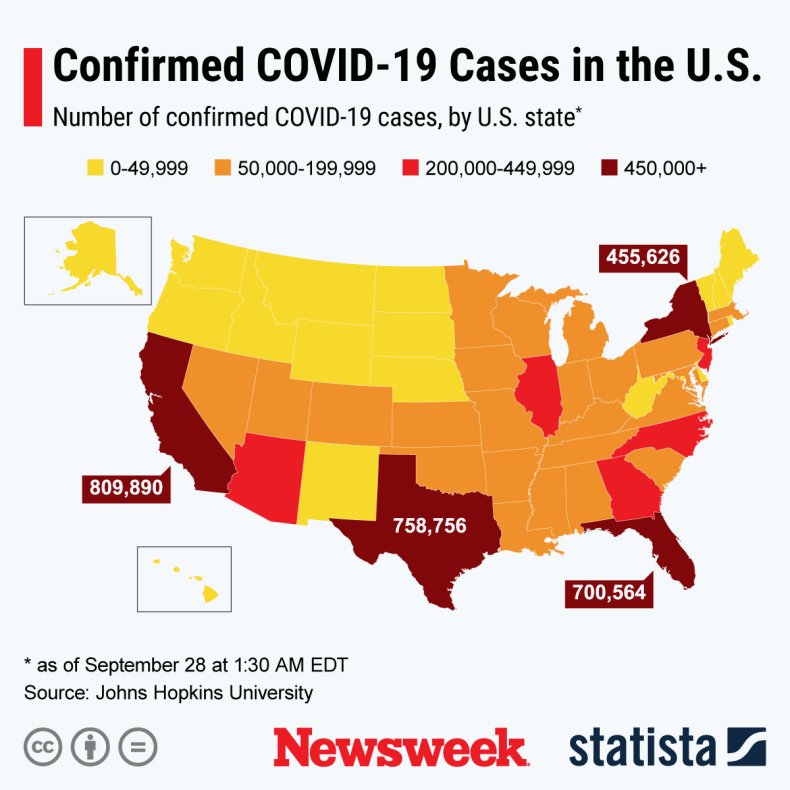 The below graphics, also provided by Statista, illustrate the spread of COVID-19 cases in countries across the globe.