Maskless Woman Jailed After Hitting Dollar General Store Worker When Refused Service
A woman not wearing a mask who entered a store in Arkansas, where face coverings are required in public under a state executive order, was arrested after hitting a store employee and attempting to steal merchandise when she was refused service.
Police responded to the incident, which took place in a Dollar General store at 3124 W. Roosevelt Road in Little Rock, around 4:51 p.m. local time Monday, Little Rock's KATV reported.
Patricia Lewis, 61, was asked by an employee to wear a mask upon arriving at the store but refused to comply. She was offered a mask but refused again to wear the face covering, the employee told the Little Rock Police Department.
Lewis reportedly grabbed a bag of chips and brought it to the check-out counter. But the employee refused to serve her, asking that she either leave the shop or wear a mask, after which Lewis reportedly attempted to steal the bag of chips.
The store manager intervened at this point and grabbed the bag of chips when Lewis reportedly turned around and "swung on her," hitting the employee's shoulder, according to the police report. Lewis reportedly then opened the bag of chips and began throwing them all over the store.
The employee's account of the incident was confirmed by camera footage reviewed by the police. Lewis was charged with robbery and is being held in Pulaski County jail.
Arkansas Coronavirus Update
Face coverings are required in all indoor and outdoor spaces in Arkansas where individuals are exposed to people outside their household and a social distance of six feet or more cannot be maintained, according to an executive order issued by Arkansas Gov. Asa Hutchinson, effective from July 20.
Confirmed COVID-19 cases in Arkansas have climbed past 94,100, with 1,611 reported deaths, as of Wednesday, according to the latest report by Johns Hopkins University (JHU).
Average daily new cases were reported to be on a downward trend in the latest two-week period from September 29 to October 12, according to data compiled by JHU.
However, the average count has been increasing throughout the outbreak since March, apart from a sharp but brief dip from early to mid-August, according to JHU.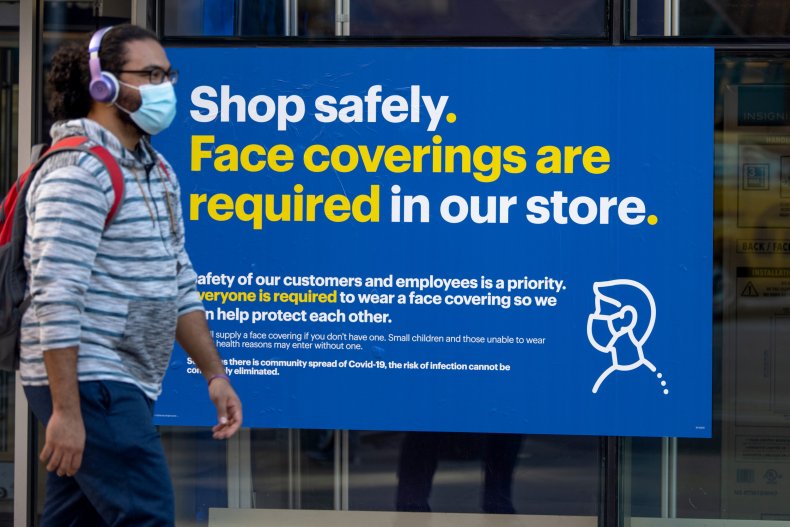 The wider picture
The novel coronavirus has infected more than 38.1 million people across the globe since it was first reported in Wuhan, China, including over 7.8 million in the U.S. Globally, more than a million have died following infection, while more than 26.4 million have reportedly recovered as of Wednesday, according to JHU.
The graphic below, produced by Statista, illustrates a survey of U.S. adults concerned about catching COVID-19.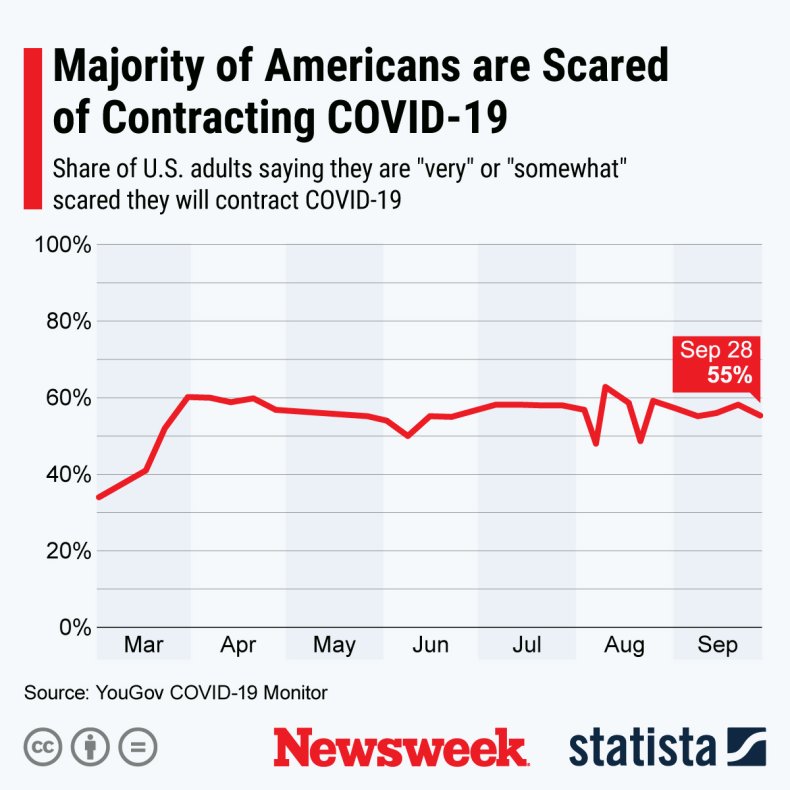 The graphic below, also provided by Statista, illustrates the spread of COVID-19 across U.S. states.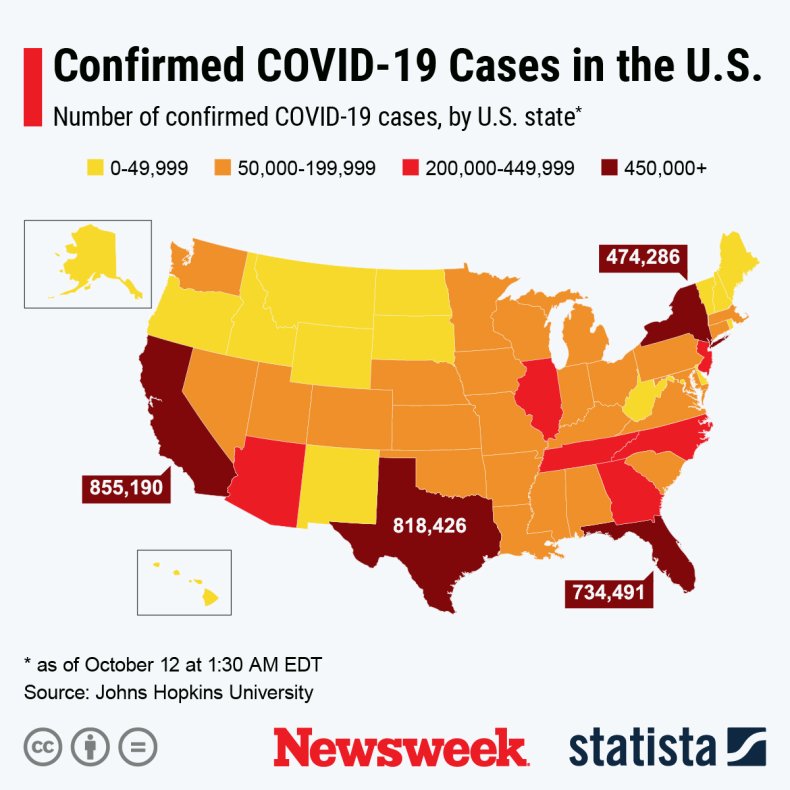 Mask Incidents
Earlier this month, a maskless customer at a Wawa store in New Jersey, where face coverings are also required in public under a state executive order, was arrested after slapping an employee in the face when she was told to leave the shop for not wearing a mask.
Back in September, a woman wearing a "Shed the Mask" T-shirt filmed herself crying in a grocery store in Texas after she was refused service for not wearing a mask.
Also in September, a 52-year-old man was arrested after allegedly assaulting a Walmart employee over a dispute involving face masks in Manitoba, Canada.
The man was reported to have repeatedly ignored requests by staff to wear a mask. He was followed in the store by a worker who asked the man again to wear his mask. The man then turned around and pushed the employee and threatened him, according to police.