Every Sports Star Who Has Donated Money to Combat Coronavirus Around the World
The coronavirus pandemic may have ground the world of sports to a halt, but it has also brought out the more generous side of a host of high-profile athletes who have donated to charity helping people in need during the outbreak.
On Wednesday, Roger Federer became the latest addition to an illustrious list of donors, after announcing him and his wife Mirka donated $1 million to support the "most vulnerable families in Switzerland" and urged others to follow his example.
"These are challenging times for everyone and nobody should be left behind," the 20-time Grand Slam winner wrote on Instagram.
"Our contribution is just a start. We hope that others might join in supporting more families in need. Together we can overcome this crisis! Stay healthy!"
Federer is not the only tennis star to dig into his own pocket. Last week, reigning Wimbledon champion Simona Halep announced on Facebook she would make a donation to fund the purchase of medical equipment in his native Romania.
In the U.S., a host of NBA players have either donated to their local communities or pledged to support arena workers, who face layoffs or furloughs while the NBA suspends its season indefinitely.
Last week, Golden State Warriors star Stephen Curry and his wife, Ayesha, committed to donate one million meals to the Alameda County Community Food Bank for children in the Oakland Unified School District.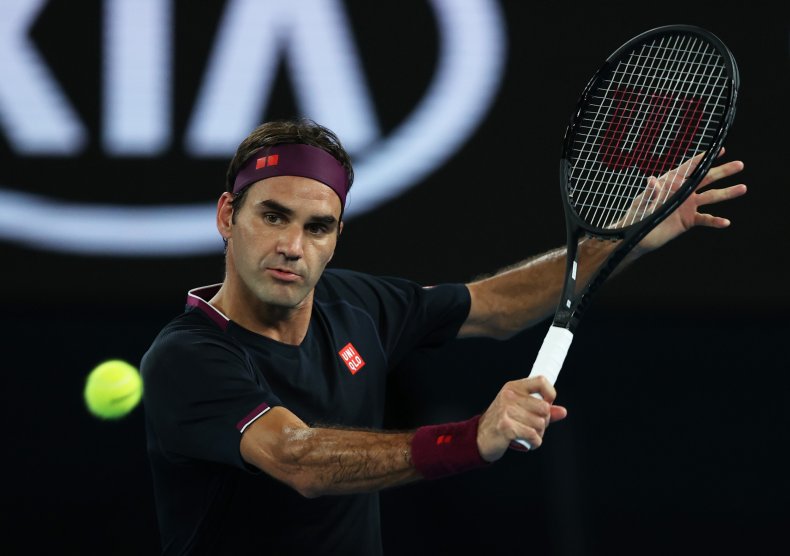 Reigning NBA MVP Giannis Antetokounmpo, 2019 first overall draft pick Zion Williamson and and Cleveland Cavaliers forward Kevin Love each donated $100,000 to workers at their respective home court arenas.
Chicago Bulls guard Zach LaVine pledged to donate 12,500 meals to people in need in Seattle via Feeding America, a network of food banks which helps more than 40 million Americans each year, including 12 million children.
Players aren't the only ones helping either, with a number of franchises joining the effort.
Last week, the Portland Trail Blazers announced they had set up a fund to cover $1.4 million worth of wages of 1,000 arena workers.
The Dallas Mavericks, Sacramento Kings, Philadelphia 76ers, and Washington Wizards have also all pledged to help arena workers until the season resumes and the league was working in partnership with them.
In the NFL, Seattle Seahawks quarterback Russell Wilson and his wife Ciara pledged to donate one million meals to a local food bank, while Kansas City Chiefs quarterback Patrick Mahomes announced he will donate 15,000 meals to Harvesters Community Food Network.
The reigning Super Bowl MVP also pledged to donate $100,000 through his foundation to a host of organizations in Kansas City, Missouri, that have been impacted by the outbreak. Houston Texans defensive end J.J. Watt, meanwhile, has donated $350,000 to the Houston Food Bank.
Major League Baseball and the MLB Players Association have made a $1 million joint donation to Feeding America and Meals on Wheels America, while the Arizona Diamondbacks pledged to donate $550,000 to the local community earlier this week.
Houston Astros third baseman Alex Bregman donated 1,000 quarantine food kits to the Houston Food Bank, while his teammates George Springer and Lance McCullers pledged $100,000 to help compensate employees at Minuted Maid Park and 10,000 meals to the Houston Food Bank respectively.
Atlanta Braves first baseman Freddie Freeman has donated $50,000 to the Atlanta Food Bank and $50,000 to the Giving Kitchen, which provides food to emergency service, while Chicago Cubs outfielder Jason Heyward has donated $200,000 to coronavirus relief in Chicago, split between two organizations.
On the other side of the Atlantic, Manchester City manager Pep Guardiola has donated $1.2 million to fight the outbreak in Spain, while the club and Manchester United have pledged $117,000 to food banks in Greater Manchester.
Barcelona star Lionel Messi also donated $1.2 million to hospitals in Barcelona and his native Argentina.
Cristiano Ronaldo and his agent, meanwhile, have pledged $1.1 million to intensive care units in hospitals in Lisbon and Porto.
Meanwhile, UFC star Conor McGregor donated a similar amount to purchase personal protective equipment to be deployed to the hospitals in the Leinster region of his native Ireland.
As of Wednesday morning, more than 55,000 cases have been reported in the U.S., with 802 deaths and 354 people recovered, according to Johns Hopkins University, which has been tracking the outbreak using combined data sources.
As this map provided by Statista shows, over 19,600 people have died since the outbreak of coronavirus began in Wuhan, a city located in China's central Hubei province, late last year.
There are almost 439,000 cases globally, with almost 112,000 recovered.