Brewery Giving Away Free Beer it Cannot Sell Due to Coronavirus Lockdown
A brewery is giving away free beer which it cannot sell due to the coronavirus lockdown.
The Alnwick Brewery Company in Northumberland, northeast England, says it had brewed up for Easter and didn't know what to do with its stock of beer after the business had to shut down due to the lockdown.
Rather than let it go to waste, it is asking local customers to take its cask beer home in their own containers from its shop in Alnwick town center.
Each cask holds around 70 pints (40 liters).
All the brewery is asking for in return is that people make a donation which will go the National Health Service (NHS).
It has already donated cakes and toiletries to the dementia department at Newcastle General Hospital as well as to care homes in the Alnwick area.
There's been no shortage of customers taking up the brewery on its offer, with one person arriving with two 20-liter containers, others bringing empty coke bottles with them and another joking that he would "arrive with a bathtub".
The brewery says it has already managed to raise £450 during giveaways on two previous Fridays and its shop will be open later today for another collection from its cellar.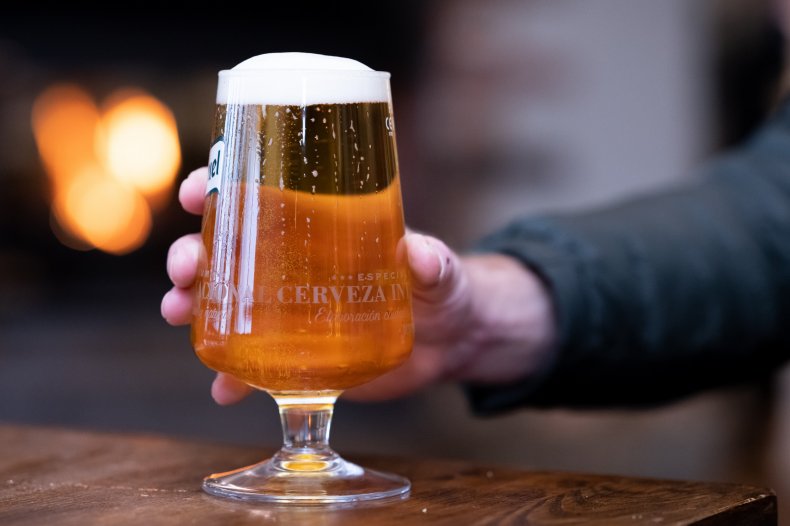 It has also had to furlough staff but has continued working.
"We'd brewed up in anticipation of Easter. Suddenly the business was shut down and we thought "what can we do with this?," co-owner Ian Robinson told the BBC.
"It's all very well giving it away but why not try to raise some money through donations?"
Ian says some people have been arriving on bikes while farmers have also been popping in.
However, the company is keen to stress that it is following government guidelines on social distancing.
The brewery may have to wait a while before it can reopen, with pubs likely to be one of the last areas to have lockdown measures lifted.
When Michael Gove was asked when pubs and restaurants would be back in business, he told BBC One's The Andrew Marr Show: "The other inference that I draw from your question, which is that areas of hospitality will be among the last to exit the lockdown - yes, that is true, they will be among the last."