Elderly Woman Who Was Given 0.0001 Percent Survival Beats COVID-19 After 160 Days
A coronavirus patient in her 70s—Lisette Braeken—who spent 160 days fighting the infection at a hospital in Belgium, including nine weeks in a coma, has been discharged from the hospital after doctors gave the patient a "0.0001 percent chance of survival," Belgium's Het Laatste Nieuws (HLN) reported.
A doctor reportedly told Braeken's son Geert: "What happened to your mother here gives me goosebumps. It's a miracle."
The patient, from the Dilsen-Stokkem municipality in the Belgian province of Limburg, was given a minimal chance of survival at the start of June.
"The doctors were finished, my mother had every opportunity. They would just let her body continue, if necessary, let it fight. But new treatment programs were no longer started," Geert said.
Braeken started out with mild symptoms on a weekend at the end of March before being in a coma for nine weeks, with her family unable to visit her at the hospital, HLN reported.
"It didn't get any better after the weekend [in March]. My father had to hand over his wife to the hospital via the triage post and return himself. He could only hope that he could just pick her up again a few days later. It has happened very quickly," Geert noted.
"One day, the doctors said they gave her another 0.0001 percent chance of survival. In fact, hopeless, even if the doctors and nurses have always gone for it. But 0.0001...that's something, huh. As a son, as a husband, as a daughter you keep thinking that. While it is actually nothing at all.
"Three days after that news, my mother herself awoke from her coma. June 6. Inexplicable. A novena candle has burned here from the beginning... it has never been extinguished, we have always believed in it," he added.
Braeken was reported to be walking using a walker since she left the hospital. "She missed everything, those nine weeks are one black hole. We now tell her little by little what has happened in the past weeks and months," Geert noted.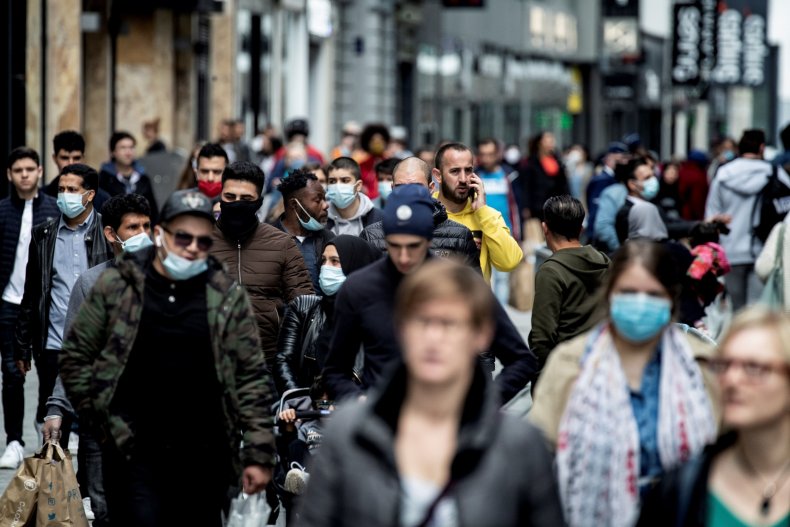 Confirmed cases in Belgium have surpassed 86,500, according to the latest report Friday by Johns Hopkins University.
The seven-day moving average of daily new cases in Belgium mostly increased from mid-July to mid-August, before slightly declining through the rest of August and early September, according to data compiled by Worldometer.
Weekly new cases in the country decreased for three consecutive weeks, starting from the week commencing August 10, according to the latest report Friday from the World Health Organization.
The novel coronavirus has infected more than 26.3 million people globally since it was first reported in Wuhan, China, including over 6.1 million in the U.S. More than 869,200 have died following infection, while over 17.5 million have reportedly recovered, as of Friday, according to JHU.
The graphic below, provided by Statista, illustrates COVID-19 cases by patient outcome across the globe.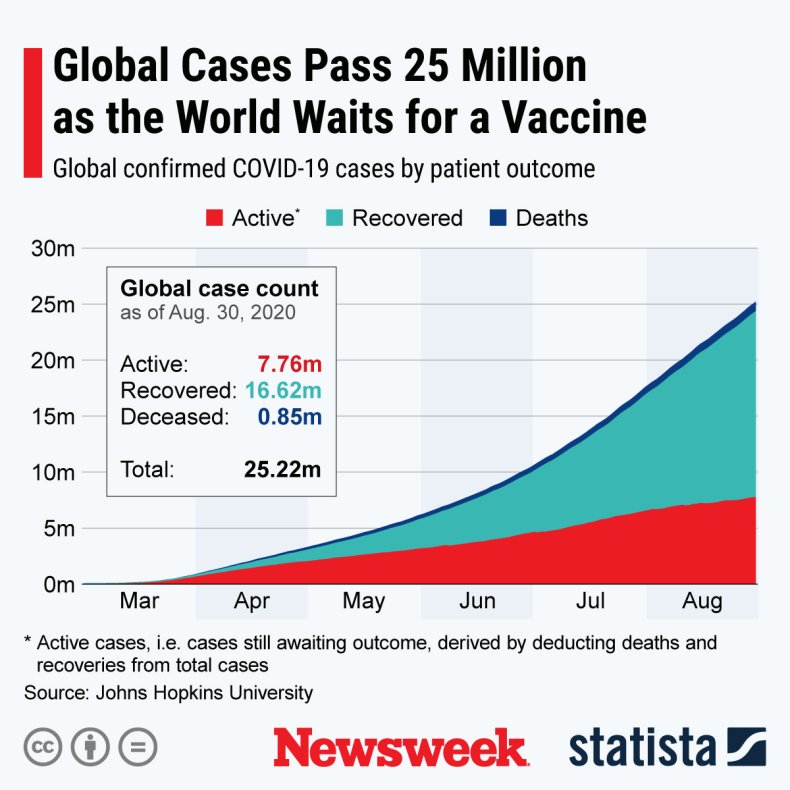 The graphic below, provided by Statista, illustrates countries with the most COVID-19 cases.