California COVID Cases Soar As Hospitals Projected to Hit Full Capacity by New Year's Eve
California's current COVID-19 hospitalizations continue to rise at record levels, with the state's hospitals projected to run out of beds by New Year's Eve. Intensive care units across southern California have hit full capacity, according to the California Department of Public Health (CDPH).
The number of beds projected to be needed on December 31 exceeds the number of beds available across the state. On New Year's Eve, around 27,195 beds are forecast to be needed across California, while only 26,654 are available, according to the latest projection by the Institute for Health Metrics and Evaluation (IHME) at the University of Washington.
The CDPH confirmed Thursday that ICU capacity across southern California has dipped to zero percent, while the San Joaquin Valley region is at 0.7 percent.
Many hospitals across the southern California and Central Valley regions, which collectively house most of the state's over 39.5 million residents, were reported to be tapping into their "surge" capacity, with their existing supply of ICU beds exhausted, The Associated Press reported Thursday.
The director of the Los Angeles County Department of Public Health, Barbara Ferrer, warned Thursday: "We're experiencing an explosive and very deadly surge."
In a statement Wednesday, the county health department noted: "Every hour, on average, two of our neighbors, family members and friends are dying from COVID-19.
"The devastation we are experiencing now is in part because many people ignored warnings and made the decision to travel or visit with people from outside of their home over the Thanksgiving holidays," the county health department added in a statement Thursday.
A stay-at-home order went into effect in the Bay Area on Thursday at 11:59 p.m. local time. Four of the five regions being monitored by the state health department are now under a regional stay-at-home order due to their ICU capacities falling below the 15 percent threshold.
Northern California is currently the only region with an ICU capacity above the threshold, according to the CDPH.
Current COVID-19 hospitalizations have soared to 16,426 on Thursday, the highest level since the outbreak began in the state back in late March, according to data compiled by The Atlantic's The COVID Tracking Project.
The figure has been at a record high since November 30 when current COVID-19 hospitalizations hit 8,578, surpassing the previous record of 8,439 set on July 29. Nearly 3,400 of the currently hospitalized COVID-19 patients were reported to be in ICU, according to The COVID Tracking Project.
Total confirmed cases across California are approaching 1.8 million, with 22,177 deaths, as of Friday, according to Johns Hopkins University (JHU).
The state's seven-day average of cases hit another record high on Thursday at 38,747, as did its average death count, which reached 216 on Thursday. Both figures have been rising sharply from around mid-November, according to data compiled by Worldometer.
According to the latest projection by the IHME, the daily death toll is expected to reach around 353 by New Year's Day, even with "rapid vaccine rollout," which would see vaccine distribution scaled up over 45 days.
On the same day, the estimated daily case count is projected to reach 111,284 with "rapid vaccine rollout," while it could soar to around 128,287 if "vaccine distribution is scaled up over 90 days" and if "governments do not re-impose mandates if cases increase," according to the IHME.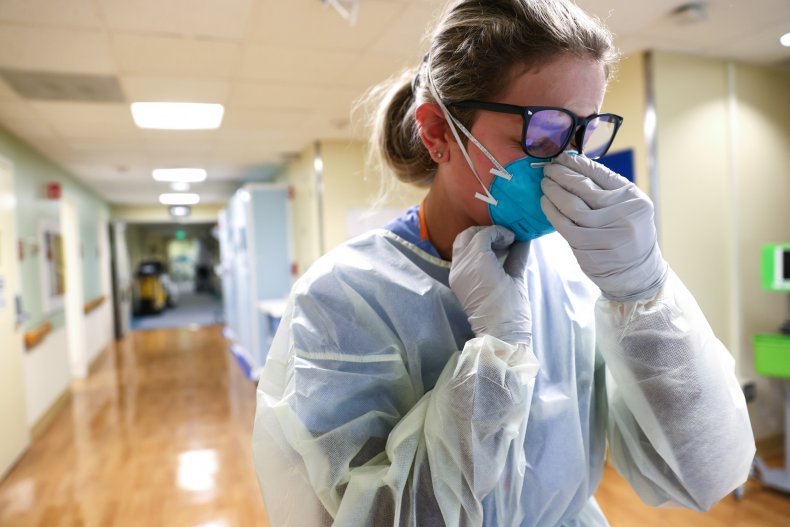 The wider picture
The novel coronavirus has infected more than 75 million people, including over 17.2 million in the U.S., since it was first reported in Wuhan, China.
More than 1.6 million people have died worldwide and over 42.4 million have recovered as of Friday, according to John Hopkins University.
The graphic below, provided by Statista, shows the countries with the highest COVID-19 death tolls.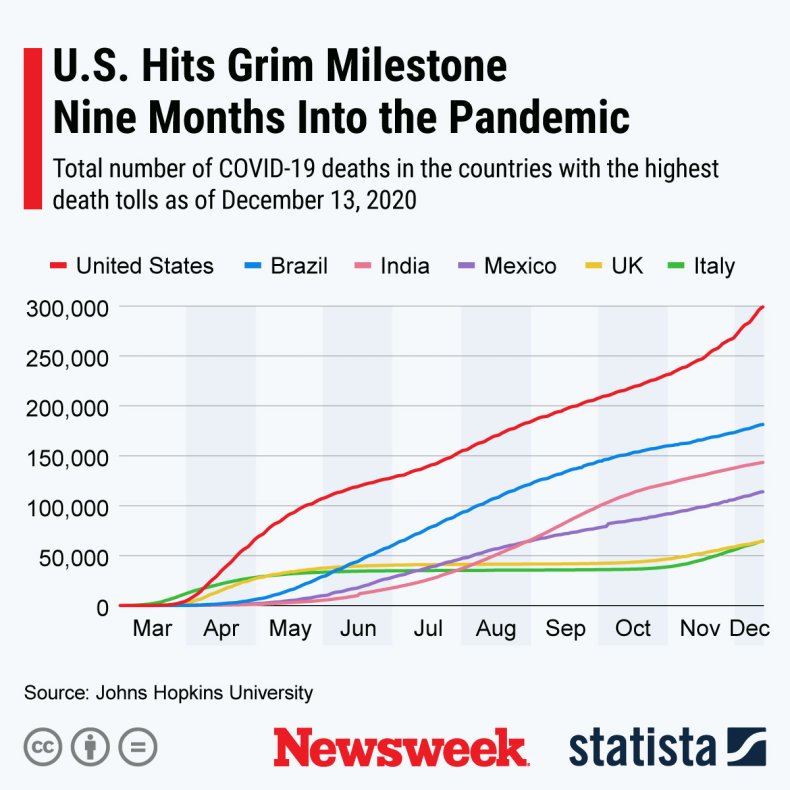 The graphic below, provided by Statista, shows the percentage of adults in the U.S. who would or would not get a COVID-19 vaccine.