California Gov. Newsom's Thanksgiving Rules Explained as Severe Restrictions Put in Place
Ahead of Thanksgiving next month, California Gov. Gavin Newsom and the California Department of Public Health (CDPH) released new safety guidelines for all private gatherings amid the ongoing COVID-19 pandemic.
The new rules come with strict restrictions that aim to help reduce the risk of spreading infection.
"Gatherings are defined as social situations that bring together people from different households at the same time in a single space or place. When people from different households mix, this increases the risk of transmission of COVID-19," the CDPH said in a statement.
No more than three households
All gatherings must include no more than three households, including hosts and guests, and must be held outdoors, lasting for two hours of less.
"The longer the duration [of the gathering], the risk of transmission increases," the statement noted.
"Gatherings that occur outdoors are significantly safer than indoor gatherings. All gatherings must be held outside. Attendees may go inside to use restrooms as long as the restrooms are frequently sanitized," the statement added.
Masks must stay on after eating and drinking
The new rules state those at a gathering "may remove their face coverings briefly to eat or drink as long as they stay at least 6 feet away from everyone outside their own household, and put their face covering back on as soon as they are done with the activity."
The latest guidelines add: "Face coverings can also be removed to meet urgent medical needs (for example, to use an asthma inhaler, take medication, or if feeling light-headed)."
The existing face covering rules set out by the CDPH also apply, which state everyone must wear face coverings in "high-risk situations," including in outdoor public spaces when maintaining a six-feet distance from those outside your household is not feasible.
Singing and shouting "strongly discouraged"
Singing, chanting and shouting are "strongly discouraged" because they "pose a very high risk of COVID-19 transmission," the statement noted.
"Singing, chanting, shouting, and physical exertion significantly increases the risk of COVID-19 transmission because these activities increase the release of respiratory droplets and fine aerosols into the air. Because of this, singing, chanting, and shouting are strongly discouraged," the statement said.
Those who do participate in these activities should "do so quietly (at or below the volume of a normal speaking voice)," and wear a face covering while engaged in the activity, the statement said.
Those who sing, chant or shout are also "strongly encouraged" to keep a physical distance of more than six feet to further reduce the risk of spreading infection.
Musicians are allowed at gatherings but they must be from one of the three households. The playing of any wind instruments (those that are played by the mouth, such as a trumpet or clarinet) is "strongly discouraged," according to the statement.
Keep it social at a distance
The space for the gathering must be large enough to allow guests to maintain a physical distance of at least six feet from those who are not in their household at all times.
"Seating must provide at least 6 feet of distance (in all directions—front-to-back and side-to-side) between different households," the statement noted.
Maintain hand hygiene
As much as possible, all food and drink should be served in disposable containers, while self-serve communal containers and other shared items should not be used at the gathering.
A place for washing hands or hand sanitizer must be available for use at the gathering and all attendees should wash their hands or use hand sanitizer frequently, the statement noted.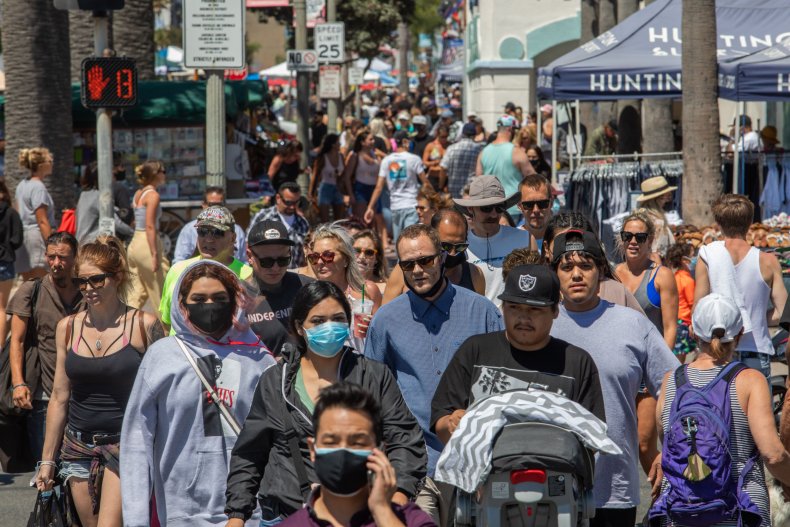 The wider picture
Total confirmed cases in California have surpassed 887,600, with 17,192 reported deaths, as of Thursday, according to Johns Hopkins University (JHU).
Average daily new cases in California have been declining sharply since mid-August and flattening out from early September. The average count increased from March to late July, when it peaked at 9,561 on July 21, according to JHU.
The novel coronavirus has infected more than 41.3 million people across the globe since it was first reported in Wuhan, China, including over 8.3 million in the U.S. Globally, more than 1.1 million have died following infection, while more than 28.1 million have reportedly recovered as of Thursday, according to JHU.
The graphic below, produced by Statista, illustrates a survey of U.S. adults concerned about catching COVID-19.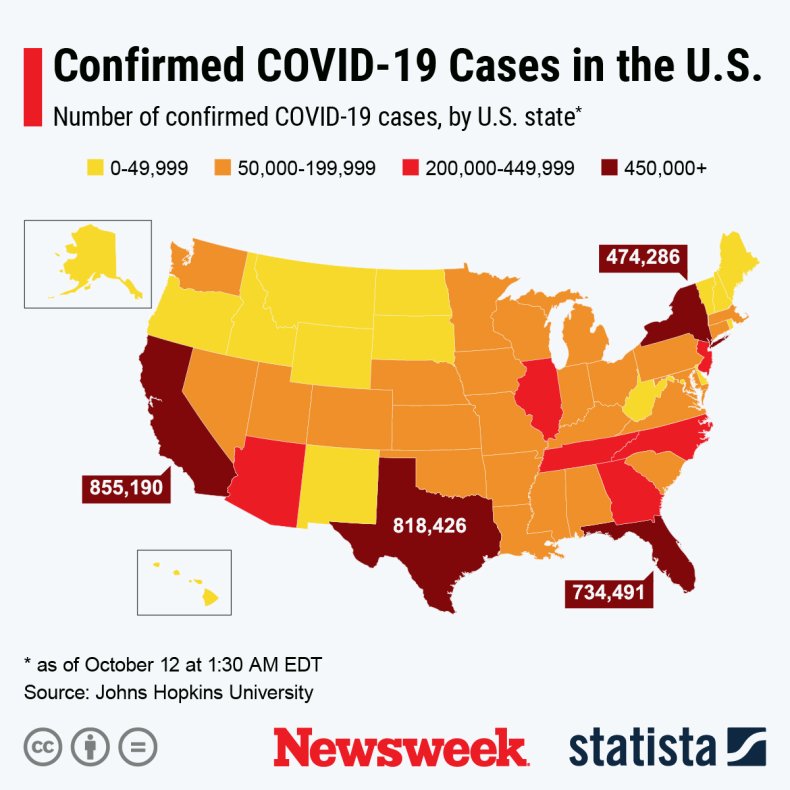 The graphic below, also produced by Statista, illustrates U.S. states with the most COVID-19 cases.