California Inmate Released Before Receiving COVID Test Result Infects Family Members
A California inmate, who was released from an Orange County jail before receiving the results of his coronavirus test, was found to be COVID-19 positive. He infected two family members he visited since his release, including his elderly mother who is now battling the illness in an intensive care unit.
The man, whose name is unknown, was released from Theo Lacy Facility, a maximum security jail complex, around two weeks ago. He was tested for the virus two days before his release date but did not receive his test results before then, CBS Los Angeles reported.
After his release, he visited his sister Stefani Espinosa and his 65-year-old mother Belinda Rodriguez at the apartment where the two women live. The following day, he was informed he had tested positive for COVID-19 when he called the jail to inquire about his belongings.
The initial tests for Espinosa and Rodriguez (who has diabetes) were negative. But the pair started experiencing symptoms days later and another round of testing confirmed they were both COVID-19 positive.
"Even though our exposure was minimal, we still isolated and went to go get tested," Espinosa told CBS Los Angeles.
By Christmas morning, Rodriguez "could barely walk down the hallway," Espinosa noted, and was taken to the emergency room at Orange Coast Memorial Hospital, where she was intubated on Sunday after her oxygen level dropped.
Espinosa said: "It's just shocking that in a matter of days, you know, she [Rodriguez] could be in this stage where we don't know if she's gonna make it through the night."
Espinosa's brother is among more than 1,800 inmates who were ordered to be released early from Orange County jails by a court ruling earlier this month. The order was made in a bid to ensure social distancing measures can be implemented by cutting the inmate population in half.
Judge Peter Wilson wrote in the ruling: "The uncontested facts found here include that conditions in the jail do not permit proper social distancing, there is no mandatory testing of staff or asymptomatic detainees after intake, and no strictly enforced policy of requiring masks for all staff interaction with inmates."
The Orange County Sheriff's Department (OCSD) confirmed there were 1,400 inmates released early that the Orange County Health Care Agency will be following up with if needed, CBS Los Angeles reported.
"When inmates are released and have medical needs including COVID, OC [Orange County] Health has a process in place to make contact during the release process to provide information. If they need to contact them after release, they use the information the inmate provided when they were booked into jail," the OCSD said in a statement.
Espinosa couldn't comprehend "how they could release my brother without letting him know his results," adding, "It was one day, and they couldn't wait to release him."
"Wear your mask and do the right thing. Real people are dying that have families and people that love them," she warned.
Newsweek has contacted the OCSD for comment.
According to a statement by the OCSD in early December: "In total, 691 inmates have tested positive for COVID-19 since the first positive inmate on March 24, 2020. Of those, only three inmates have been hospitalized for COVID-19 and none have died. 6,964 COVID-19 tests have been administered to Orange County Jail inmates since the start of the pandemic.
"At the start of the pandemic, the average daily jail population count declined to 2,826 on May 11, 2020 at the height of active COVID-19 cases in the jails. That is less than half of the average daily population prior to the start of the pandemic. That number has steadily increased, and today sits at 3,628. This is well below the Orange County Jails' capacity of 6,159," the statement added.
The latest incident comes as total confirmed cases in Orange County are approaching 150,000, while total infections across California have surpassed 2.1 million, as of Tuesday, according to Johns Hopkins University (JHU).
Current COVID-19 hospitalizations across the state have been rising sharply since early November. The figure has been at record levels since December 1, when it hit 9,049, breaking the previous record of 8,820 set in late July, according to data compiled by The Atlantic's The COVID Tracking Project.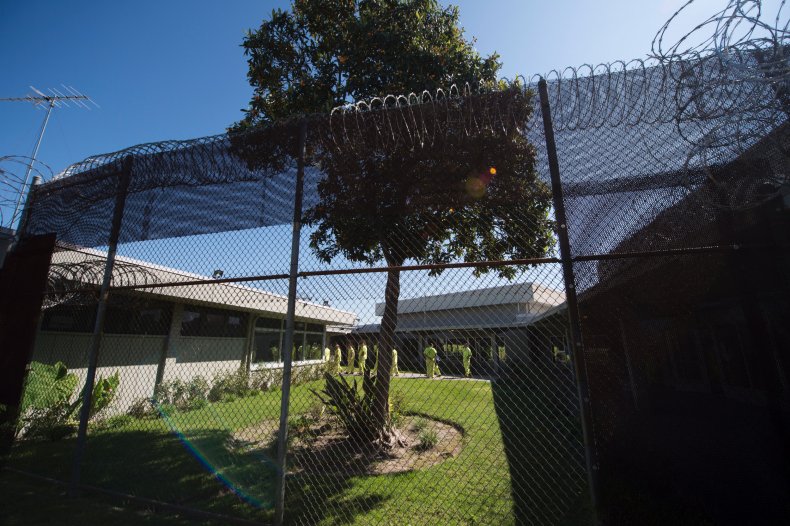 The wider picture
The novel coronavirus has infected more than 81.4 million people, including just over 19.3 million in the U.S., since it was first reported in Wuhan, China.
More than 1.7 million people have died worldwide and more than 46.1 million have recovered as of Tuesday, according to JHU.
The graphic below, produced by Statista, shows the countries with the highest death tolls.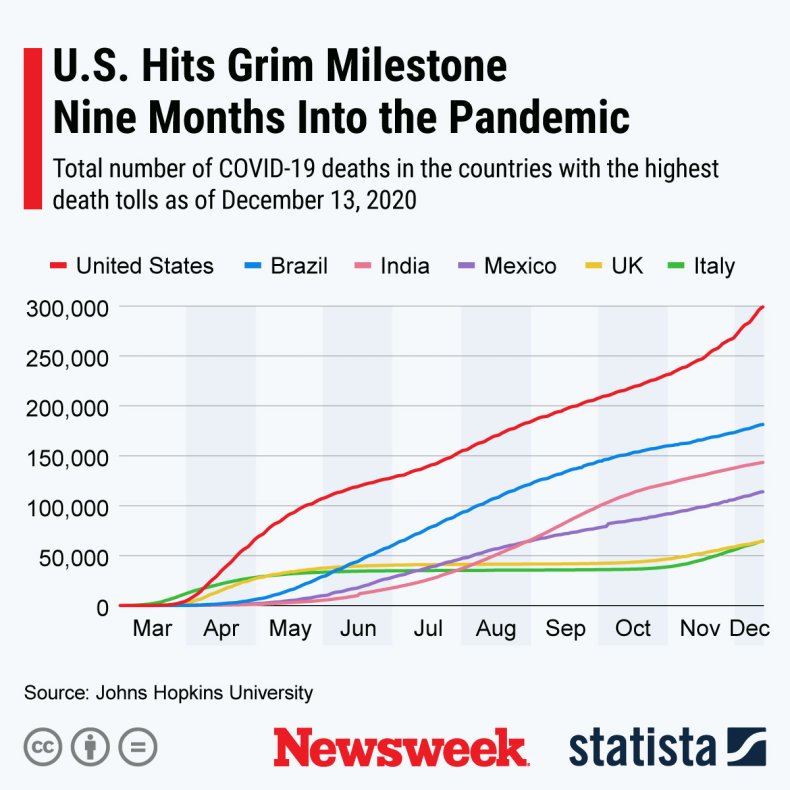 The graphic below, provided by Statista, shows the percentage of adults in the U.S. who would get a COVID-19 vaccine.