As California Sees Record Daily Rise in COVID Cases, Pasadena Keeps Restaurants Open for Outdoor Dining
California's daily coronavirus case count hit a record high of over 20,000 on Monday, according to the San Francisco Chronicle's COVID-19 tracker.
But restaurants in the city of Pasadena in Los Angeles County will remain open for outdoor dining, defying the county's health order banning all in-person dining.
The city council of Pasadena, which operates under its own health department, made a unanimous decision Monday evening to allow restaurants to offer dining outdoors, despite the updated Los Angeles County Health Officer Order, which goes into effect from 10 p.m. local time this Wednesday.
The county's latest health order restricts restaurants, as well as breweries, wineries and bars, to take-out, drive-thru and delivery services only.
The council's decision comes as the state reported a record 20,654 new infections on Monday, according to The Chronicle's COVID-19 tracker, marking the highest daily rise in cases since the outbreak began.
California's seven-day average of cases also hit a record high of 12,722 on Monday. The average count has been rising sharply from early November, after declining from late July and flattening out from mid-September, according to data compiled by Worldometer.
Total confirmed cases in Pasadena have reached 3,405, with 132 total deaths associated with COVID-19, as of Sunday. The seven-day average of cases in Pasadena has been rising from early November, after flattening out from late August, while the seven-day average of deaths has remained flat from early June, according to data reported by Pasadena's health department.
Pasadena's case numbers will be monitored on a daily basis and decisions will be made accordingly, the council told FOX 11 Los Angeles.
The city plans to deploy health inspectors to enforce social distancing rules and check that restaurants are not allowing large gatherings, NBC Los Angeles reported.
"For every one employee, there's a family behind them and in some cases they are sole providers for these families," noted Lisa Derderian, Pasadena's public information officer.
"We want to try to do what we can to keep them up and running," and "balance the fine line with Covid numbers," Derderian added.
Los Angeles County's latest health order was issued as "new COVID-19 cases remain at alarming levels" and "the five-day average of new cases increased to more than 4,000 cases," the county's health department noted in a statement on Sunday.
"There are 1,401 people with COVID-19 currently hospitalized and 26 percent of these people are in the ICU. Over the past 7 days, the number of hospitalized patients increased by nearly 35 percent.
"To date, [County of Los Angeles] Public Health identified 364,520 positive cases of COVID-19 across all areas of L.A. County and a total of 7,438 deaths. Testing results are available for more than 3,542,000 individuals with 10 percent of all people testing positive," the statement noted.
Total confirmed cases in California have surpassed 1.1 million, with 18,783 total reported deaths, as of Tuesday, according to Johns Hopkins University.
The state's estimated daily case count is projected to reach around 34,370 by Christmas, and more than double to around 40,688 by New Year's Day, with "continued easing of social distancing mandate and if mandates are not re-imposed," according to the Institute for Health Metrics and Evaluation (IHME) at the University of Washington.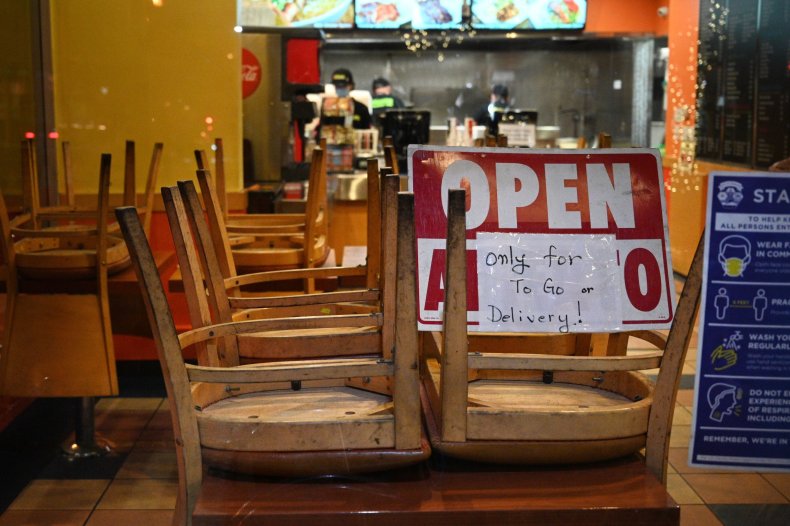 The wider picture
The novel coronavirus has infected more than 59.2 million people since it was first reported in Wuhan, China.
More than 1.3 million people have died worldwide and more than 37.9 million have recovered as of Tuesday, according to Johns Hopkins.
The graphic below, produced by Statista, shows the spread of COVID-19 cases across the U.S.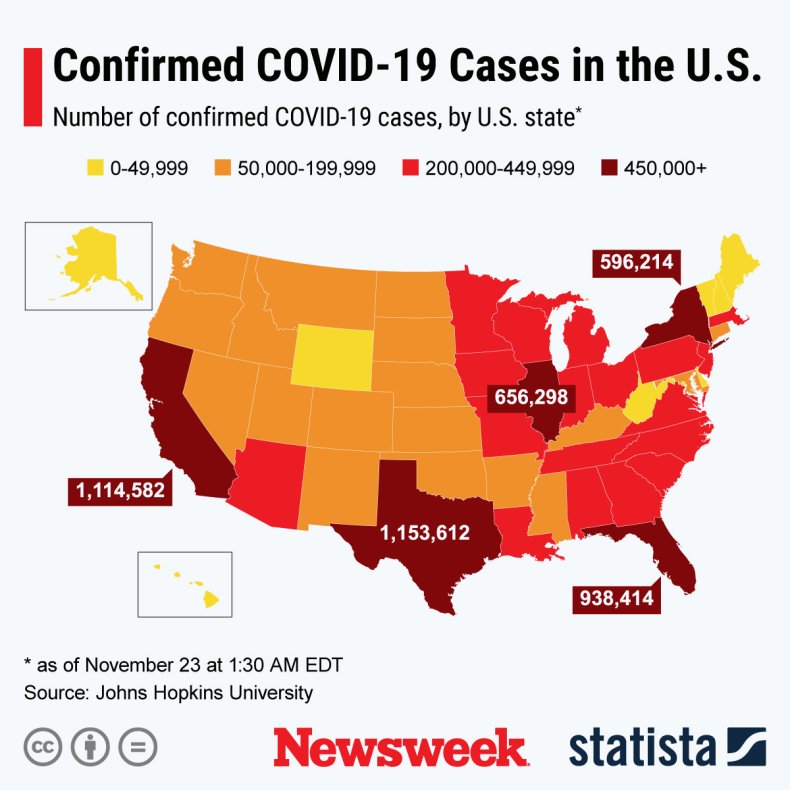 The graphic below, also produced by Statista, compares the average number of daily COVID-19 cases in the U.S. with that reported in the European Union.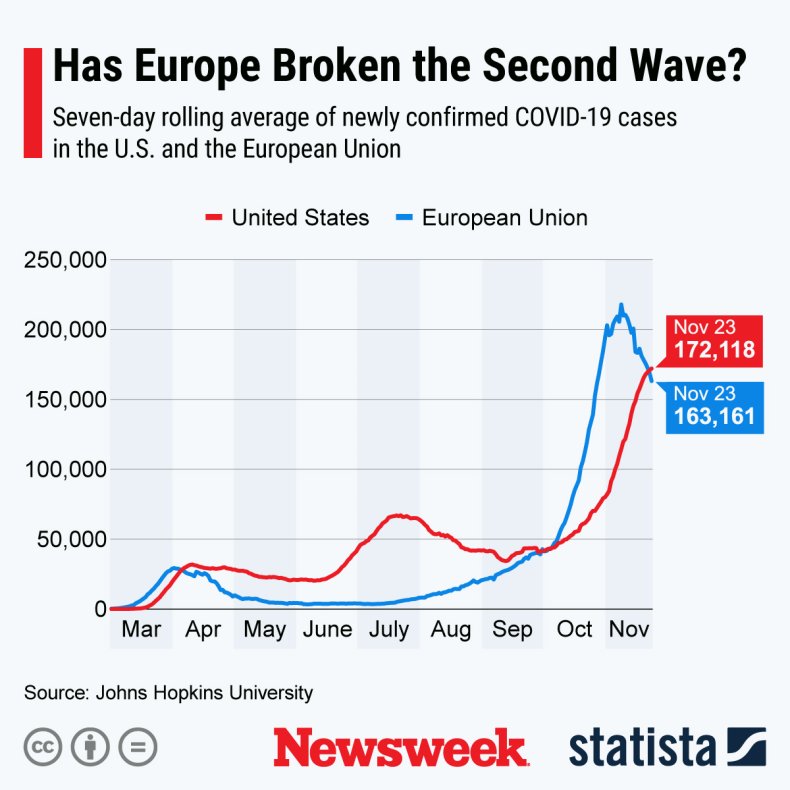 The graphic below, again provided by Statista, shows countries with the most COVID-19 cases.