California COVID Cases Surge as Sonoma County Issues Stay-at-Home Order
As California's average daily coronavirus cases continue to rise at record levels, a stay-at-home order has been issued for Sonoma County. Meanwhile, Fresno City Council declared a state of emergency due to the lack of intensive care unit (ICU) beds and medical staff across the city and county.
Sonoma County's lockdown order, which goes into effect from 12:01 a.m. local time Saturday, was issued following "an alarming increase in cases and hospitalizations in recent days," the county's health officer, Dr. Sundari Mase, noted in a statement Thursday.
"Under the order, residents will be directed to stay at home except for work, shopping or other essential activities, such as medical appointments, allowed by the State's Regional Shelter in Place Order. All sectors other than retail and essential operations must be closed. Outdoor recreation will be allowed," the statement noted.
The latest restrictions will be in place until 11:59 p.m. local time on January 9.
"Sonoma County cases have doubled in recent days and are now averaging nearly 25 cases per 100,000 with a 14-day average of 343 cases per 100,000. This is higher than at any point since the pandemic began," according to Mase, the statement read.
The county's positivity rate has climbed to 6.6 percent, while hospitalizations are approaching a record level and "much of these increases are due to the surge in cases that is spreading across the nation as well as large gatherings that have occurred locally including over Halloween and Thanksgiving," according to Mase.
"Given that, we feel we have no choice but to join the other [San Francisco] Bay Area counties in preemptively adopting the governor's Stay-Home order, which is already in effect for most of the state. We have to take action now," Mase warned.
Also on Thursday, Fresno City Council declared a state of emergency "due to insufficient intensive care unit beds and medical personnel in the city and county of Fresno," according to a statement from the council.
There are 274 ICU beds in Fresno County and "the system is currently full," while "COVID-19 numbers in the region continue to rapidly rise, with no relief in sight," the statement warned.
"All regional hospitals are struggling with staffing, as several hundred workers are out at a time due to positive COVID-19 tests or close contact with a COVID-19 patient," the statement added.
The council requested California Gov. Gavin Newsom to provide "immediate relief" to help increase ICU capacity, medical staffing and vaccination allocation to the Central Valley region.
The latest measures in Sonoma and Fresno counties come as total confirmed cases in California approach 1.5 million, the country's highest total at the state level, according to data compiled by Johns Hopkins University (JHU).
The state's seven-day average of cases hit another record high on Thursday at 27,912. The figure has been rising sharply since early November and has been at record levels since November 19, when it reached 10,468, surpassing the previous record of 10,261 set on July 25, according to data compiled by Worldometer.
Last week, Newsom announced a "Regional Stay-At-Home Order," which requires residents to remain at home for at least three weeks in regions where the order is in place. All non-essential travel is banned, while bars, wineries, hair salons, barbershops and in-person dining services at restaurants are closed under the order.
The regional order is triggered when the ICU capacity drops below 15 percent in any given region among the five being tracked by state health officials.
According to a Thursday tweet from the California Department of Public Health, the latest ICU capacities by region were as follows, as of Wednesday:
Bay Area: 17.8 percent
Greater Sacramento Region: 13.3 percent
Northern California: 30.3 percent
San Joaquin Valley: 1.9 percent
Southern California: 7.7 percent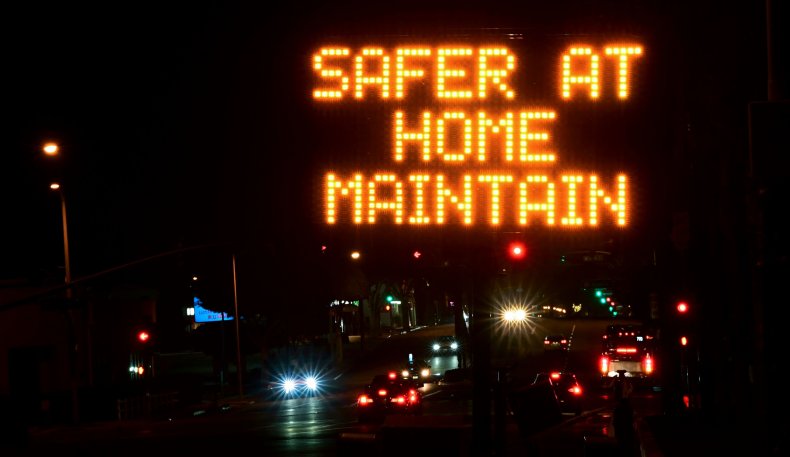 The wider picture
The novel coronavirus has infected more than 69.7 million people since it was first reported in Wuhan, China.
More than 1.5 million people have died worldwide and over 45 million have recovered as of Friday, according to JHU.
The graphic below, provided by Statista, shows the spread of COVID-19 cases in the U.S.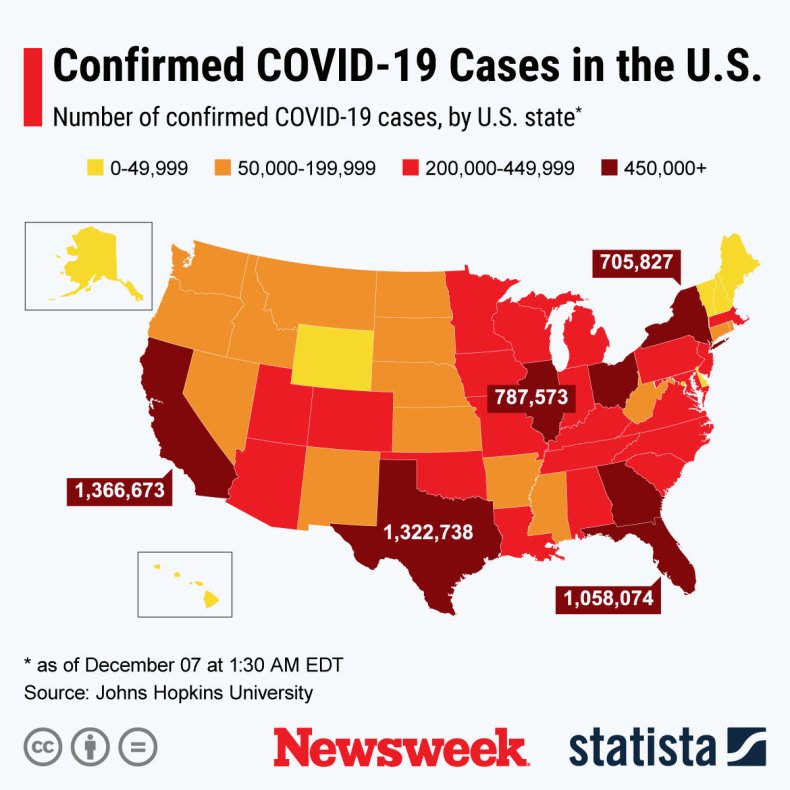 The graphic below, produced by Statista, shows countries with the most COVID-19 cases.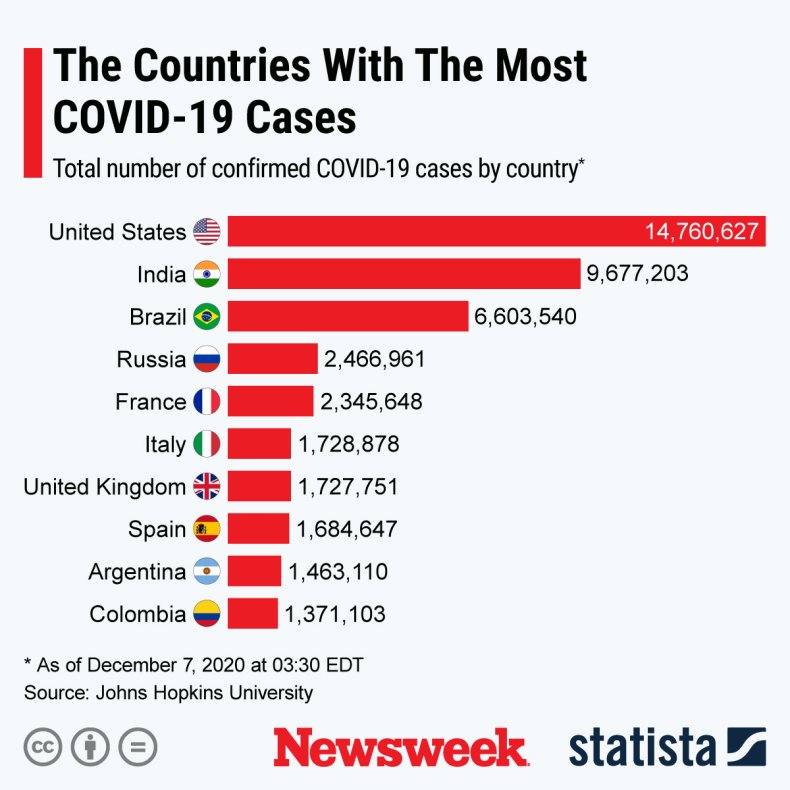 The graphic below, produced by Statista, compares average COVID-19 case tallies in the U.S. and the European Union.