Nearly 100 Nurses Laid Off As Canada 'On the Brink' of Coronavirus Second Wave
As Canada sees a rise in new coronavirus cases, 97 nurses have been laid off at the Southlake Regional Health Centre in Newmarket, Ontario, the country's most populous province, due to the "significant financial challenge" the hospital is facing, the company confirmed.
The latest cuts come as Canada faces a potential second wave of the outbreak, Canadian Prime Minister Justin Trudeau warned in a televised broadcast Wednesday.
"We're on the brink of a fall that could be much worse than the spring," Trudeau noted.
"The numbers are clear—back on March 13 when we went into lockdown there were 47 new cases of COVID-19. Yesterday [Tuesday] alone, we had well over 1,000.
"Together, we have the power to get this second wave under control," he said.
The "irresponsible" layoffs at Southlake Regional Health Centre were condemned by the Ontario Nurses Association (ONA), a union representing over 68,000 registered nurses, health care professionals and 18,000 nursing student affiliates.
The latest job cuts amount to more than 176,000 hours of direct patient care administered by registered nurses, the ONA noted in a statement.
"I cannot fathom how Southlake Regional Health Centre CEO Arden Krystal can justify cutting front-line registered nurses during a global pandemic," ONA President Vicki McKenna, RN, said in the statement.
"With the second wave of COVID-19 and the upcoming influenza season, which will put undue pressure on all hospitals, cutting registered nurses is completely irresponsible," she added.
ONA Bargaining Unit President Jill Moore noted: "Nurses are working short-staffed, but one of our biggest concerns is surge capacity. When our patient numbers increase, as they typically do during a pandemic, we often do not have enough staff resources to provide quality patient care, let alone trying to serve a population that is growing by leaps and bounds.
"What is most distressing is that the employer has said that these 97 layoffs are the best-case scenario. I cannot imagine what more layoffs will do for patient care," she added.
A spokesperson for the hospital confirmed in a statement: "Similar to some other hospitals across the province, Southlake is currently facing a significant financial challenge and has announced a series of changes to address this.
"These changes are aligned to the broader health care system transformation underway in Ontario, which emphasizes moving care into the community where it is easier for patients and families to access."
Last October, the hospital received CAD $5.1 million (USD $3.8 million) in government funding to boost its homecare programs and community care services.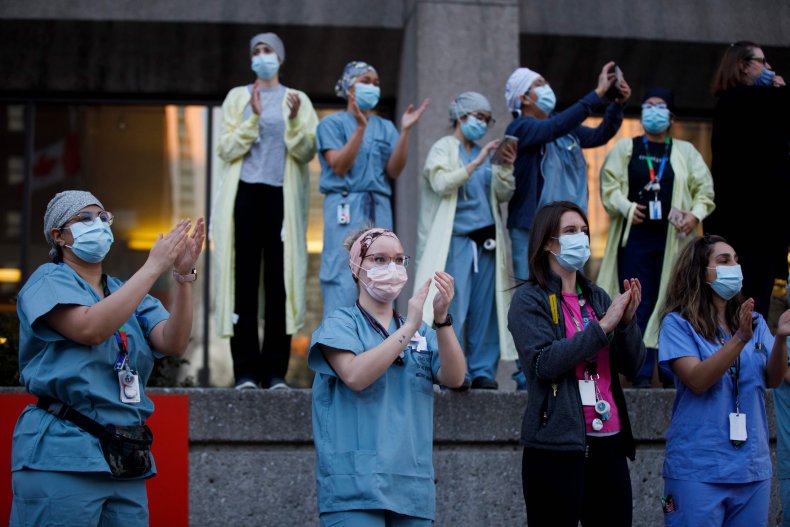 "Southlake has been experiencing higher-than-average rates of patient care in unconventional spaces," Deputy Premier of Ontario and Ontario Health Minister Christine Elliott said at the time.
"By investing in targeted partnerships between hospitals and home and community care providers in the region, we can tackle the challenge of hallway health care head on to ensure patients are receiving the high-quality care they expect and deserve," she noted.
Newsweek has contacted the Ontario Ministry of Health for comment.
The Southlake Regional Health Centre aims to expand its "ambulatory care programs on acute services that will reduce hallway health care at Southlake and help patients have an early discharge home or avoid admission in the first place," according to a spokesperson for the hospital.
The hospital also plans to hire 49 registered practical nurses, 29 patient services partners and three social workers, the spokesperson confirmed.
The Southlake Regional Health Centre has nearly 400 beds and provides care to over a million people residing in the York Region municipality, Simcoe County, as well as the municipality of Muskoka.
Confirmed cases in Canada are approaching nearly 147,000. Weekly new cases in the country increased by nearly 40 per cent in the week commencing September 14, from the week earlier, according to the latest report Thursday from the World Health Organization (WHO).
Weekly new infections in Canada have been declining from late April to late June before flattening out through mid-August. The weekly case totals have been increasing from the week commencing August 17, according to WHO.
The wider picture
The novel coronavirus has infected over 31.9 million people across the globe since it was first reported in Wuhan, China, including over 6.9 million in the U.S. More than 977,100 have died following infection, while over 21.9 million have reportedly recovered as of Thursday, according to Johns Hopkins.
The graphics below, provided by Statista, illustrate the spread of COVID-19 cases in counties across the globe.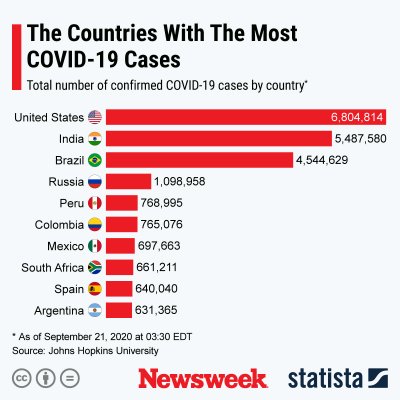 The graphic below, also provided by Statista, illustrates U.S. states with the most COVID-19 cases.