Coronavirus Can't Mend U.S. House's Partisan Rift, Hearings Show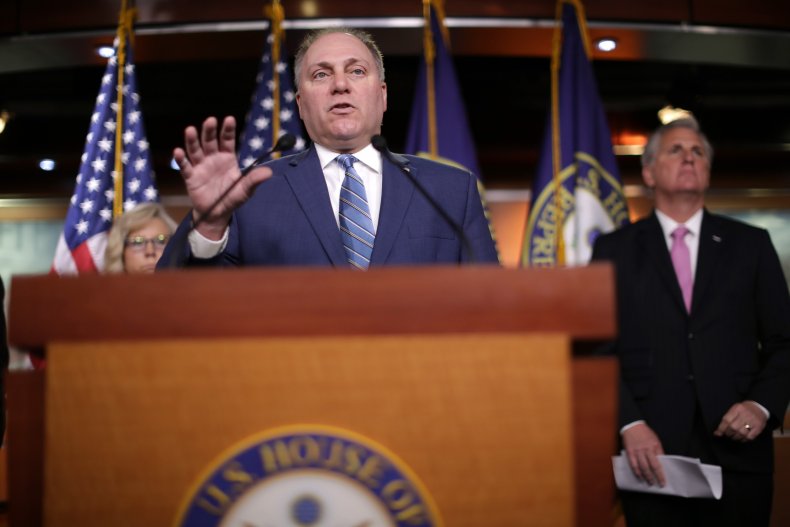 The bitter partisan rift in the U.S. House won't be mended by the coronavirus, if early hearings are any indication.
In meetings this week, Republicans and Democrats have taken turns blasting each other over the response to the nation's COVID-19 outbreak and the path forward to economic recovery.
House Minority Whip Steve Scalise, the No. 2 Republican leader, accused Democratic House Speaker Nancy Pelosi of creating a "completely partisan" oversight panel.
A day later, in a separate hearing, Representative Michael Burgess, R-Texas, said Democrats had "trampled on minority rights" and committed "numerous procedural fouls."
"You would have never tolerated that when you were in the minority," he said.
Meanwhile, Democrats have accused Republicans, including Trump and members of his administration, of grandstanding and attempting to hide from tough questions.
"I think there's little doubt that the Republicans are not interested in oversight," House Majority Leader Steny Hoyer told reporters last week.
The House took an extended break because of the coronavirus pandemic, even as the Senate returned to vet judicial nominations and other appointments.
House Republicans and Democrats have been locked in a heated feud fueled by the impeachment of Trump at the start of the year and months of investigating that preceded it.
Trump has accused House Democrats of continuing a "witch hunt" that he sees as an extension of investigations into his 2016 campaign's ties to Russia and allegations that he pressured the leader of Ukraine to investigate a political rival.
The Senate acquitted Trump when his impeachment came to the Republican-led upper chamber.
The Trump administration has blocked members of its Coronavirus Task Force from appearing before Democrat-led House panels but allowed appearances before Republican-led Senate committees.
Representative Frank Pallone, D-New Jersey, said during a hearing with the House Energy Subcommittee on Health, blasted the Trump administration's "incompetence" in handling the virus' spread.
"President Trump and his administration have failed to provide the consistent and stable leadership that is necessary to guide our nation through this public health and economic crisis," he said.
Before the House returned on Friday to take up a $3 trillion coronavirus stimulus bill, Republicans accused Democratic leaders of stalling their return to governing.
For the select committee's first hearing, which was held via web conference, ranking member Scalise, booked a space in the basement of the Capitol Visitor Center that's often used for events and staff gatherings. He and two other Republicans video conferenced in from there and included seats six feet apart to illustrate how the committee could have met in person while observing coronavirus mitigation procedures.
"Congress should be leading the way, we shouldn't be the last to come back," he said.