Coronavirus Cases Are Rising Fastest in These 12 Counties
As the coronavirus continues to spread throughout the U.S., newly released data reveals where cases are rising the fastest.
Among the 12 counties with the highest number of cases over the past week, five are in California and three are in Florida, according to the U.S. Department of Health and Human Services. The remainder are in Arizona, Illinois, Florida and Nevada. All 12 had more than 10,000 newly confirmed cases in the past seven days.
According to the data, Los Angeles County had the highest number of newly confirmed cases in the past week, with at least 91,471. Over the past month, Los Angeles has become the new epicenter of the nation's epidemic, a distinction previously held by New York City last spring. On Thursday, the county's department of health reported 14,418 newly confirmed cases, bringing the total number to over 580,000, and at least 8,664 deaths.
During a press conference on Friday, Los Angeles Mayor Eric Garcetti said that an emergency declaration could force the county to impose stricter restrictions to ensure that "we don't have to have those harrowing visions of doctors deciding who gets that last ventilator and who doesn't."
Four other counties follow behind Los Angeles, and all have had more than 20,000 new cases in the past week. Those counties are Maricopa County, Arizona (26,779); San Bernardino County, California (26,030); Riverside County, California (24,202); and Cook County, Illinois (22,024).
According to the data, seven other counties follow behind these five, with each having between 19,000 and 10,000 cases over the past week. These seven are Orange County, California (19,767); San Diego County, California (16,699); Miami-Dade County, Florida (15,630); Dallas County, Texas (13,942); Clark County, Nevada (13,081); Harris County, Texas (11,190); and Tarrant County, Texas (10,159).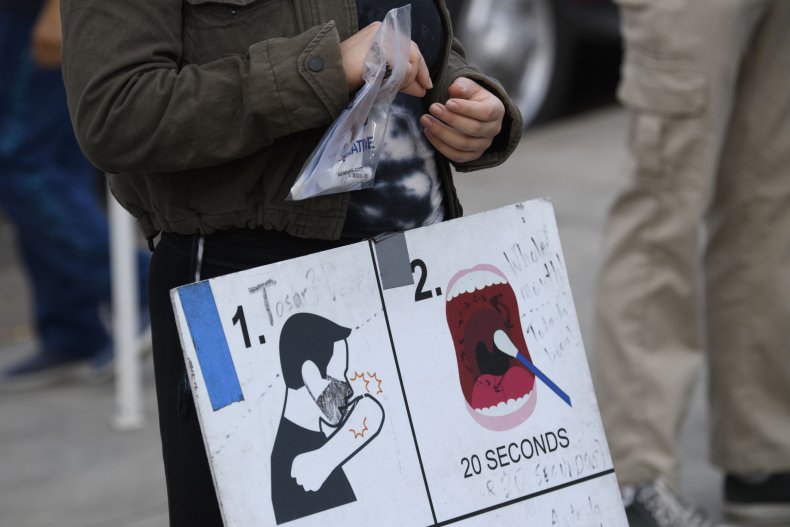 With coronavirus cases rising the fastest in the 12 counties, the states in which they are located, specifically California and Texas, have also seen a surge in cases. According to data from Johns Hopkins University, there are over 1.7 million cases in California, more than 1.5 million in Texas and over 1.1 million in Florida.
The data also shows the test positivity rates across all U.S. states and categorizes them in five different colors.
A majority, or 30 states, are listed as red states, as they have a testing positivity rate above 10 percent, based on data from the week of December 8 to 14. According to the data, Tennessee had the highest positivity rate, 30.8 percent over the past week, followed by Nevada (20.9 percent), Oklahoma (20.2 percent) and Idaho (19 percent).
Across the U.S. there are now more than 17 million confirmed cases of the virus and at least 312.524 deaths, according to Johns Hopkins.
Newsweek reached out to the Department of Health and Human Services for comment but did not receive a response in time for publication.