Coronavirus Cases Plummet in Oklahoma City After Mask Ordinance Is Enforced
About one month after Oklahoma City officials passed an emergency order requiring residents to wear face masks in indoor public spaces, public health data shows daily coronavirus diagnoses are roughly 30 percent lower than they were before the mandate.
"Masking is working," Oklahoma City Mayor David Holt wrote on Facebook Thursday morning.
"As you probably know by now, it takes several weeks for any results of COVID-19 mitigation to begin showing up in the data," he continued. "Last Friday, we hit the three-week mark since the Oklahoma City Council passed an ordinance requiring the wearing of masks in indoor public places. The new data since then speaks for itself in the charts below."
Infographics attached to Holt's social media post show a sharp downturn in the Oklahoma City Metropolitan Area's outbreak curve, starting around the third week of July. Accounting for virus incidences in Oklahoma, Cleveland and Canadian counties, the charts show average diagnosis figures and daily hospitalizations linked to the virus dropped steadily after July 25.
Local health department data points to a moderate uptick in hospital admissions between August 8 and 10, although Holt noted on Thursday that daily hospitalization numbers were "consistently above 200" throughout July. Hospitalizations fell to 179 on Monday, August 10, following a previous low of 142 patients reported two days earlier. The incidence of new virus cases in Oklahoma City and its surrounding region dropped significantly after mid-July.
Statistics published by the Oklahoma City-County Health Department, accounting for infections in Oklahoma County only, placed its seven-day average diagnosis rate at 128 daily cases as of Tuesday. The latest average represented at least a 35 percent decrease from infection rates reported last month. On July 17, when the City Council passed its face mask ordinance, health department data showed nearly 200 people were testing positive for the virus per day, on average.
Holt announced the city's mask mandate in response to an ongoing rise in virus cases and hospitalizations throughout June and July, consistent with the surge seen statewide over the same period. The mandate requires individuals older than 11 to wear face coverings in most of the city's indoor public settings. The City Council enacted the order immediately after its July 17 vote, and the mayor expects it to remain active until September 8.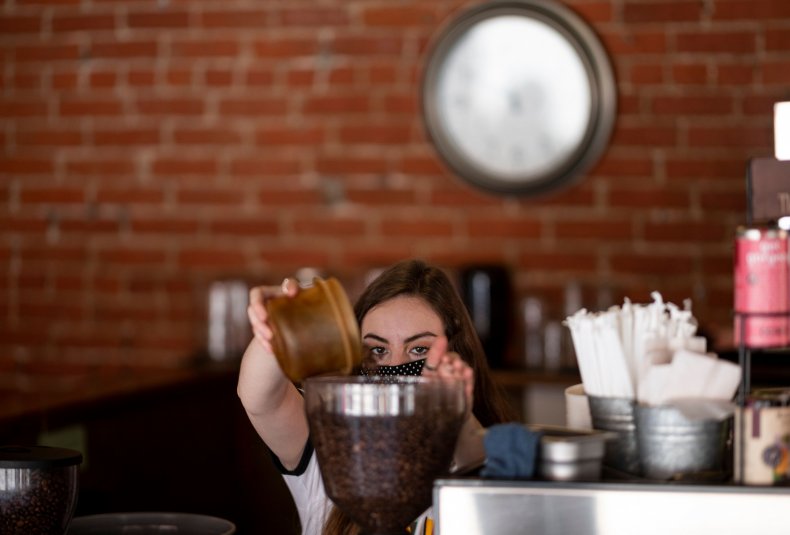 The U.S. Centers for Disease Control and Prevention recommends that individuals wear face masks in public settings, particularly those where maintaining adequate physical distance from others is not practical, to reduce the risk of virus transmission. As communities across the U.S. reported outbreak resurgences beginning in early June, dozens of state and local leaders issued mask mandates in efforts to curb the virus's spread.
Newsweek reached out to Holt and the County Health Department for additional comments but did not receive replies in time for publication.