Coronavirus Cases at South Dakota Meatpacking Plant Surpass 540, Make Up 55 Percent of All Cases in the State
In South Dakota, the novel coronavirus continues to spread with the Smithfield Foods meatpacking plant in Sioux Falls becoming a major hotspot in the state.
As of Wednesday, there are 545 reported cases linked to the Smithfield plant, with 438 employees testing positive and 107 additional cases from people who have been in contact with the plant's employees. The 545 cases stemming from the plant now represent 55 percent of the state's 988 total cases, according to a tracker provided by Johns Hopkins University.
While the increasing number of coronavirus cases at the plant forced it to shut down, South Dakota is one of seven U.S. states without a statewide stay-at-home order. Governor Kristi Noem said Tuesday that residents in her state are holding themselves accountable and she doesn't feel a statewide order is required.
"I've seen some national stories written that a shelter-in-place order would have prevented this outbreak at Smithfield. That is absolutely false," Noem said at a press conference on Tuesday. "What we are doing each and every day by getting up and using personal responsibility and taking actions at the local and state level, it is working. We are flattening our curve in South Dakota."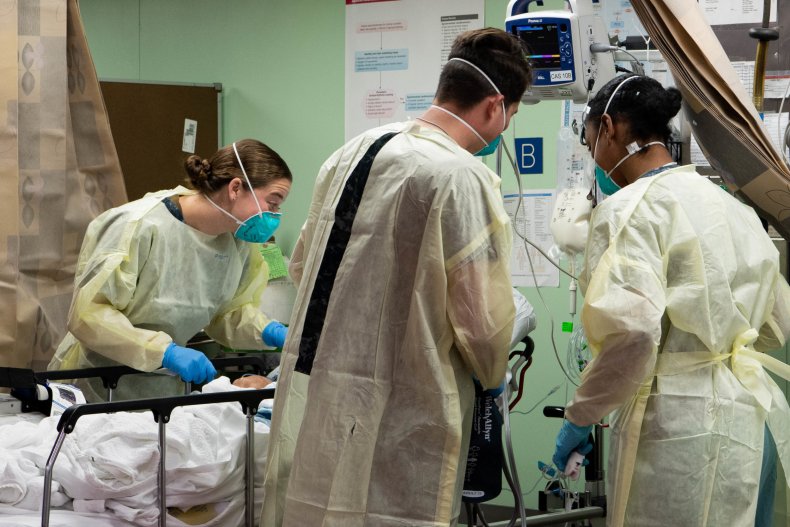 Noem also noted that she wasn't going to issue a stay-at-home order in hard-hit counties like Minnehaha and Lincoln, as was requested by Sioux Falls Mayor Paul TenHaken, and added that implementing one wouldn't have closed the Smithfield plant earlier, due to the fact that it is a "critical infrastructure job plant."
"That could be a local decision that the mayor and city council could choose to do," Noem added.
Following the closure of the Smithfield plant, president and CEO Kenneth Sullivan explained in a press release how it will impact the rest of the country.
"It is impossible to keep our grocery stores stocked if our plants are not running," Sullivan said in the press release. "These facility closures will also have severe, perhaps disastrous, repercussions for many in the supply chain, first and foremost our nation's livestock farmers."
According to a press release, the Sioux Falls Smithfield Food plant is one of the largest pork processing facilities in the U.S., "representing four to five percent of U.S. pork production." The plant supplies almost 130 million servings of food per week, which equates to about 18 million servings daily, per the company's press release.
Smithfield Foods Inc. ships products to over 5,700 businesses, including supermarkets, restaurants and hotel chains, across 43 different countries.
The new coronavirus, which causes the respiratory disease COVID-19, first originated in Wuhan, China, but has continued to spread across the world, with the U.S. becoming the virus's epicenter. According to the tracker, there are over 610,000 cases in the U.S. and at least 26,119 deaths.