With coronavirus cases in Utah "growing at an alarming rate," Republican Gov. Gary Herbert issued a statewide mask mandate and state of emergency in Utah on Sunday.
The latest measures come a day after President Donald Trump—who repeatedly downplayed the pandemic this year, saying the virus "affects virtually nobody"—was defeated by Joe Biden in the 2020 election.
Trump was reported to have had 58.4 percent (759,583) of the vote in Utah, nearly double the 37.7 percent (489,465) Biden had, as of Sunday, according to data compiled by Reuters.
As of Monday, total confirmed cases in Utah have surpassed 132,600, with 659 reported deaths since the outbreak began, according to data compiled by Johns Hopkins University (JHU).
Herbert said in a video message shared on Twitter: "The number of infections in our state is growing at an alarming rate...we report record hospitalizations and new deaths day after day. Our hospitals are full.
"Tonight [Sunday] I am addressing a new state of emergency to address overcrowding and to protect our intensive care unit capacity.
"Businesses must require employees to wear masks and to promote mask wearing to patrons and to visibly post signage to that effect. Those who fail to do so will be subject to fines from the Labor Commission," the governor said.
In addition to the mask mandate in place until further notice, Herbert banned residents from all casual social gatherings with people outside their household for two weeks.
"Data tells us that we are most vulnerable to infection in casual social gatherings...therefore, by order of my office and the Utah Department of Health, Utahns may not participate in or host casual social gatherings with individuals other than those in their household for the next two weeks, which is the incubation period," the governor noted.
Organizers of public events that do not adhere to the required precautionary guidelines, including social distancing and the wearing of masks, will be subject to fines of up to $10,000 per occurrence, Herbert added.
The seven-day rolling average of daily COVID-19 cases and hospitalizations in Utah has been rising sharply since early September, after remaining flat for most of the outbreak, according to the latest figures from the Utah Department of Health.
The average count rose sharply through early November, peaking at 2,715 on November 7, after flattening out from mid-July to early September. The figure flattened out from March to late May, before increasing through mid-July, according to JHU.
The governor's latest guidelines also follow months of Trump downplaying the risks of COVID-19 and the benefits of face coverings through most of the pandemic, despite the U.S. Center for Disease Control and Prevention (CDC) calling on Americans to wear masks to prevent the spread of COVID-19 infection.
Back in late February, Trump said: "We've done an incredible job. We're going to continue. It's [COVID-19] going to disappear one day. It's like a miracle, it will disappear."
During the presidential debate held in late September in Ohio, Trump said: "I don't wear a mask like him [Biden], every time you see him, he's got a mask. He could be speaking 200 feet away from them and he shows up with the biggest mask I've ever seen."
Just days after the debate, Trump confirmed he and his wife Melania had tested positive for the virus.
Back in April, Trump said: "The CDC is advising the use of non-medical cloth face covering as an additional voluntary public health measure. So it's voluntary, you don't have to do it. They suggest it for a period of time but this is voluntary. I don't think I'm going to be doing it.
In a press release on July 14, CDC Director Dr. Robert R. Redfield said: "We are not defenseless against COVID-19. Cloth face coverings are one of the most powerful weapons we have to slow and stop the spread of the virus—particularly when used universally within a community setting. All Americans have a responsibility to protect themselves, their families, and their communities."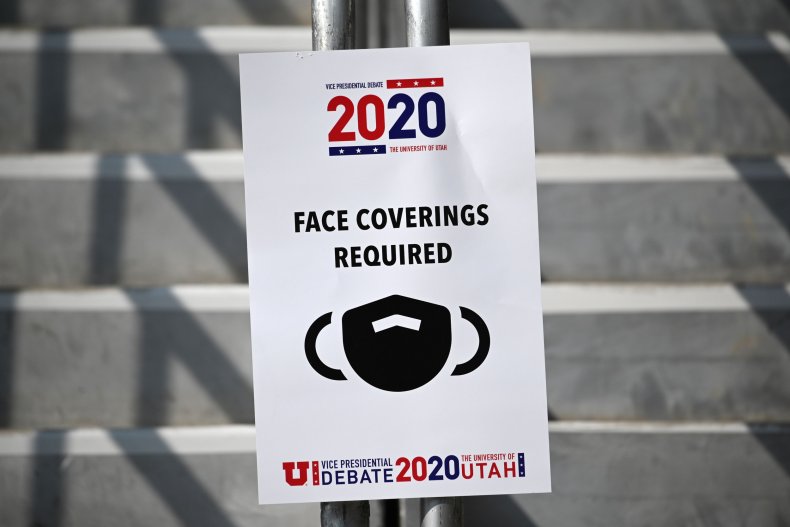 In a tweet on July 20, Trump shared an image of himself wearing a mask, noting: "We are United in our effort to defeat the Invisible China Virus, and many people say that it is Patriotic to wear a face mask when you can't socially distance. There is nobody more Patriotic than me, your favorite President!"
Trump was seen wearing a mask in public following his COVID-19 diagnosis. But he removed his mask upon returning to the White House after his treatment at the Walter Reed National Military Medical Center in early October.
Back in late September at a rally in Tulsa, Oklahoma, Trump also noted COVID-19 "affects elderly people with heart problems and other problems. If they have other problems, that's what it really affects.
"Take your hat off to the young—because they have a hell of an immune system. But it [COVID-19] affects virtually nobody. It's an amazing thing," he noted.
However, Herbert noted Sunday: "Our data shows that individuals aged from 15 to 24 have not been careful in their casual social gatherings and the highest rates of spread are occurring among this group," announcing a more robust testing system to be implemented across the state.
"This will begin with weekly testing of university students and expand to include high school who participate in extracurricular activities, people in the workplace under the age of 35 and our high school teachers," Herbert said.
The wider picture
The novel coronavirus has infected more than 50.4 million people across the globe since it was first reported in Wuhan, China, including more than 9.9 million in the U.S.
Globally, more than 1.2 million have died following infection, while more than 33 million have reportedly recovered as of Monday, according to JHU.
The graphic below, produced by Statista, illustrates the spread of COVID-19 cases in the U.S.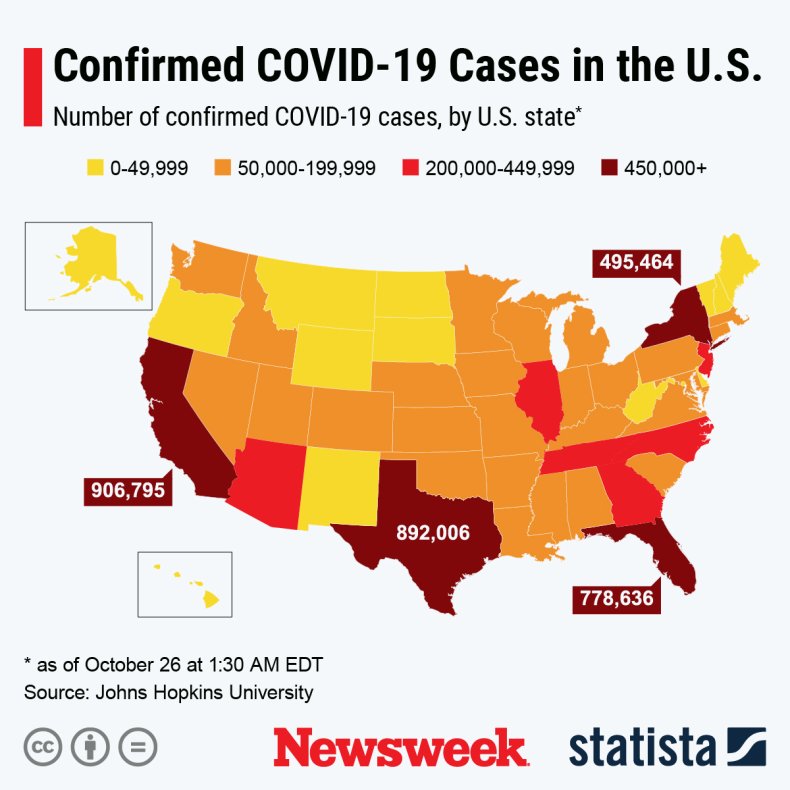 Uncommon Knowledge
Newsweek is committed to challenging conventional wisdom and finding connections in the search for common ground.
Newsweek is committed to challenging conventional wisdom and finding connections in the search for common ground.
About the writer
Soo Kim is a Newsweek SEO Reporter is based in London, UK. She reports on various trends and lifestyle stories, from health, fitness and travel to psychology, relationships and family issues. She is also a South Korea expert who regularly covers Korean culture/entertainment for Newsweek, including the latest K-dramas, films and K-pop news, and is the author of the book How to Live Korean, which is available in eight languages. Soo also covered the COVID-19 pandemic extensively from 2020 through 2021 after joining the general news desk of Newsweek in 2019 from the Daily Telegraph (a U.K. national newspaper) where she was a travel reporter/editor from 2010. She is a graduate of Binghamton University in New York and the journalism school of City University in London, where she earned a Masters in international journalism. Languages spoken: English and Korean.
Follow her on Twitter at @MissSooKim or Instagram at @miss.soo.kim
You can get in touch with Soo by emailing s.kim@newsweek.com