Robert Redfield, the director of the U.S. Centers for Disease Control and Prevention, has said there is "nothing more important" than Americans getting vaccinated against the flu this year, fearing the combination of the disease alongside COVID-19 could strain hospital capacity and lead to unnecessary deaths.
He made the comments after the U.S. Department of Health and Human Services (HHS) said pharmacists could administer children with routine vaccines, including the flu shot, amid falling uptake during the pandemic.
Speaking to Howard Bauchner, the editor of the Journal of the American Medical Association on Thursday, Redfield said: "I think this fall nothing can be more important than to try to increase the American public's decision to embrace flu vaccine with confidence."
Redfield said: "I think this is a critical year for us to try to take flu as much off the table as we can, as a respiratory pathogen that's going to cause people to be sick enough to have to go into the hospital."
His "biggest fear" around having COVID and flu hit at the same time was that "our hospital capacity could get strained."
Pointing to the early outbreak in New York, Redfield said many people likely died because hospitals were under pressure.
"Fall and winter could be one of the most complicated public health times we have with the two coming at the same time," said Redfield.
During the 2018/2019 flu season, vaccine coverage among adults aged 18 and over was 45.3 percent, up by 8.2 percent from the 2017/2018, according to the CDC. Redfield said he hoped to get the figure up to 65 percent.
If the public follow advice to prevent the spread of the coronavirus, including using face coverings, social distancing, washing hands, and avoiding crowds, the knock-on effect could be the U.S. having the "best flu season" to date, he said.
On Wednesday, the Department of Health and Human Services gave pharmacists permission to vaccinate children. This came as Massachusetts said all students in child care, pre-school, k-12, and post-secondary institutions—ranging 6-month-olds to those under 30—are required to get flu shots by the end of the year.
Regarding the HHS change, health secretary Alex Azar said in a statement: "Today's action means easier access to lifesaving vaccines for our children, as we seek to ensure immunization rates remain high during the COVID-19 pandemic."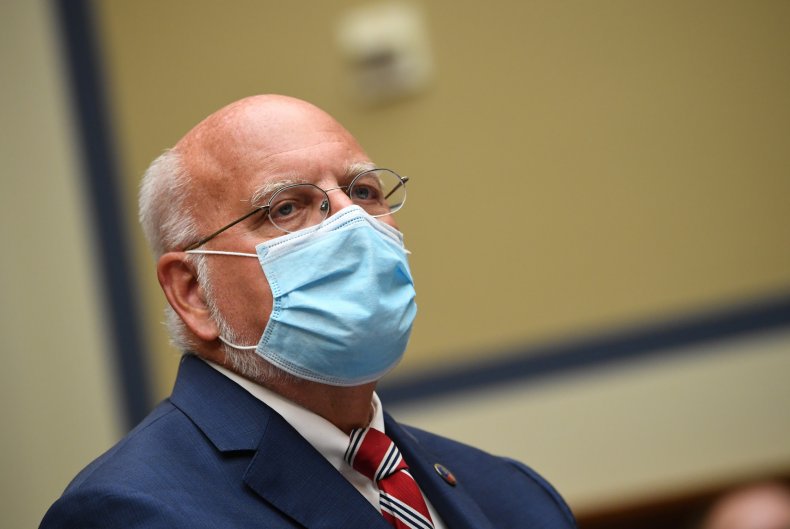 About the writer
Kashmira Gander is Deputy Science Editor at Newsweek. Her interests include health, gender, LGBTQIA+ issues, human rights, subcultures, music, and lifestyle. Her work has also been published in the The Independent, The Independent on Sunday, The i Newspaper, the London Evening Standard and International Business Times UK.