Cuomo Announces New York 'Containment Area' for Coronavirus, Closes Schools, Brings In National Guard
To prevent the spread of a new coronavirus, New York Governor Andrew Cuomo announced places within a containment area where large groups of people gather, including schools, would close for two weeks and the National Guard would be brought in to assist.
New York has seen 173 cases of a new coronavirus that causes COVID-19 and is one of three states in the United States experiencing a large outbreak. Thousands of people in New York are under self-quarantine, businesses have told employees to work from home and some schools have chosen to close.
On Tuesday, Cuomo announced that all schools within a "containment area" in New Rochelle will be closed from Thursday until March 25. A specific list of schools wasn't provided, but Dr. Howard Zucker, commissioner of health for New York state, said the "containment area" is defined as a one-mile radius around the area of the Young Israel of New Rochelle Temple. The temple was locked down after Lawrence Garbuz, a congregant, tested positive for the virus.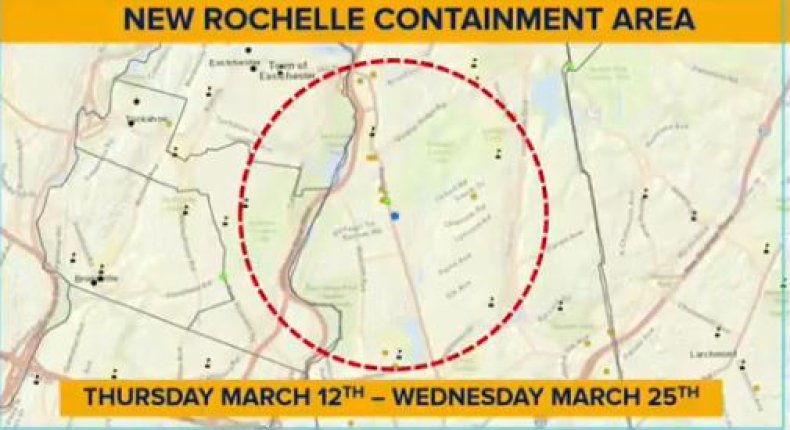 Along with schools, all places within the containment area where large groups of people gather will be closed, including temples and potentially a Boys and Girls Club. Residents will be permitted to walk the streets and local shops that don't fall under the definition of "large facilities that do large gatherings" will remain open.
"You can go in and out but those facilities that would bring a large number of people together can't do it for two weeks," Cuomo said.
He acknowledged that the measure would cause a disruption and that business owners and local politicians may be unhappy. But, he said precautionary measures couldn't be a political decision and that he was acting on behalf of Zucker's recommendation.
"In a situation like this whether you're president, mayor or governor, let the experts decide and let the science drive the decision," Cuomo said. "When you politically interfere in science that's when you tend to make a mistake."
Cuomo also said the National Guard will be mobilized to the containment area and will assist with food delivery, transportation and cleaning. Officials still aren't certain how long the virus can live on a hard surface, such as stainless steel or plastic, but it's possible it can survive for two days or longer, making disinfecting a top priority.
Of the cases in New York, the governor said only 14 people have been hospitalized and most of those are members of a "vulnerable community." He stressed that people needed to look at the context of the situation and that the bold action to contain the virus was to protect people who are considered high risk, such as the elderly and those with underlying conditions or weakened immune systems.
"It is a dramatic action ... but it is the largest cluster in the country," Cuomo said during a Tuesday press conference. "And this is a matter of life and death."
This story will be updated as more information is available.