Costco Mask Policy Explained as Customers With Medical Condition No Longer Exempt from Wearing Face Covering
Costco customers who are unable to wear a mask due to a medical condition are required to wear a face shield at all stores from Monday, amid the ongoing COVID-19 pandemic.
"Effective Nov. 16, 2020, we will require all members, guests and employees to wear a face mask or face shield at Costco locations," Costco's president and chief executive officer, Craig Jelinek, wrote in a statement. The policy does not apply to those aged under two.
A mask requirement has been in place at all Costco stores since May 4. However, those with a medical condition were previously exempt from the rule.
"This [exemption] is no longer the case. If a member has a medical condition that prevents them from wearing a mask, they must wear a face shield at Costco," Jelinek said.
Entry to all Costco locations will only be allowed to those who comply with the new guideline.
"This updated policy may seem inconvenient to some, however we believe the added safety is worth any inconvenience. Our goal is to continue to provide a safe shopping environment for our members and guests, and to provide a safe work environment for our employees," Jelinek wrote.
Costco among several major stores across the country that have implemented a mask policy since the pandemic began.
Walmart, the world's largest retailer based on annual revenue, has required all customers to wear masks since July 20.
In a statement at the time, the company said it "will work with customers who show up at a store without a face covering to try and find a solution.
"We know it may not be possible for everyone to wear a face covering. Our associates will be trained on those exceptions to help reduce friction for the shopper and make the process as easy as possible for everyone.
"We know some people have differing opinions on this topic. We also recognize the role we can play to help protect the health and well-being of the communities we serve by following the evolving guidance of health officials like the CDC [U.S. Centers for Disease Control and Prevention]," the company added.
Retail giant Target also requires all customers to wear masks or face coverings at its stores. However, those with "underlying medical conditions and young children," are exempt from the requirement, the company says on its website.
"This [mask policy] builds on the more than 90 percent of our stores that already require guests to wear face coverings due to local and state regulations," the company said.
Lowes, the home improvement retail chain, also adopted a mask policy requiring every customer to wear a face mask or face covering. "We will offer face masks at the customer service desk of every store for customers who need them, while supplies last," the company said.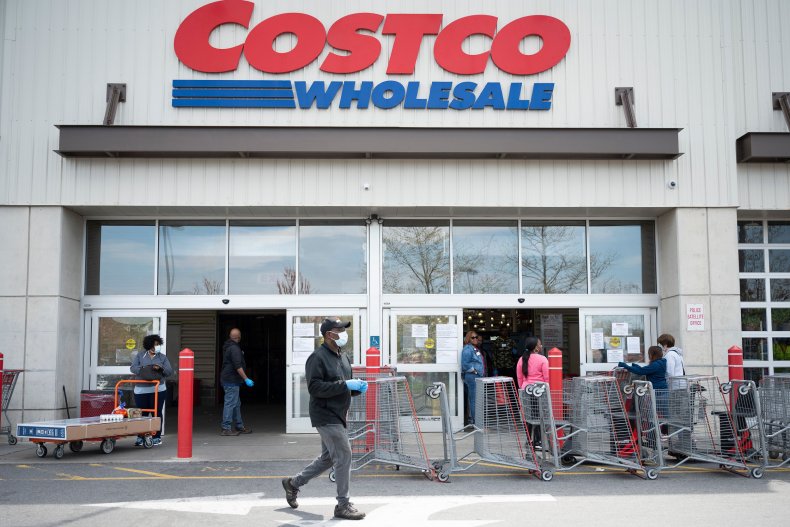 CDC advice on face shields
Mask-wearing is recommended by the CDC as it can help slow the spread of COVID-19 infection by preventing your respiratory droplets from reaching others.
"Most people with underlying medical conditions can and should wear masks.
"CDC recognizes there are specific instances when wearing a mask may not be feasible. In these instances, consider adaptations and alternatives," such as face shields, the CDC said.
However, the national health body "does not recommend using face shields or goggles as a substitute for masks.
"Face shields have large gaps below and alongside the face, where your respiratory droplets may escape and reach others around you. At this time, we do not know how much protection a face shield provides to people around you," the CDC warned.
The wider picture
The novel coronavirus has infected more than 52.8 million people since it was first reported in Wuhan, China.
Globally, more than 1.2 million have died while more than 34.2 million have recovered as of Friday, according to Johns Hopkins University.
The graphic below, provided by Statista, shows the spread of COVID-19 cases across the U.S.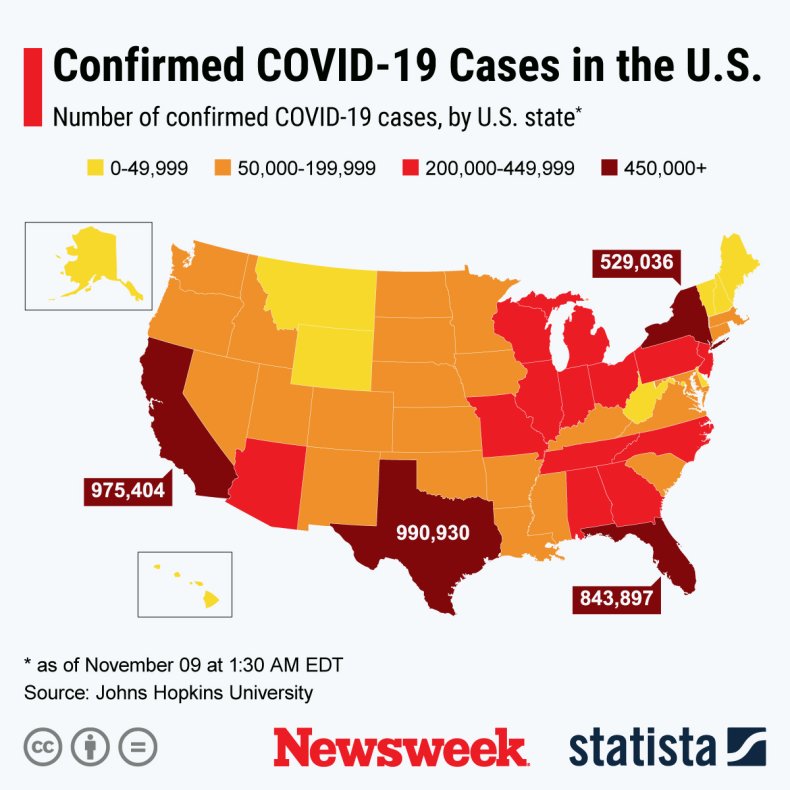 The graphic below, also produced by Statista, the number of U.S. COVID-19 hospitalizations reported from March to November.