Coronavirus Could Devastate State Unemployment Systems Long After Recession Ends
Coronavirus has state unemployment agencies reeling as millions of laid-off Americans seek benefits, but the effects of the pandemic are expected to linger long after the recession is over.
That's because in order to keep up with the increasing amount of claims—more than 30 million people filed for unemployment insurance in the past seven weeks alone—states will have to turn to the federal government for loans.
To pay back the hefty loans, which are only interest-free until the end of next year, agencies are likely to do two things: increase taxes on businesses or slash their unemployment programs. Many choose the latter.
"I would fully expect harsh cuts to unemployment benefits in the years to come," said Andrew Stettner, a senior fellow at the liberal public policy research group The Century Foundation. "I'm really concerned that the sympathy for the unemployed will wane and as it wanes the benefits will be a lot easier to cut."
After the Great Recession, nine states reduced the number of weeks residents could get unemployment insurance. In some cases, states lowered the maximum from 26 weeks of insurance to as few as 12 weeks. Others slashed the monetary amount of benefits or increased administrative hurdles for filing a claim in the first place. Michigan, for example, imposed restrictions like excluding seasonal employees and shifting the burden for reporting past income from employers to employees.
"That seems to be the biggest problem. States just made it harder to get a benefit and in so doing they made their system not so responsive to a recession," said Michele Evermore, a senior policy analyst for social insurance at the National Employment Law Project. "Now it's hard to get benefits again during this pandemic when money needs to go out right away."
Similar benefit cuts and restrictions are expected to take shape after coronavirus as it will take years for states to pay off these federal loans. In 2010, two years after the last financial crash, states had an outstanding balance of $40 billion after taking out loans to pay out unemployment benefits. It took some states until 2018 or 2019 to get out of debt. The U.S. Virgin Islands still has an outstanding balance from the last recession.
Earlier this week, California became the first state to borrow money in order to keep up with payments. The state was approved for a $10 billion loan through the end of July and has already taken out nearly $350 million, according to a report from The Wall Street Journal.
But the Golden State won't be the last to resort to the federal government for aid. Nine states have already applied for the loan: California, Connecticut, Hawaii, Illinois, Massachusetts, New York, Ohio, Texas, and West Virginia. Several others, including Kentucky and Minnesota, are on the verge of depleting their unemployment accounts, according to experts.
"The unfortunate reality is that if the crisis continues as most expect, most states—if not all states—will ultimately need to rely some on federal loans," said Jared Walczak, the director of state tax policy at The Tax Foundation.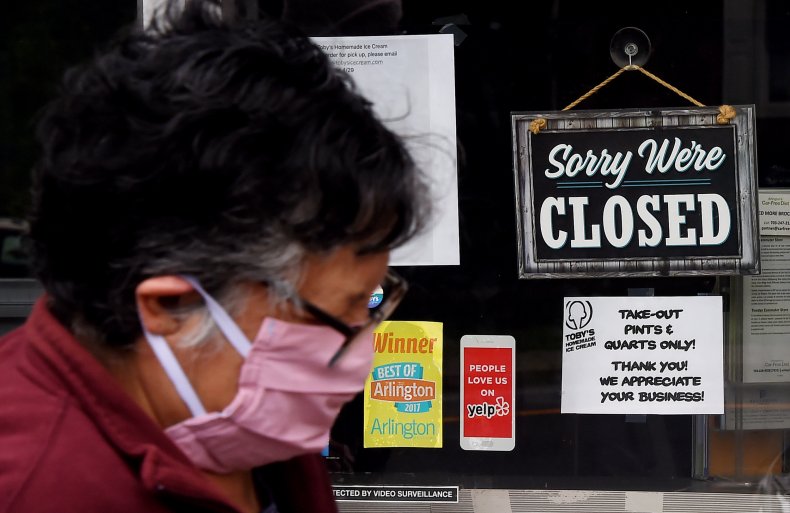 States are responsible for paying regular unemployment benefits, while the extra $600 payments recently added for workers laid off due to COVID-19 are funded through the historic $2 trillion relief package signed into law in late March.
While the federal trust for unemployment insurance is large, it's not infinite and experts say it likely won't be enough to pay out all the benefits necessary during this pandemic-related recession. But there hasn't been much discussion about increasing the trust in the next round of coronavirus legislation, which could come to a vote as early as next week. Plus, several Republicans have voiced concern over adding any more unemployment benefits. Senator Lindsey Graham (R-S.C.) said Congress would extend the additional $600 unemployment benefit provided in the coronavirus relief package past July only "over our dead bodies."
"The federal government is going to have to do something as a backstop. I can't imagine Congress is not going to make sure there is money to pay insurance benefits," Evermore said.