Coronavirus Could Drain Congressional Candidates' Finances—That's Good News for Incumbents
The coronavirus pandemic threatens to drain the revenue streams of congressional political candidates, but the emptying bank accounts could give a bittersweet boost to incumbents in November.
Social distancing measures having forced candidates to give up conventional campaigning—holding rallies, door-to-door canvassing, schmoozing over voters at local diners—leaving them to scramble for ways to connect with voters and the checks that come with them.
"We're expecting to see at least a 50 to 60 percent drop-off," Sarah Elizabeth Pole, the director of marketing for progressive consulting firm Grassroots Analytics, told Newsweek about second-quarter revenues. "We're recommending scaling back, making teams as lean and mean as possible, limiting expenditures and liabilities across the board, and saving up for later in the cycle when things are—maybe—a little more back to normal."
That means challengers, who typically must fight harder for recognition and support, could be in for an even greater battle than they expected. And those already in office—particularly members in toss-up races—possess sizable fundraising leads that could carry them through the election, records show, increasing their ability to hold on to their seats.
The global crisis has also armed office-holders with a megaphone for constituents seeking the latest public health news.
"It's letting people see them less as political figures and more as somebody in a position to help them," John Brabender of the Republican consulting firm BrabenderCox told Newsweek. "This [Fall] is going to be a referendum on how'd we do with fighting the coronavirus. All the incumbents—Democrats, Republicans—are certainly getting the benefit of the doubt."
That's welcome news for dozens of first-term Democrats in the House, many of whom narrowly flipped districts won by President Donald Trump. It also bodes well for the roughly half-dozen GOP senators defending their seats in toss-up races.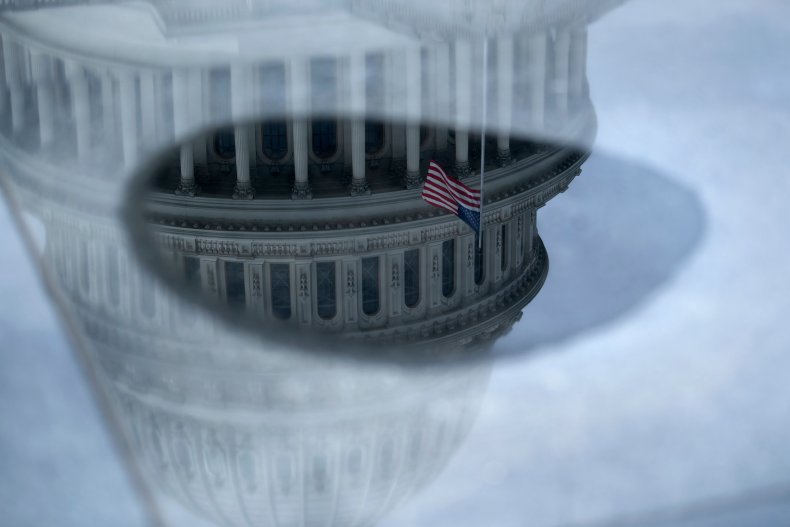 Nearly all of the most vulnerable House Democrats raised at least twice as much and had at least double the amount of cash on hand compared to their GOP opponents at the end of 2019, according to the latest Federal Election Commission filings. In the Senate, vulnerable Republican incumbents roughly doubled their Democratic challengers and had well over double the cash on hand for the same period. The anomaly was Arizona's Martha McSally, who trailed her Democratic rival.
The congressional campaign arms of House Democrats and Senate Republicans each had stellar Februaries, outraising each other's counterpart for the month—promising signs for the Democratic-controlled House and GOP-led Senate.
ActBlue, a technology firm used by Democrats across the country to raise money online, told Newsweek that while political donations are down and campaign activity has slowed, people continue to give money. In the first half of March compared to the last half, the total money raised by Democratic candidates in the Senate and House decreased by six percent and 13 percent, respectively.
"When donors are asked, they give," an ActBlue spokesperson told Newsweek. "We've seen a lot of campaigns just not making the same amount of asks as they were before this crisis struck."
Preliminary first-quarter figures show fairly strong fundraising hauls. For many states, the pandemic's full effects weren't felt until mid-March, providing a mere dent in first-quarter fundraising.
But Republican and Democratic Party officials, as well as consulting firms, are warning candidates that the brunt of the pandemic's impact will be felt in the second quarter.
Candidates are being forced to adapt to the major impact that will come. The focus is digital. Holding tele-townhalls and posting selfie videos on social media, similar to those that liberal firebrand Rep. Alexandria Ocasio-Cortez (D-N.Y.) is well-known for, have become the new norm.
Candidates also have to avoid appearing overtly political during what is a tough time for many families.
House Democrats have been advised to start each conversation with a voter by "asking people how they're doing, making sure they're okay, checking in," a Democratic source said.
"[Y]ou should not fundraise off coronavirus directly as the Democrats have done," stated a National Republican Congressional Committee memo to House GOP members and candidates."Be sensitive that your donors may have suffered financial losses during this pandemic."
"Completely to the backburner": Campaigns go dark
Nevertheless, campaign activity has largely come to a grinding halt, several candidates told Newsweek.
"I made the decision to cancel my five fundraisers in March, and I personally stopped dialing for dollars," South Carolina state Rep. Nancy Mace told Newsweek.
Mace is one of the Republicans running to unseat Rep. Joe Cunningham, a first-term Democrat who flipped a congressional district Trump won by nearly 13 points. House Minority Leader Kevin McCarthy (R-Calif.) was even slated to attend one of Mace's events before she had to cancel it, she said.
Cunningham won in 2018 by less than 4,000 votes, or 1.4 percent.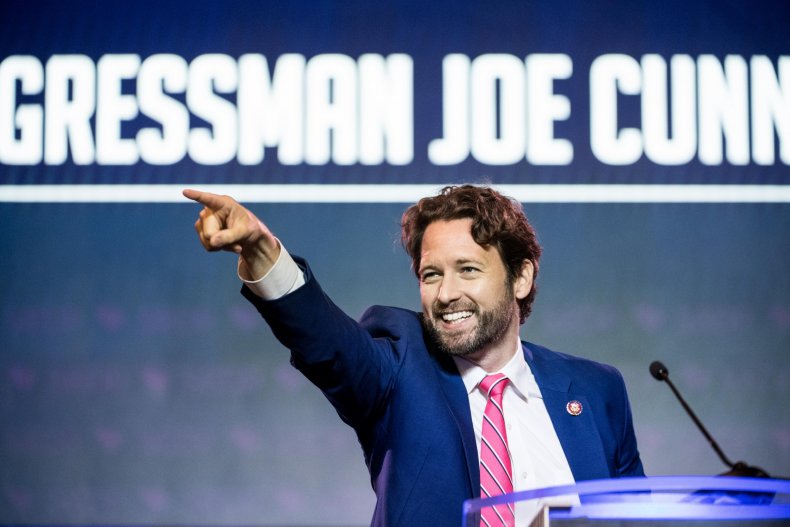 Mace said she raised more than $300,000 in the first three months of this year, surpassing her goal. Still, at the end of last year, Cunningham had more than $2 million cash on hand compared with Mace's $713,000, according to FEC records.
New York City remains the U.S. epicenter for the virus, where more than 7,000 people have died, as of Friday. Rep. Max Rose (D-N.Y.), a vulnerable member in his first term who represents Staten Island, returned to active duty with the Army National Guard last week to help care for coronavirus patients at an emergency hospital in his district.
"Campaign activity went completely to the backburner. Focusing on fundraising has not at all been a thing," a campaign spokesman told Newsweek. "Politics are the last of our worries right now. We have people dying every day."
The story is parallel for Rose's Republican opponent, New York Assemblywoman Nicole Malliotakis. A culmination of local and state officials, including Rose, played roles in opening the emergency coronavirus hospital Rose is stationed at, South Beach Psychiatric Center. It's also located in Malliotakis' state district.
"She's doing all the things she can do to help the community with the response," her campaign manager told Newsweek.
In California, an early hotspot for the virus when it was initially spreading across the country, Democrat Ammar Campa-Najjar and former Republican Rep. Darrell Issa are jockeying over California's 50th Congressional District. The seat is vacant after the resignation of former GOP Rep. Duncan Hunter, who was sentenced to 11 months in prison for campaign finance violations.
Campa-Najjar told Newsweek he's suspended all campaign activity, although fundraising "has not been an issue. We've been raising a lot of money still." As a result, he pledged to donate a portion of his campaign money—so long as it's permissible under FEC laws—to help voters directly impacted by the pandemic by working with nonprofits and charities.
"Hopefully, it's more persuasive than a mail piece. This is a moment where you can actually show them and not tell them how you're going to lead," Campa-Najjar said. "The best leaders find the opportunity in a challenge and find a way to adjust. Take this unconventional time to do unconventional things and reach people you otherwise wouldn't."