A grassroots group of scientists and researchers are recruiting volunteers for a potential human trial to help develop a vaccine against the coronavirus. The 1 Day Sooner group is speculatively seeking volunteers to be infected with the SARS-CoV-2 virus which causes the COVID-19 disease to take part in human vaccine trials. At the time of writing, more than 2,300 from 52 countries have indicated their interest in becoming a volunteer.
The group is not affiliated with any company working towards a human challenge trial (HCT) and no HCT is currently planned. But the group hopes that recruiting enough people willing to volunteer will help convince policymakers that an HCT is a viable option towards developing a vaccine against the coronavirus.
Josh Morrison, a member of 1 Day Sooner and the executive director of Waitlist Zero, an organ-donation advocacy group, told Nature: "We want to recruit as many people as possible who want to do this, and pre-qualify them as likely to be able to participate in challenge trials should they occur.
"At the same time, we feel that the public policy decisions around challenge trials will be better informed if they highlight the voice of people interested in participating in such trials."
HCTs are controversial as they pose a risk towards volunteers, who could become seriously sick during the trial. However, 1 Day Sooner says it is minimizing the risk the volunteers would face by recruiting young people, aged 20 to 45, with no underlying health conditions, who are less likely to become seriously unwell with COVID-19.
A report by the Centers for Disease Control and Prevention (CDC) shows that of 508 patients hospitalized with the coronavirus in the U.S., 20 percent were aged 20-44. Of these patients, 2-4 percent were admitted to the ICU.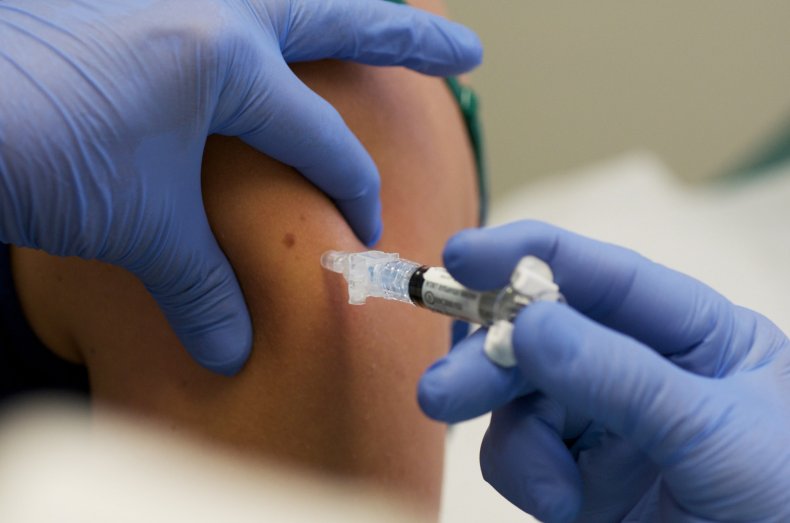 The 1 Day Sooner group says it would also minimize the risk by using volunteers who are already likely to become infected with the coronavirus, such as people living in high-transmission areas or those working directly with people suffering with COVID-19.
The volunteers would be isolated in a controlled environment under constant observation. Should they became sick, they would be provided with medical treatment.
Traditional vaccine trials involve injecting some volunteers with a vaccine and others with a placebo, to test if those who are vaccinated are less likely to become infected. In these trials, the volunteers return to their daily lives to test the vaccine under real-world conditions. As there is a chance that only a small number of people would become infected, it could take many people and a lot of time to see the results.
An HCT has the potential to accelerate the development of a vaccine as the volunteers are guaranteed to become infected with the disease. Therefore, it could be possible to judge the efficacy of a vaccine more quickly and with fewer people.
There is already some support for the potential of an HCT to develop a vaccine against the coronavirus. This week, 35 members of congress, led by Bill Foster and Donna Shalala, called on Alex Azar, Secretary of Health and Human Services, and Stephen Hahn, FDA commissioner, to "use their existing authority to rapidly evaluate, approve, and deploy a SARS-CoV-2 vaccine including human challenge trials."
Morrison told Newsweek: "Given the era-defining scale of the epidemic, we need to be considering all possible options. At this point, the decision is not whether to conduct a challenge trial but whether to take the initial steps to make a challenge trial possible once we have more information.
"We need to be well-prepared, and we need to keep all our options option, particularly those options that could potentially accelerate a vaccine to end this crisis by a significant margin."
However, HCTs may not gather widespread support as they are controversial. The World Health Organization (WHO) says that while HCTs have contributed to "vital scientific knowledge that has led to advances in the development of drugs and vaccines," the method of research "can appear to conflict with the guiding principle in medicine to do no harm."
The WHO says: "It is essential that challenge studies be conducted within an ethical framework in which truly informed consent is given. When conducted, human challenge studies should be undertaken with abundant forethought, caution, and oversight. The value of the information to be gained should clearly justify the risks to human subjects. Information to be gained should clearly justify the risks to human subjects."
The graphic from Statista below illustrates the number of COVID-19 cases in the U.S. as of April 24, 2020, at 1.30 a.m. ET.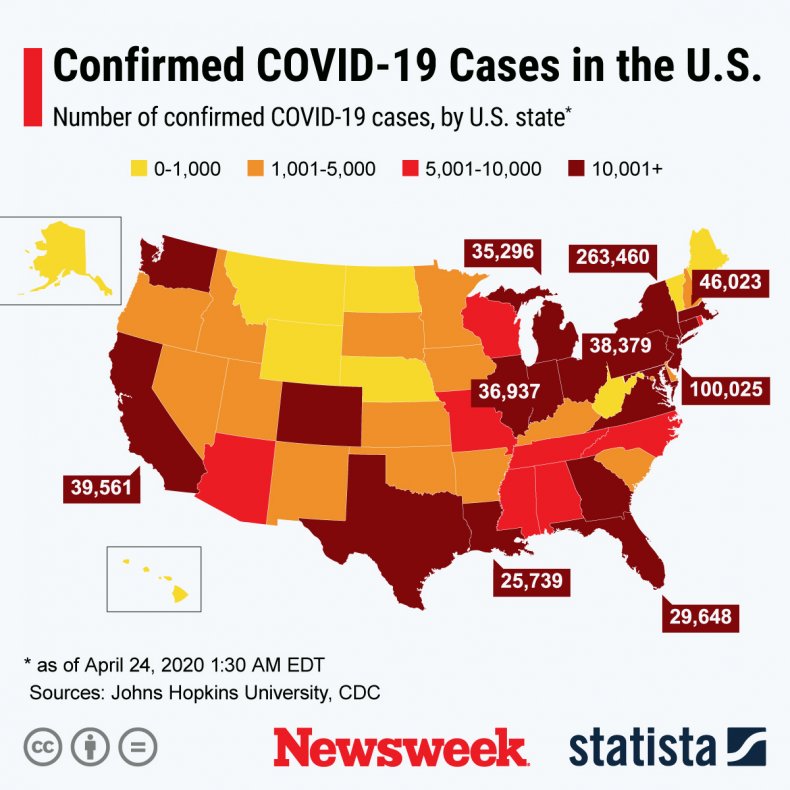 Centers for Disease Control and Prevention Advice on Using Face Coverings to Slow Spread of COVID-19
CDC recommends wearing a cloth face covering in public where social distancing measures are difficult to maintain.
A simple cloth face covering can help slow the spread of the virus by those infected and by those who do not exhibit symptoms.
Cloth face coverings can be fashioned from household items. Guides are offered by the CDC.
Cloth face coverings should be washed regularly. A washing machine will suffice.
Practice safe removal of face coverings by not touching eyes, nose, and mouth, and wash hands immediately after removing the covering.
World Health Organization advice for avoiding spread of coronavirus disease (COVID-19)
Hygiene advice
Clean hands frequently with soap and water, or alcohol-based hand rub.
Wash hands after coughing or sneezing; when caring for the sick; before, during and after food preparation; before eating; after using the toilet; when hands are visibly dirty; and after handling animals or waste.
Maintain at least 1 meter (3 feet) distance from anyone who is coughing or sneezing.
Avoid touching your hands, nose and mouth. Do not spit in public.
Cover your mouth and nose with a tissue or bent elbow when coughing or sneezing. Discard the tissue immediately and clean your hands.
Medical advice
Avoid close contact with others if you have any symptoms.
Stay at home if you feel unwell, even with mild symptoms such as headache and runny nose, to avoid potential spread of the disease to medical facilities and other people.
If you develop serious symptoms (fever, cough, difficulty breathing) seek medical care early and contact local health authorities in advance.
Note any recent contact with others and travel details to provide to authorities who can trace and prevent spread of the disease.
Stay up to date on COVID-19 developments issued by health authorities and follow their guidance.
Mask and glove usage
Healthy individuals only need to wear a mask if taking care of a sick person.
Wear a mask if you are coughing or sneezing.
Masks are effective when used in combination with frequent hand cleaning.
Do not touch the mask while wearing it. Clean hands if you touch the mask.
Learn how to properly put on, remove and dispose of masks. Clean hands after disposing of the mask.
Do not reuse single-use masks.
Regularly washing bare hands is more effective against catching COVID-19 than wearing rubber gloves.
The COVID-19 virus can still be picked up on rubber gloves and transmitted by touching your face.