COVID Vaccine Update—Pfizer One of 10 Vaccines in Phase 3 Trials As Race Enters Final Stage
There are 10 potential COVID-19 vaccines in the final stage (Phase III trial) of their clinical evaluation, four of which are being developed by U.S. companies, according to a World Health Organization (WHO) report published November 3.
This includes one from American pharmaceutical company Pfizer, in collaboration with Germany's BioNTech firm, which was revealed to be "more than 90 percent effective in preventing COVID-19," Pfizer said in a statement Monday.
Pfizer is expecting to apply for Emergency Use Authorization from the U.S. Food and Drug Administration (FDA) in the third week of November "after the required safety milestone is achieved," the company said.
"We are a significant step closer to providing people around the world with a much-needed breakthrough to help bring an end to this global health crisis. We look forward to sharing additional efficacy and safety data generated from thousands of participants in the coming weeks," said Dr. Albert Bourla, Pfizer chairman and CEO.
There are currently 47 vaccine candidates under clinical evaluation, while 155 candidates are in pre-clinical evaluation, according to the WHO. Here we look at some of the latest major COVID-19 vaccine developments around the world.
U.S.
In addition to Pfizer, three other U.S. companies are at the Phase III stage.
Moderna
In late October, the Phase III trial for mRNA-1273, the vaccine candidate being developed by the Massachusetts-based biotechnology firm Moderna and the National Institute of Allergy and Infectious Diseases, completed its enrollment of 30,000 participants.
"Moderna will determine whether to submit a dossier to FDA requesting Emergency Use Authorization based on an assessment of whether the potential benefit of the vaccine outweighs the potential risks once the two months of median safety follow-up have accrued," Moderna said last month.
The company confirmed it was on track to reveal interim data this month, Reuters reported in October.
Novavax
On Monday, Maryland-based biotechnology firm Novavax announced the FDA has granted "Fast Track Designation" for its vaccine candidate NVX-CoV2373.
"The FDA's decision [...] reflects the urgent need for a safe and effective vaccine to prevent COVID-19, and we look forward to working closely with the agency to accelerate access to this vaccine," said Dr. Gregory Glenn, president of research and development at Novavax.
The company expects to begin a Phase III trial in the U.S. and Mexico by the end of this month, Novavax said in a statement Monday.
Novavax began a Phase III trial in the U.K. in September. Enrollment of participants for this trial, which is being conducted in partnership with the British government's Vaccines Taskforce, is expected to be completed this month. Interim data could be available early next year, the company said.
Johnson & Johnson
Janssen, a division of Johnson & Johnson, paused the Phase III trial of its vaccine candidate last month because of an "unexplained illness" in one of its participants.
Testing of the vaccine resumed last month in the U.S. while its trial in Brazil has been approved to resume this month.
U.K.
University of Oxford/AstraZeneca
Production of the AZD1222 vaccine candidate, being developed by the University of Oxford and British-Swedish pharmaceutical company AstraZeneca, began Monday in the Australian state of Victoria, ahead of the completion of its Phase III trial.
The manufacturer CSL aims to create about 30 million doses.
CSL's chief scientific officer, Andrew Nash, said: "We're making this ahead of time so should the clinical trial be positive with the outcome that we're looking for [...] the vaccine will be available in the short term to distribute to the population," he said.
Imperial College London
Last month Imperial College London announced a new partnership with Indonesia to work on its COVID-19 vaccine, which has been in development for about six months.
Participants in its vaccine study were reported to be "responding well," according to an update in September by Professor Robin Shattock, head of the Imperial team.
The university is hoping to begin a larger trial of 20,000 volunteers in 2020 and global trials are expected to begin later this year, with potential approval for the vaccine by mid-2021, according to Shattock.
Russia
On Monday, Russia's health ministry revealed that its Sputnik V vaccine is also more than 90 percent effective, based on data following vaccinations of the public.
Oksana Drapkina, director of the National Medical Research Center for Preventive Medicine in Russia's Ministry of Health, said in a statement: "We are responsible for monitoring the effectiveness of the Sputnik V vaccine among citizens who have received it as part of the mass vaccination programme.
"Based on our observations, its effectiveness is also more than 90 percent. The appearance of another effective vaccine—this is good news for everyone," Drapkina said.
The country is also expected to reveal the preliminary results of an ongoing Phase III trial of its potential vaccine being conducted among 40,000 people in Moscow.
Alexander Gintsburg, director of Moscow's Gamaleya Institute, which developed Sputnik V, said: "In the near future we expect to publish interim results of the post-registration trial of the vaccine Sputnik V, the so-called Phase III trials. I am sure that its effectiveness level will also be high."
China
Sinovac Biotech
Last month, CoronaVac, being developed by China's Sinovac Biotech, was reported to be safe in a Phase III trial of 9,000 participants at Brazil's Butantan Institute in São Paulo.
On Monday, however, the Brazilian Health Surveillance Agency (ANVISA) said it "ruled to interrupt the clinical trial of the CoronaVac vaccine after a serious adverse incident."
Dimas Covas, the director of the Butantan Institute, told local media the pause was related to a death. However, Covas added that the death was not connected to the vaccine.
Sinovac Biotech said in a statement Tuesday: "We learned the head of Butantan Institute believed that this serious adverse event is not related to the vaccine. The clinical study in Brazil is strictly carried out in accordance with Good Clinical Practice requirements and we are confident in the safety of the vaccine."
São Paulo is aiming to produce 100 million doses a year of CoronaVac, which will be ready by September 2021.
Data on the effectiveness of the vaccine will not be released until the Phase III trial is completed on all 13,000 participants, Covas said last month.
CanSino Biologics
The Ad5-nCoV vaccine, developed by Chinese biopharmaceutical company CanSino Biologics, is in final-stage trials and has been approved for use in the Chinese military.
In late September, the first participants in the Phase III clinical trial were vaccinated in Moscow, according to a statement from Petrovax, the Russian pharmaceutical company behind the trial.
The participants were reported to be "doing well" and "none of them have shown any side effects.
"According to expert forecasts, during this period, the vaccinated subjects will develop an antibody and cellular immune response to COVID-19. The volunteers will also have to undergo a control examination after six months," the statement said.
Australia
The University of Melbourne and the Murdoch Children's Research Institute in Melbourne are looking at the potential for the Bacille Calmette-Guérin (BCG) vaccine, which protects against tuberculosis, to reduce the incidence and severity of COVID-19 in healthcare workers.
"We hope that the BCG vaccine will boost your immune system. It may provide you with non-specific protection against COVID-19 and other illnesses," the institute noted.
The study began in late March with a AU$10 million ($7.2 million) investment from the Bill & Melinda Gates Foundation. It will be conducted among 10,000 healthcare workers in Australia and Europe.
Last month, the institute confirmed it would soon begin recruitment of participants in the U.K. Expansion of the trial to the U.S., Africa and India are also being discussed.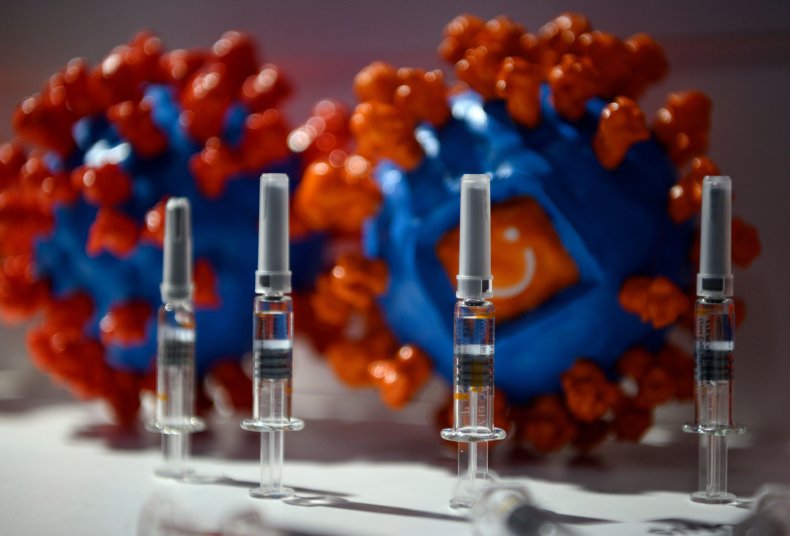 The wider picture
The novel coronavirus has infected more than 50.9 million people across the globe since it was first reported in Wuhan, China.
Globally, more than 1.2 million have died while more than 33.2 million have reportedly recovered as of Tuesday, according to John Hopkins University.
The graphic below, produced by Statista, shows the countries with the highest number of cases.