'Mr. and Mrs. Claus' Catch COVID After Nearly 100 Attend Christmas Events in Arizona
Two employees playing the role of Santa and Mrs. Claus have tested positive for COVID-19. They had been working at Christmas events attended by 80 people in Gilbert, a town southeast of Phoenix in Maricopa County, the state's most populous county.
Children can rest assured the real Santa and Mrs. Claus have not tested positive for the virus and remain unaffected by the latest incident.
The pair of workers from the Gilbert Parks and Recreation Department, who are a married couple in real life, attended the Polar Express Pajama Party event on December 11 and the Holiday Cookies and Crafts event the following Saturday morning, a spokesperson for the department told Arizona's ABC 15.
Speaking to Newsweek, the department's digital marketing coordinator, Eva Kirschbaum, said: "We have not received any reports of positive results for COVID-19 from attendees."
The Polar Express Pajama Party was attended by 47 people, while 33 people, many of whom were children, were hosted at The Holiday Cookies and Crafts event.
All 80 people who attended the events have been notified of the recent infections, while two other staff members, who had closer contact with the infected pair than others, are in quarantine while awaiting their test results, according to town officials.
A Polar Express Pajama Party and Adult Paint Party, which were slated to take place on December 18 at the Gilbert Community Center, have been canceled by the department following the latest incident.
Kirschbaum told Newsweek: "All attendees were required to wear their masks throughout the duration of the event. Each family was assigned a table and the tables were spread more than 6 feet apart in our 3,700 square foot room.
"Attendees were invited, one household at a time, to take photos outdoors with Santa and Mrs. Claus, who were wearing masks the entire time. This is when a few families chose to lower their masks and smile. They then replaced their masks and continued on with the event.
"Attendees would also lower their masks to eat or drink. Verbal announcements were given throughout the event regarding safety measures, and signage was placed throughout the area," Kirschbaum added.
The Gilbert Parks and Recreation Department previously issued COVID-19 safety guidelines, including modified room capacities and a mask requirement in enclosed public spaces for those aged older than six.
"Masks are required indoors when entering buildings and in hallways/restrooms at all public buildings. They are also required when individuals can't physically distance 6 feet or more from other people not in their household regardless of the amount of people in the area.
"Adults with children 2 to 5 years old must make reasonable effort to make them wear masks inside enclosed public spaces," the department noted in the guidelines.
Not everyone at the latest Christmas events followed the guidance, according to the department spokesperson.
"There were a few families who chose not to follow our recommendations," the spokesperson said in a statement. "Verbal reminders were given."
In a statement to Newsweek, Gilbert Mayor Scott Anderson said: "The safety of our residents and staff is our number one priority. While we've tried to continue to provide fun and safe events for our community during a challenging year, we, unfortunately, had a potential COVID-19 exposure at a recent event.
"As the pandemic continues and cases are increasing, we are continuing to follow state and local guidelines to evaluate and ensure the safety of our events, participants, and employees," he added.
The former director of the Arizona Department of Health Services (DHS), Will Humble, said: "They [Gilbert Parks and Recreation] did some good stuff. It wasn't all bad," adding: "They did limit the numbers."
"If you're going to have a face-covering requirement, then you [have] got to follow through and make sure that people are following the plan," he said.
The latest Christmas events were held at a time when COVID-19 cases were reported to be rising across Gilbert.
Total reported cases across Gilbert zip codes have reached at least 14,071, with 1,750 new cases reported in the past seven days, according to data from the COVID-19 dashboard published on the Gilbert government website.
The events also took place just a day after Dr. Cara Christ, the director of the Arizona DHS, warned: "Arizona continues to see COVID-19 moving in the wrong direction," in a video message shared on December 10.
"In-patient and ICU bed usage continues to rise. So does the COVID-19 illness-like metric. This points to increase in emergency room visits and hospital admissions due to COVID-19."
Total confirmed cases in Arizona are approaching 454,000, with 7,971 reported deaths, as of Monday, according to data compiled by Johns Hopkins University (JHU).
Update 12/22/20: This article was updated with comment from the Gilbert Parks and Recreation Department and Gilbert Mayor Scott Anderson.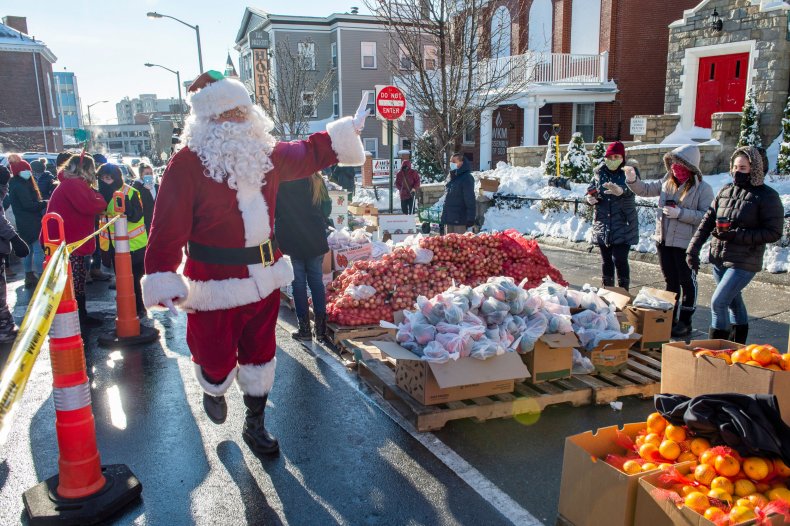 The wider picture
The novel coronavirus has infected more than 76.8 million people, including over 17.8 million in the U.S., since it was first reported in Wuhan, China.
More than 1.6 million people have died worldwide and over 43.3 million have recovered as of Monday, according to JHU.
The graphic below, provided by Statista, shows the countries with the highest COVID-19 death tolls.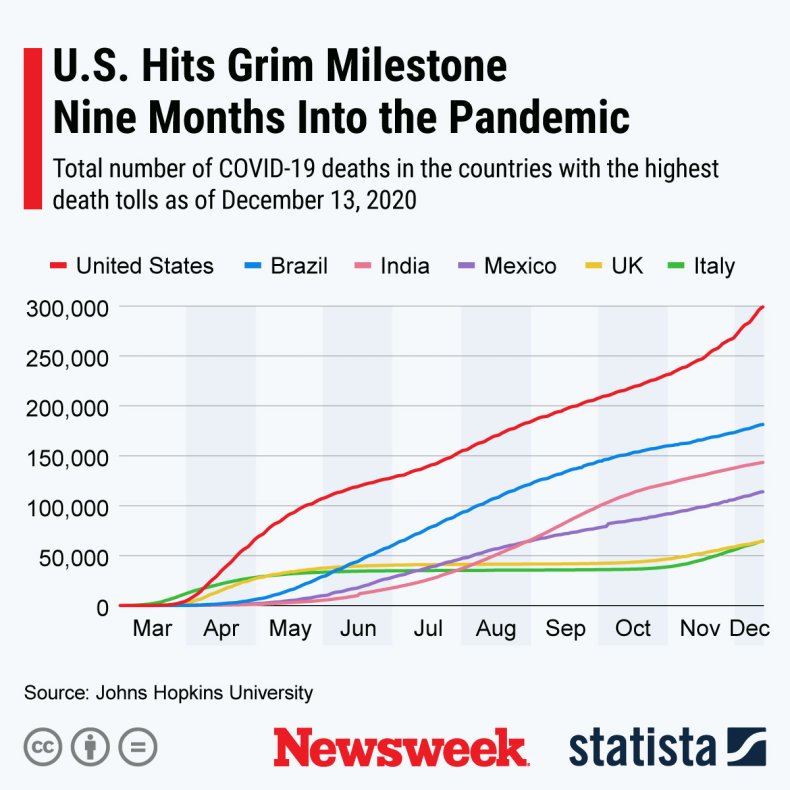 The graphic below, provided by Statista, shows the percentage of adults in the U.S. who would get a COVID-19 vaccine.