CVS COVID Vaccine Appointment Eligibility and How to Book Online
CVS Health, the company that owns the CVS Pharmacy chain, is offering COVID vaccinations at select CVS locations in 11 states. Those eligible can register by booking an appointment at the CVS website.
The website states: "We are administering the COVID-19 vaccine by appointment only in select stores, based on local eligibility guidelines."
In a statement on February 2, CVS Health said: "Supply for the initial rollout, which is sourced directly from the federal government through the pharmacy partnership program, will be approximately 250,000 total doses. As more supply becomes available, the company will expand to additional states while increasing the number of stores offering vaccinations.
"More than 90,000 health care professionals including pharmacists, licensed pharmacy technicians and nurses will participate in the vaccination effort, giving CVS Pharmacy the capacity to administer 20–25 million shots per month."
Eligibility for COVID-19 vaccination at CVS
The company said: "Eligibility will be confirmed and communicated by states in advance of the rollout." Below are states where CVS is offering vaccinations, as of February 2:
The company said in early February: "CVS Health is also working directly with Indiana (utilizing two CVS Pharmacy locations) and Ohio (19) to provide in-store vaccinations to eligible populations using state allocations. Other states may choose the same option, which is separate from the federal pharmacy partnership program but can run concurrently."
How to book COVID-19 vaccinations at CVS
Appointments can be booked at the CVS website or via its app. Customers who don't have internet access can call 1-800-746-7287.
To schedule an appointment on the CVS site, click on the "check vaccine availability in your area" hyperlink. This opens a drop-down menu allowing users to select their state.
Next, click the "Submit" icon to see which areas within that state are offering the vaccine. Click the "schedule" hyperlink to book an appointment.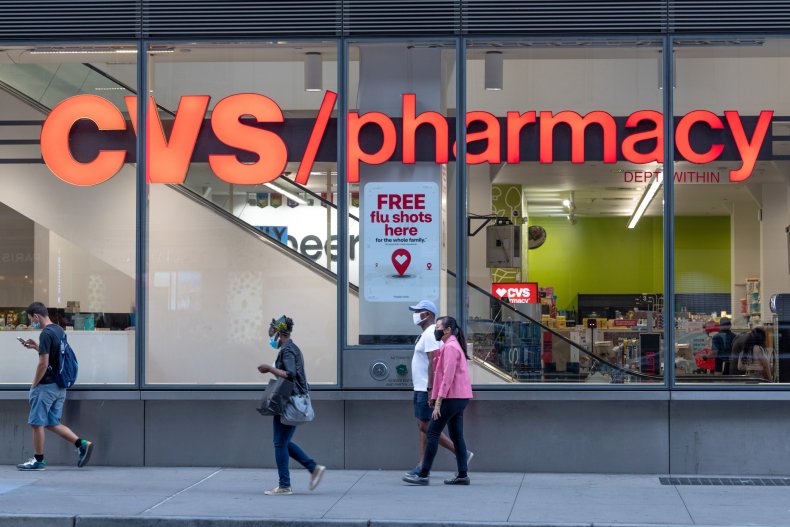 The wider picture
The novel coronavirus has infected more than 111.4 million people, including over 28.1 million in the U.S., since it was first reported in Wuhan, China.
More than 2.4 million people have died worldwide and more than 62.8 million have recovered as of Monday, according to Johns Hopkins University.
The graphic below, produced by Statista, shows which countries have the highest number of vaccine doses administered per 100 people.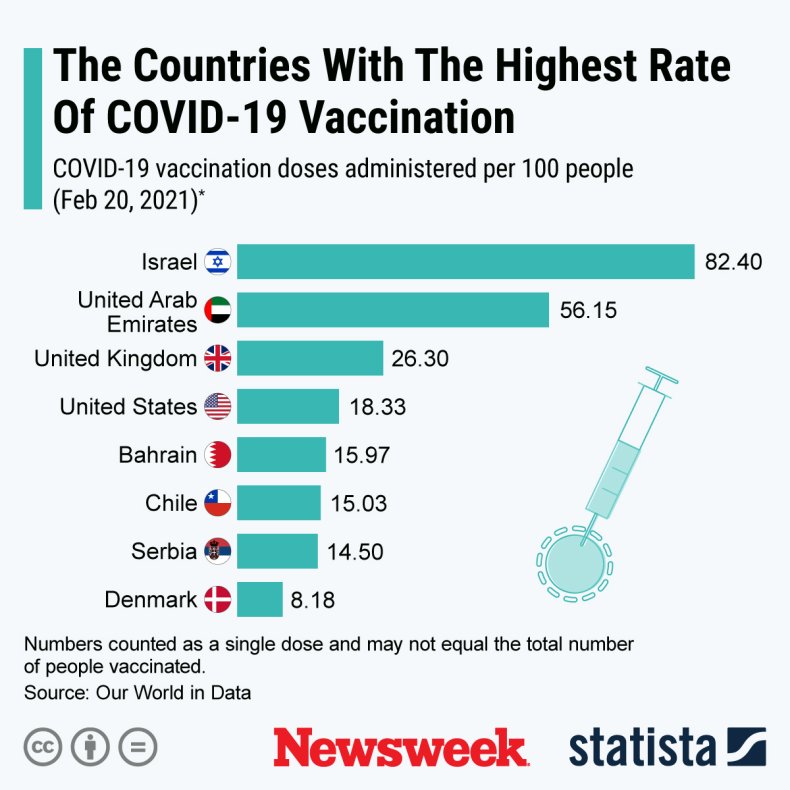 Newsweek, in partnership with NewsGuard, is dedicated to providing accurate and verifiable vaccine and health information. With NewsGuard's HealthGuard browser extension, users can verify if a website is a trustworthy source of health information. Visit the Newsweek VaxFacts website to learn more and to download the HealthGuard browser extension.