Doctors, Nurses Use Emotional Social Media Pleas to Warn Americans about Deadly COVID Surge
As current COVID-19 hospitalizations in the U.S. soar, several doctors and nurses have taken to social media in recent days to warn Americans about the deadly virus, which has killed more than 252,800 people, as of Friday, according to data compiled by Johns Hopkins University (JHU).
Several have shared emotional pleas and personal accounts of their day-to-day experiences at the frontlines of the outbreak.
On Wednesday, Twitter user @darakass, a Yahoo News medical contributor, tweeted: "The situation is dire. Hospitals are getting over run. Healthcare workers are exhausted. People are getting sicker and dying. It won't change anything about their response. 64 days.
On Thursday, user @CoryChevalier, a palliative medicine physician at the Cleveland Clinic, tweeted: "I see our patients in need, I see our beds filling up, I see our nurses working incredibly hard, and I see our doctors and trainees do more and more to ensure patients are getting the best care. We need help...Please help us; Please Mask Up! | #MaskUp."
Last week, user @MDaware, a doctor at Northwestern EM (Emergency Medicine), tweeted: "please [sic] consider having thanksgiving on iPad so fewer people have to say goodbye to their families forever from an ICU on an iPad."
Earlier this week, Carol Williams, a nurse at the Rush Copley Medical Center in Aurora, Illinois, made an emotional plea in a post on Facebook, asking people to "just stop" denying the severity of the outbreak.
The post read: "Stop thinking this is just like the flu, it isn't. Stop telling me the survival rate so it's not a big deal, it is a big deal. Stop saying healthcare workers signed up for this, we didn't.
"Stop ignoring science based recommendations of masking, social distancing, hand hygiene, and not gathering in large crowds, they work. Stop kidding yourself that this isn't going to affect you or someone you love or know, it will," the post continued.
On Tuesday, Lacie Gooch, a nurse working in a COVID-19 intensive care unit (ICU) at Nebraska Medicine, pleaded "Please take it [COVID-19] seriously. Wear your mask. And I hope I don't see you," in a viral Twitter video that has received at least 5,000 likes and 2,000 retweets since it was posted.
Describing the frustration of not being able to get to patients in need of immediate emergency care quickly enough, she noted: "Some of these things these patients need is emergent. I need to be taking care of them right now and they're not getting that, they're not getting the care they deserve because I have to wear this PPE to protect everybody.
On Monday, an ICU nurse in the Texas county of El Paso, where temporary refrigerated morgue trailers had to be deployed to cope with the rising number of COVID-19 deaths, tweeted about her emotional encounter with a COVID-19 patient who initially denied the severity of the virus despite being in intensive care but later admitted he was "mistaken."
His perspective shifted, however, following a "brutally honest" statement from the nurse describing her personal experience of the outbreak so far.
The nurse told the patient: "You're the only patient of 25 that has been able to speak to me today or is even aware I'm here" and that "in 10 years of being a nurse I've done more CPR and seen more people die in the last two weeks than I have in my entire career."
On Sunday, a doctor's emotional message highlighted a "disconnect between hospitals and surrounding communities". The message was tweeted by actress June Diane Raphael who shared a screenshot of a text received from her best friend (pulmonary and critical care doctor).
When Raphael asked "how she was doing," the doctor, whose location is unknown, responded: "We are overflowing our units. We are short staffed. We are physically, mentally and emotionally exhausted. People here aren't wearing masks, they are having Sunday family lunches, going to church, planning for Thanksgiving.
"There is such a disconnect between hospitals and surrounding communities...I drive home stunned through a college town with lines out the doors for the local bars.
"People complain about their personal freedoms being limited and the mental effects of social distancing and wearing a mask...but give no respect to others' right to live and give thought to the mental effects of accidentally infecting and killing grandma or the trauma they are imposing on their healthcare workers," the doctor added.
On Saturday, a registered emergency room nurse from South Dakota, Jodi Doering, also spoke out on Twitter about those who test COVID-19 positive and still deny that the virus is what's making them ill.
Doering tweeted: "As I'm on my couch with my dog I can't help but think of the COVID patients the last few days.
"The ones that stick out are those who still don't believe the virus is real. The ones who scream at you for a magic medicine and that Joe Biden is going to ruin the USA. All while gasping for breath on 100% Vapotherm.
"They tell you there must be another reason they are sick. They call you names and ask why you have to wear all that 'stuff' because they don't have COVID because it's not real. Yes. This really happens," she added.
The latest warnings follow record current COVID-19 hospitalizations reported for 10 days in a row since November 10, according to data compiled by The Atlantic's The COVID Tracking Project.
According to the Institute for Health Metrics and Evaluation (IHME) at the University of Washington, the country's daily case count is projected to reach around 445,148 on Thanksgiving, more than double the latest daily case tally of 187,833 reported on November 19, with "continued easing of social distancing mandates and mandates are not re-imposed."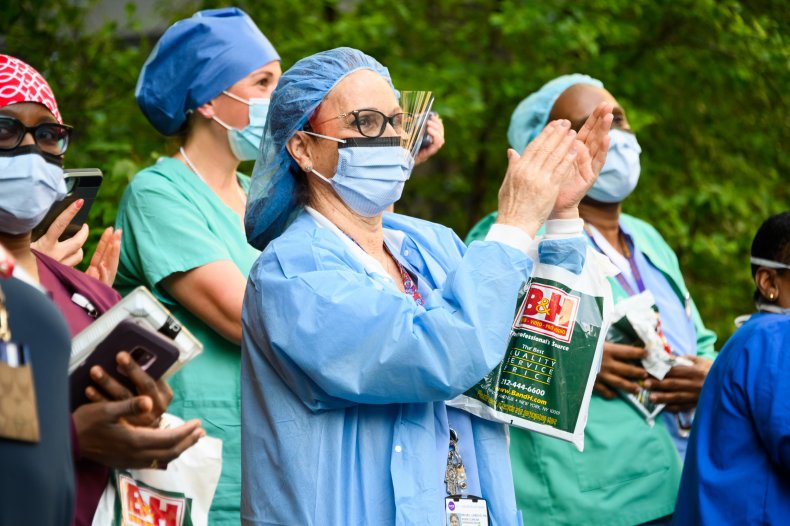 The wider picture
The novel coronavirus has infected more than 57.1 million people since it was first reported in Wuhan, China.
More than 1.3 million people have died worldwide and more than 36.6 million have recovered as of Friday, according to JHU.
The graphic below, provided by Statista, illustrates the number of COVID-19 hospitalizations from March to November.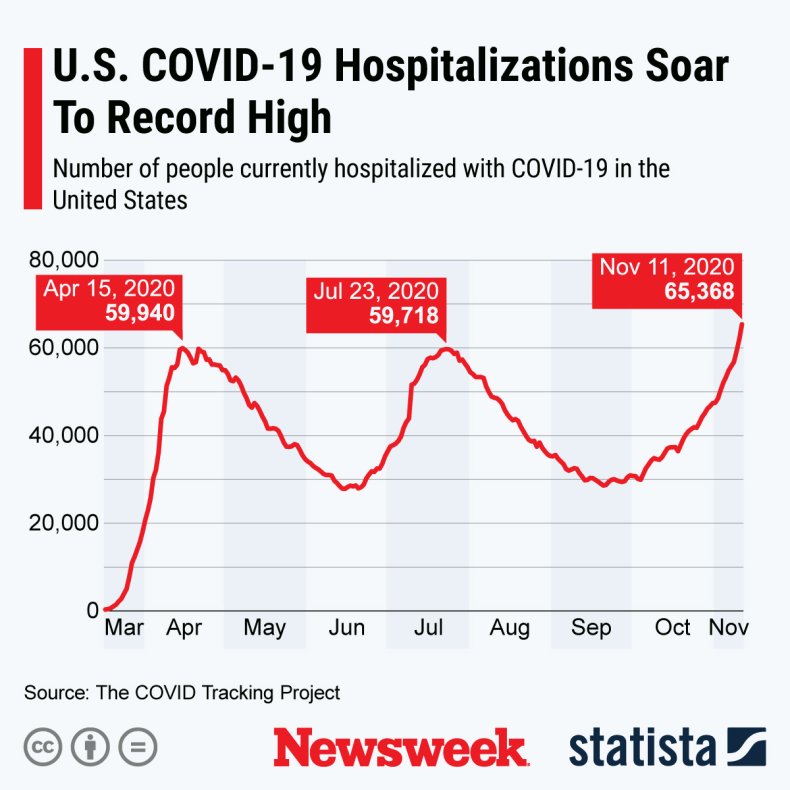 The graphic below, produced by Statista, shows the spread of COVID-19 cases across the U.S.