Beth Wessel-Kroeschell Breaks House Rules by Wearing Jeans To Protest Lack of Mask Mandate
Democratic Iowa Representative Beth Wessel-Kroeschell has protested the lack of a mask mandate by violating the dress code of the House floor at the Iowa State Capitol, where face coverings are not required during the legislative session.
Wessel-Kroeschell wore jeans to the House floor, which goes against the new House rules introduced last month that state: "During a legislative day while the house is in 24 order, no member of the general assembly or legislative 25 employee or intern shall be admitted to the floor of 26 the house if attired in jeans of any color without 27 leave of the speaker."
A mask mandate is in place in Iowa but does not apply to "any person in space under the control of the Legislative or Judicial Branches," according to the order.
Wessel-Kroeschell, who told her Democratic colleagues that she will be wearing jeans on the House floor for the entire week, said Tuesday: "They're [the jeans] brand-new, they're clean, they don't have any holes in them. They're not hurting anybody.
"Not wearing a mask can kill people, and we have had people here—we have a member who was exposed to it and is now COVID positive at home. And there are five or six of their members who are never wearing masks. This is dangerous and they're putting all of us in danger. So if they can enforce a denim dress code they can also enforce a mask mandate," she added.
At least five people working at the Iowa State Capitol have tested positive for COVID-19 since the legislative session resumed on January 11. Four of them tested positive within the last week, including Iowa Representative Amy Nielsen.
When Wessel-Kroeschell tried to speak during a House floor debate on Tuesday, Iowa's Republican House Speaker Pat Grassley told her he wouldn't recognize her because she was violating House dress code.
The speaker said: "You will not be recognized to speak for debate. You can continue to vote from the floor."
According to the latest safety guidelines for the Iowa State Capitol, a face covering is not required but recommended when individuals cannot practice social distancing.
Grassley has previously said that he can't mandate lawmakers to wear face coverings on the House floor.
A spokesperson for Grassley, Melissa Deatsch, said in a statement Monday that the speaker "continues to wear his mask when he cannot practice social distancing and strongly encourages his colleagues do the same."
"The speaker has been clear and consistent since the start of session. There is no way to enforce a mask mandate short of having state patrol remove a duly-elected representative from the floor, which is not something he is willing to do, for masks or for jeans," Deatsch said in a statement.
Grassley told reporters in late January that he couldn't stop House members from taking votes on the floor, either for not wearing a mask or a violation of the dress code.
"At the end of the day if a legislator, male or female, wants to walk in here in their bathing suit and take a vote on the House floor they will be given that opportunity to do so. If a member wants to be recognized using proper decorum, from the chair's perspective, I will not be recognizing those members," Grassley said at the time.
Under a mask mandate first issued by Iowa Gov. Kim Reynolds last November, which has been extended to February 6, "all people two or older must wear a mask or other face covering when inside an indoor space that is open to the public and within six feet of individuals who are not members of their household for 15 minutes or longer."
This includes individuals "inside a state government building, office or facility under the control of the Executive Branch," but the requirement does not apply to "any person in space under the control of the Legislative or Judicial Branches," according to the order.
The latest incident comes as Iowa records the country's third-highest number of seven-day average deaths per 100,000 people, according to the latest report Tuesday by the U.S. Centers for Disease Control and Prevention (CDC).
The state's seven-day average of deaths began rising sharply from late January, after remaining flat for most of the outbreak, according to data compiled by Worldometer.
Iowa's seven-day average of cases declined from mid-November before flattening out from late December, according to Worldometer.
Total confirmed cases in Iowa have surpassed 321,200, with 4,919 reported deaths, as of Wednesday, according to Johns Hopkins University (JHU).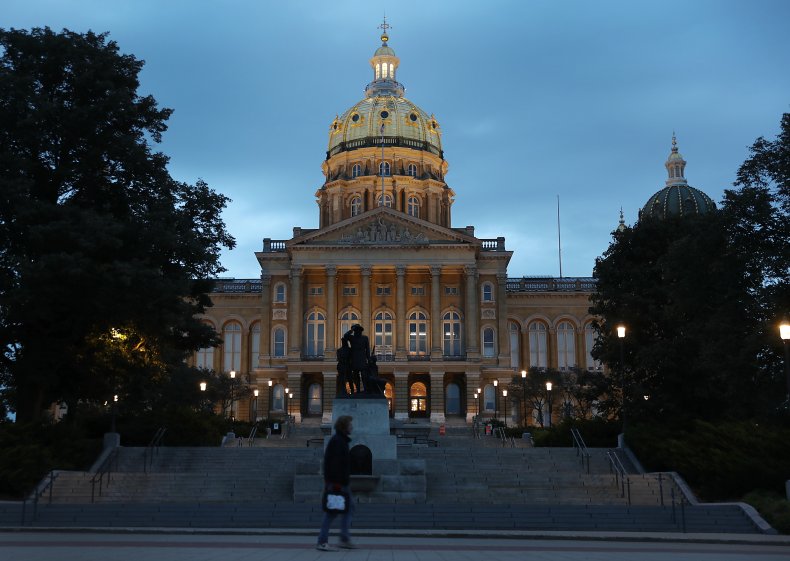 The wider picture
The novel coronavirus has infected more than 103.9 million people, including just over 26.4 million in the U.S., since it was first reported in Wuhan, China.
More than 2.2 million people have died worldwide and more than 57.7 million have recovered as of Wednesday, according to JHU.
The graphic below, produced by Statista, illustrates the spread of COVID-19 cases in the U.S.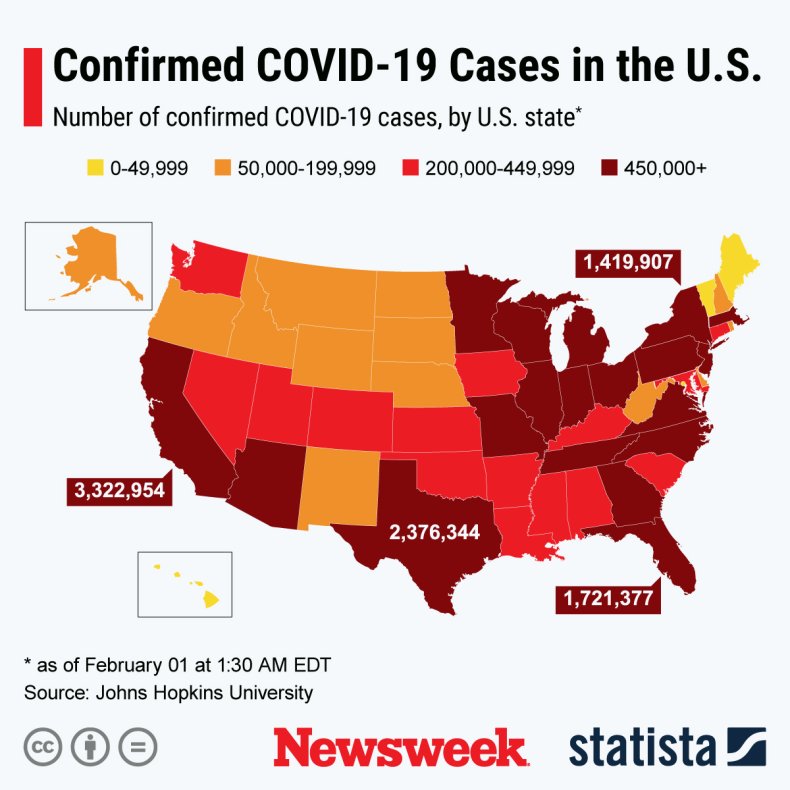 The graphic below, produced by Statista, illustrates a timeline of when countries are expected to have 60 to 70 percent of their adult population vaccinated.