L.A. Stay At Home Order Explained As Eric Garcetti Says 'It's Time to Cancel Everything'
As total confirmed coronavirus cases in California approach 1.3 million, Los Angeles residents have been ordered to remain in their homes, while all non-essential activities are prohibited under a new lockdown order issued by Los Angeles Mayor Eric Garcetti on Wednesday.
"My message couldn't be simpler. It's time to hunker down. It's time to cancel everything. And if it's not essential, don't do it. Don't meet up with others outside your household. Don't host a gathering. Don't attend a gathering," the mayor said in a video message Wednesday.
"Our City is now close to a devastating tipping point, beyond which the number of hospitalized patients would start to overwhelm our hospital system, in turn risking needless suffering and death," the mayor noted in the latest order.
"These unfortunate facts about the spread of COVID-19 in our City mean that we must resume some of the more restrictive measures we instituted in the Spring," he added.
Here we take a closer look at the new rules under the city's latest stay-at-home order.
Residents must stay home
Apart from those with exemptions, "all persons living within the City of Los Angeles are hereby ordered to remain in their homes.
"People at high risk of severe illness from COVID-19 and people who are sick are urged to stay in their residence to the extent possible except as necessary to seek medical care," the order noted.
Only those engaged in "essential activities" are allowed to lawfully leave their homes, such as all healthcare operations, including hospitals, clinics, dentists and pharmacies.
Exemptions also apply for grocery stores and other establishments offering food and supplies as well as stores that sell beer, wine and liquor.
Organizations and businesses providing food, shelter and social services also remain open.
See a full list of those exempt from the latest restrictions in the mayor's order.
Traveling is prohibited
All travel by foot, bicycle, scooter, motorcycle, automobile or public transit is prohibited under the new order.
Apart from those who fall under an exemption, "all individuals over the age of 16 traveling into the City of Los Angeles from another state or country must complete and submit online a traveler form upon arrival, acknowledging that they have read and understood the State of California's travel advisory. Failure to submit the form is punishable by a fine of up to $500," the order warned.
The travel form and travel advisory can be found at the city government website.
Gatherings with another household are banned
The order noted: "All public and private gatherings of any number of people from more than one household are prohibited."
Exemptions apply for those engaged in outdoor faith-based services or an in-person outdoor protest while wearing a face covering, maintaining social distancing and observing the guidelines under the Los Angeles County Protocol for Public Demonstrations.
Places of worship are allowed to remain open "provided that the gathering of congregants is held outdoors and after implementing the Los Angeles County Department of Public Health Places of Worship Protocol," the order noted.
Schools are closed for in-person learning
All public and private schools (K-12) and school districts within Los Angeles are required to conduct remote learning only.
All public and private K-12 schools, colleges and universities can be open only "for purposes of facilitating distance learning, planning for the upcoming school year or performing essential functions provided that social distancing of six-feet per person is maintained," the order said.
Colleges and universities "may continue to offer in-person training and instruction for essential workforce for required activities that cannot be accomplished through virtual learning.
"All other academic instruction must continue to be done via distance-learning as specified in the County's Protocols for Institutes of Higher Education," the order noted.
Restaurants limited to delivery, pick-up, drive-thru
All in-person dining is banned at restaurants, while delivery, pick-up and drive-thru options are allowed.
Restaurants offering pick-up services must ensure social distancing among customers waiting in line to collect their food, maintaining a six-feet distance between patrons.
"Schools and other entities that typically provide free food services to students or members of the public may continue to do so under this Order on the condition that the food is provided to students or members of the public on a pick-up and carry out basis only," the order said.
Some retail, recreational facilities open with restrictions
Retail venues open for indoor operations are limited to a 20 percent capacity and "must not allow customers indoors between the hours of 10:00 p.m. and 5:00 a.m. Pacific, but may remain open for delivery and curbside pickup."
Indoor malls and shopping centers may also open at 20 percent capacity, while restaurants and other food facilities within these venues remain closed for in-person dining.
Some recreational facilities, including parks, trails, beaches and gyms, remain open but they "must close for operations between the hours of 10:00 p.m. to 5:00 a.m. Pacific," the order noted.
Beach piers, as well as all outdoor and indoor pools catering to members from more than one household are closed. Gyms and personal care facilities, including hair salons and barbers, remain open with modifications.
"Fitness facilities, including private gymnasiums, may open for outdoor operations only at 50 percent maximum outdoor capacity. The indoor portions of fitness facilities are closed to the public until further notice.
"Indoor capacity at personal care establishments is limited to 20 percent of maximum capacity," the order said.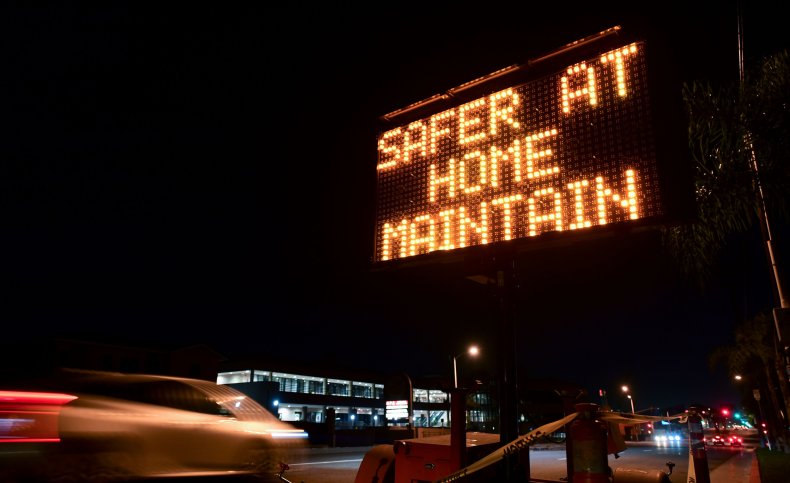 The wider picture
The novel coronavirus has infected more than 64.5 million people since it was first reported in Wuhan, China.
More than 1.4 million people have died worldwide and more than 41.5 million have recovered as of Thursday, according to Johns Hopkins University.
The graphic below, produced by Statista, shows countries with the most COVID-19 cases.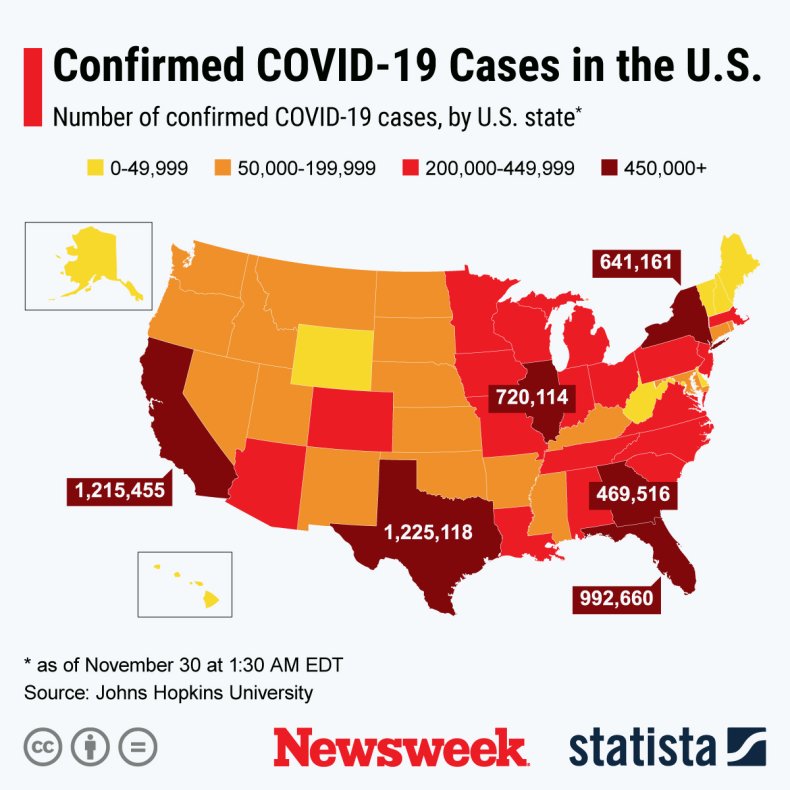 The graphic below, produced by Statista, shows the total number of COVID-19 vaccine doses secured by different countries.