When Will the Moderna Vaccine Be Approved?
The COVID-19 vaccine developed by Moderna and the National Institute of Allergy and Infectious Diseases (NIAID) is expected to be approved by the Food and Drug Administration (FDA) for emergency use, following a review by a panel of outside experts on Thursday.
The FDA said: "On December 17, 2020, the Center for Biologics Evaluation and Research's (CBER), Vaccines and Related Biological Products Advisory Committee (VRBPAC) will meet in open session to discuss Emergency Use Authorization (EUA) of the Moderna, Inc., COVID-19 Vaccine for the prevention of COVID-19 in individuals 18 years and older."
The FDA usually follows the advice of the expert panel, but is not required to do so.
Emergency use of Moderna's mRNA-1273 vaccine is expected to be granted on Friday, according to people familiar with the agency's plans speaking to The New York Times.
In an FDA briefing for the Thursday VRBPAC meeting released on Tuesday, the vaccine was described to be "highly effective in preventing PCR-confirmed COVID-19 occurring at least 14 days after receipt of the second dose," with an overall efficacy of 94.1 percent.
The briefing added the vaccine had "no specific safety concerns identified that would preclude issuance of an EUA."
"FDA may issue an EUA after determining that certain statutory requirements are met.
"If these criteria are met, under an EUA, FDA can allow unapproved medical products (or unapproved uses of approved medical products) to be used in an emergency to diagnose, treat, or prevent serious or life-threatening diseases or conditions caused by threat agents.
"In the event an EUA is issued for this product, it would still be considered unapproved and would continue under further investigation," the briefing stated.
Dr. Anthony Fauci, the director of NIAID and member of the White House COVID-19 task force, said during an interview with Vox he is hoping to be inoculated within the next few days.
"I'm not going to be getting it today. Likely, I hope, within the next few days," he told Vox's Sean Rameswaram.
"We just rolled it out yesterday. There were 2.9 million doses that were distributed to about 145 sites, so we're going to try and do it really as a symbol to get people to appreciate that we're confident that it's safe and that it is certainly very efficacious," Fauci added, referring to the efficacy of the Moderna/NIAID vaccine as well as the one developed by Pfizer and BioNTech.
Speaking to
Newsweek
earlier this month,
Fauci said
: "If people take the vaccine, we could go a long way to really diminishing dramatically [in cases] as we get into the second and third quarter of 2021. Then I think you'll start to see a dramatic diminishing of cases.
"I think the decreases are going to start as we get into April and as more of the general population gets vaccinated."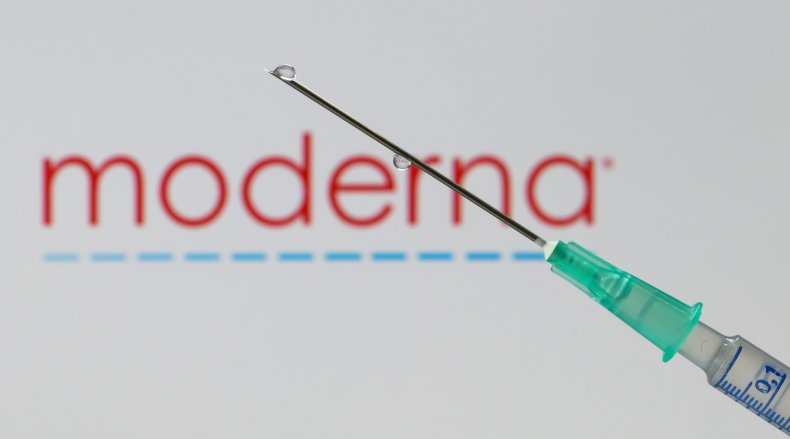 The wider picture
The novel coronavirus has infected more than 73.5 million people, including over 16.7 million in the U.S., since it was first reported in Wuhan, China.
More than 1.6 million people have died worldwide and over 41.6 million have recovered as of Wednesday, according to John Hopkins University.
The graphic below, provided by Statista, shows the percentage of adults in the U.S. who would or would not get a COVID-19 vaccine.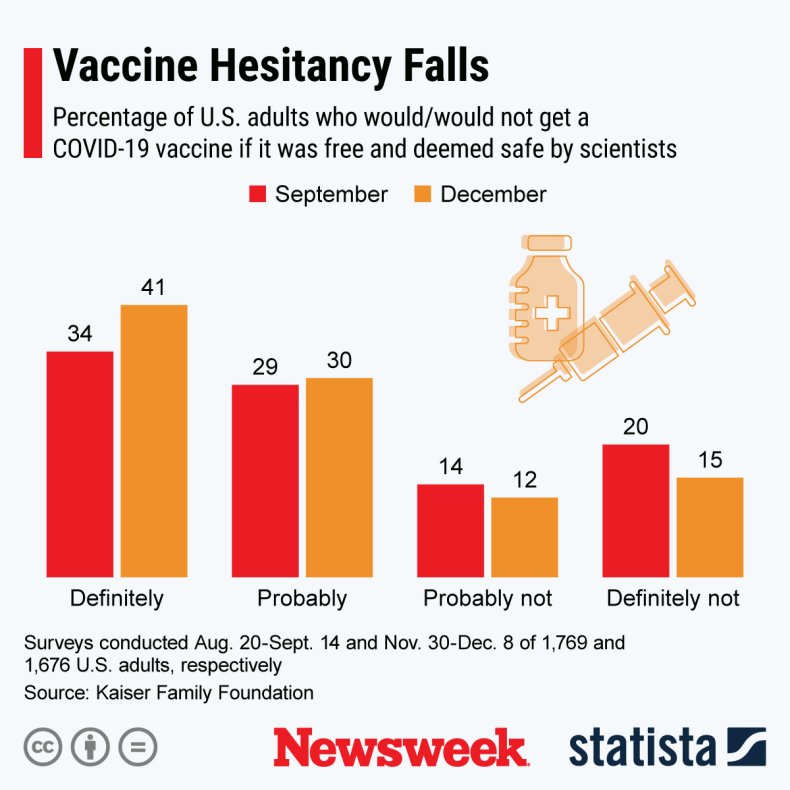 The graphic below, provided by Statista, shows the countries with the highest COVID-19 death tolls.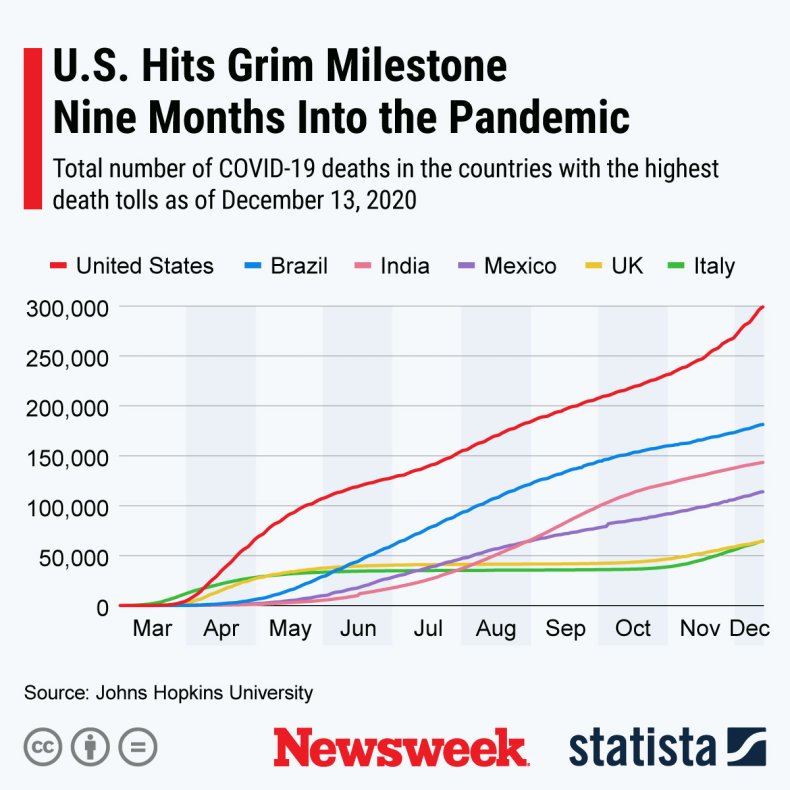 The graphic below, provided by Statista, shows the spread of COVID-19 cases in the U.S.