Price Chopper COVID Vaccine Registration Details and How To Book an Appointment
Price Chopper, the supermarket chain, is offering the Moderna COVID-19 vaccine at select locations. Those eligible can register to receive the vaccine by booking an appointment at the company's website.
Residents are currently able to schedule a COVID-19 vaccination appointment at select Price Chopper pharmacies in Massachusetts, New York and Pennsylvania.
Customers can also book appointments at select locations of Market 32, which shares the same parent company.
However, the Price Chopper website advises, at the time of publication: "COVID-19 vaccine shipments have been delayed and scheduling of new first dose appointments is currently on hold. Once additional information becomes available as to when additional vaccine will arrive, scheduling of new appointments will resume.
"Price Chopper/Market 32 Pharmacies have not yet received the vaccine" at its locations in New Hampshire and Vermont. But vaccinations are taking place at community sites in both states as well as in Connecticut, the companies advise.
Eligibility criteria for COVID-19 vaccinations vary by state. See the Price Chopper website for more information.
How to book COVID-19 vaccinations at Price Chopper
Pharmacy staff and customer services cannot book COVID-19 vaccination appointments for residents.
To book an appointment, click on the relevant state at the COVID-19 vaccination hub page of the Price Chopper website. This opens a new page where users should click the "schedule appointment" icon to see available time slots.
All customers will need to set up a login at the Price Chopper website and create a username and password to book an appointment.
"Every individual MUST be registered for their own account, in their own name," the website notes.
Customers are advised to check the Price Chopper website daily to see the latest time slots available. "Appointments are limited. If there are no open spots in your local pharmacy, check back soon for more," the company notes.
Pharmacies in Massachusetts offering COVID-19 vaccinations:
Market 32 Pharmacy, 555 Hubbard Ave., Pittsfield, MA 01201
Price Chopper Pharmacy, 50 Cambridge Street, Worcester, MA 01610
Market 32 Pharmacy , 72 Pullman Street, Worcester, MA 01606
Price Chopper Pharmacy, 731 Boston Turnpike, Shrewsbury, MA 01545
Price Chopper Pharmacy, 2 Worcester Road, Webster, MA 01570
Market 32 Pharmacy, 21 Galaxy Pass, Sutton, MA, 01590
Price Chopper, 560 Main St, Gardner, MA 01440
Pharmacies in New York offering COVID-19 vaccinations:
Market 32 Pharmacy, 1640 Eastern Parkway, Schenectady, NY 12309
Market 32 Pharmacy, 15 Park Avenue, Clifton Park, NY 12065
Market Bistro Pharmacy Latham, 873 New Loudon Road, Latham, NY 12065
Market 32 Wilton, 3049 Route 50, Saratoga, NY
Price Chopper Pharmacy, 1879 Altamont Avenue, Schenectady, NY
Price Chopper Pharmacy, One Kendall Way, Malta, NY
Price Chopper Pharmacy, 4535 Commercial Drive, New Hartford, NY
Market 32 Pharmacy, 141 Sanford Farms Plaza, Amsterdam, NY 12010
Pharmacies in Pennsylvania offering COVID-19 vaccinations:
Price Chopper Pharmacy, 16750 PA State Rt. 706, Montrose, PA
Price Chopper Pharmacy, 1026 Wyoming Avenue, Wyoming, PA
Price Chopper Pharmacy, 1228 O'Neill H'way, Dunmore, PA
Price Chopper, 1025 Pennsylvania Ave, Matamoras, PA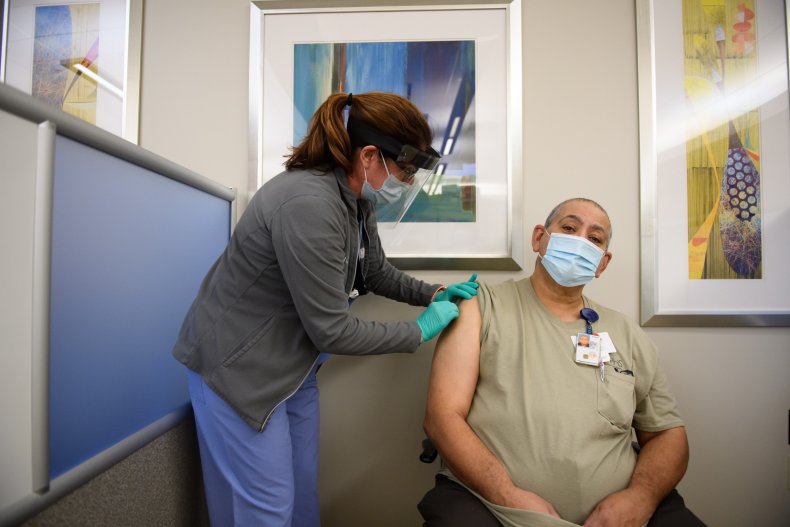 The wider picture
The novel coronavirus has infected more than 111 million people, including over 28.1 million in the U.S., since it was first reported in Wuhan, China.
More than 2.4 million people have died worldwide and more than 62.8 million have recovered as of Monday, according to Johns Hopkins University.
The graphic below, produced by Statista, illustrates countries with the highest number of COVID-19 vaccine doses administered per 100 people.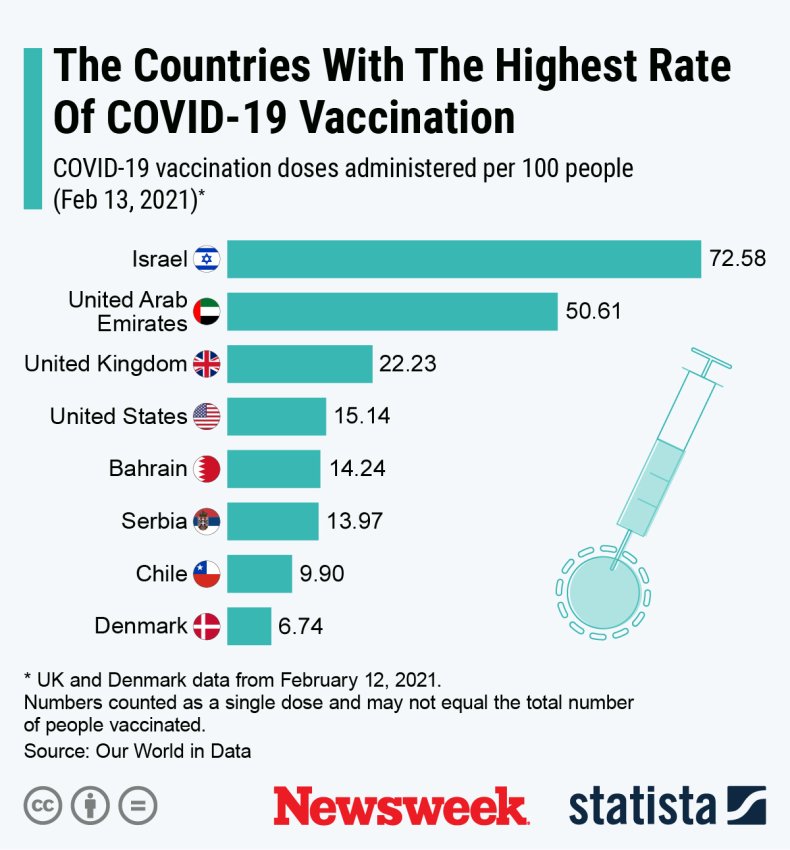 Newsweek, in partnership with NewsGuard, is dedicated to providing accurate and verifiable vaccine and health information. With NewsGuard's HealthGuard browser extension, users can verify if a website is a trustworthy source of health information. Visit the Newsweek VaxFacts website to learn more and to download the HealthGuard browser extension.