Publix COVID Vaccine Appointment Eligibility and How to Book Online
Publix, the supermarket chain, is offering COVID-19 vaccinations at select locations. Eligibility for vaccination depends on the state and those eligible can book an appointment at the Publix website.
From Friday, the company is offering vaccinations at all 730 Publix pharmacies in Florida. Appointment scheduling for Florida bookings begins at 7 a.m. local time on Friday.
Vaccinations are also being administered at select stores in Georgia and South Carolina.
Publix advises: "Appointment locations are subject to change without notice. The current counties and store locations were determined by the states based on their own criteria."
Eligibility for COVID-19 vaccinations at Publix
Eligibility criteria varies by state. Residents can check their eligibility status at the health department websites for Florida, Georgia and South Carolina.
Eligibility requirements in each state are subject to change, so residents should monitor the state health department websites for the latest updates.
How to book COVID-19 vaccinations at Publix
Appointments can only be made at the Publix website and cannot be booked by calling a local Publix store or pharmacy.
Those eligible for vaccination can click on the state of their choice at the Publix website and follow the on-screen cues to view appointment availability.
Customers will need to provide the following information while booking their appointment online:
Date of birth
Home address
Email address
Last four digits of their Social Security number
Medicare ID number (if applicable)
State and county of residence
Emergency contact and phone number
Residents will also need to answer questions about their allergies and long-term health history during the online booking process.
Once they have chosen their appointment time and location, customers will receive a confirmation email for their booking.
"You will have a second dose available at the same Publix Pharmacy exactly 28 days following your first appointment," with the time of the second appointment matching that of your first, according to the Publix website.
For second dose appointments, customers need to bring their driver's license as well as their "Centers for Disease Control [CDC] vaccination record card and fill out the immunization consent form," the company notes. The immunization forms for each state can be printed out from the Publix website.
Customers are able to book an appointment on behalf of another person, such as a spouse or partner. "You will see an option to book another appointment once you complete the first one. You will be able to schedule a maximum of four appointments," the company notes.
At this time residents are unable to receive email notifications for COVID-19 vaccine appointment availability. They are advised to check the Publix website for updates on email notification availability.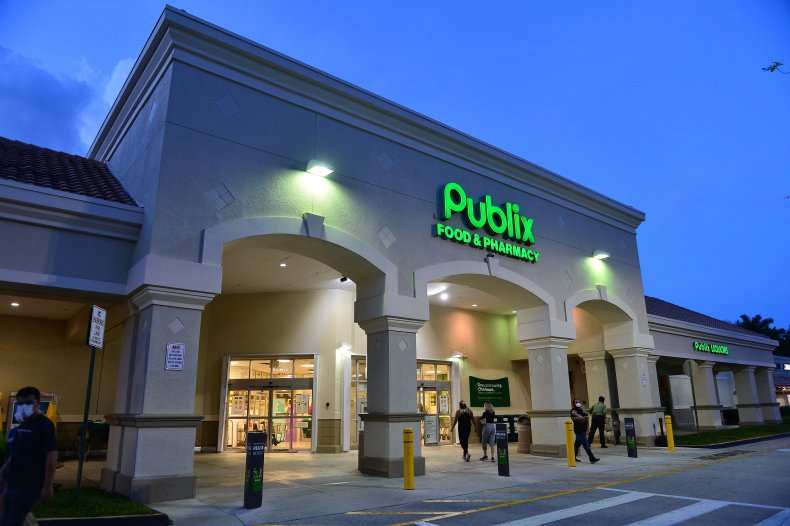 The wider picture
The novel coronavirus has infected more than 113 million people, including over 28.4 million in the U.S., since it was first reported in Wuhan, China.
More than 2.5 million people have died worldwide and more than 63.7 million have recovered as of Friday, according to Johns Hopkins University.
The graphic below, produced by Statista, shows which countries have the highest number of vaccine doses administered per 100 people, as of February 20.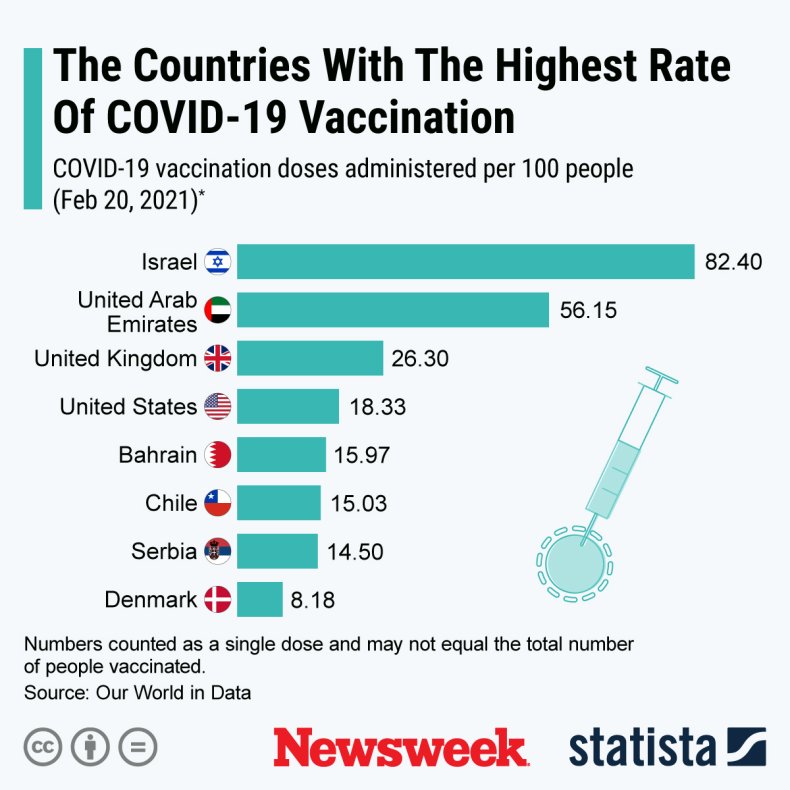 The graphic below, produced by Statista, illustrates the spread of COVID-19 deaths across the U.S., as of February 23.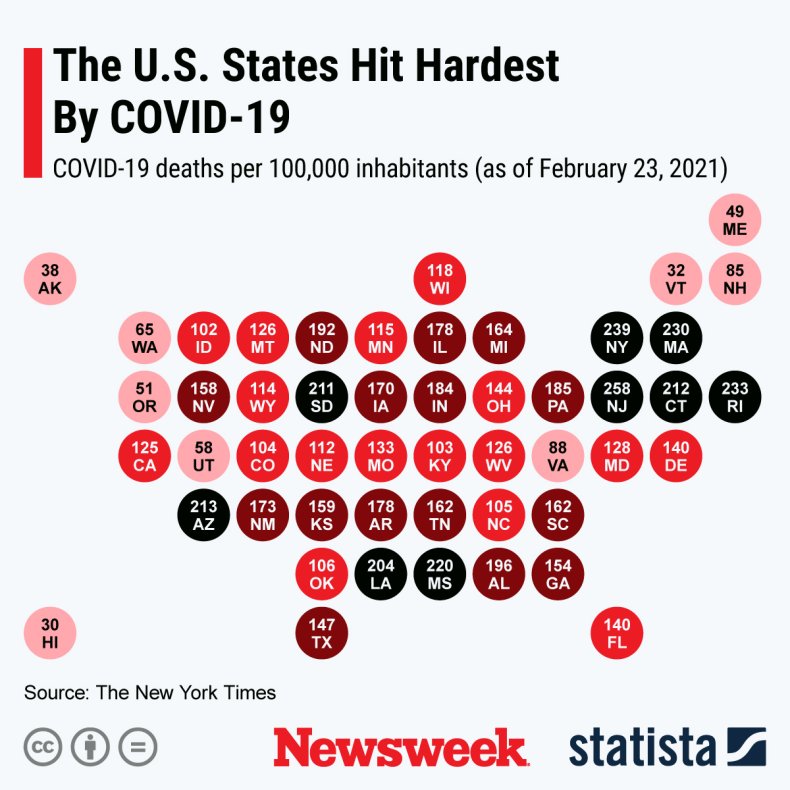 The graphic below, produced by Statista, illustrates the spread of COVID-19 cases across the U.S., as of February 22.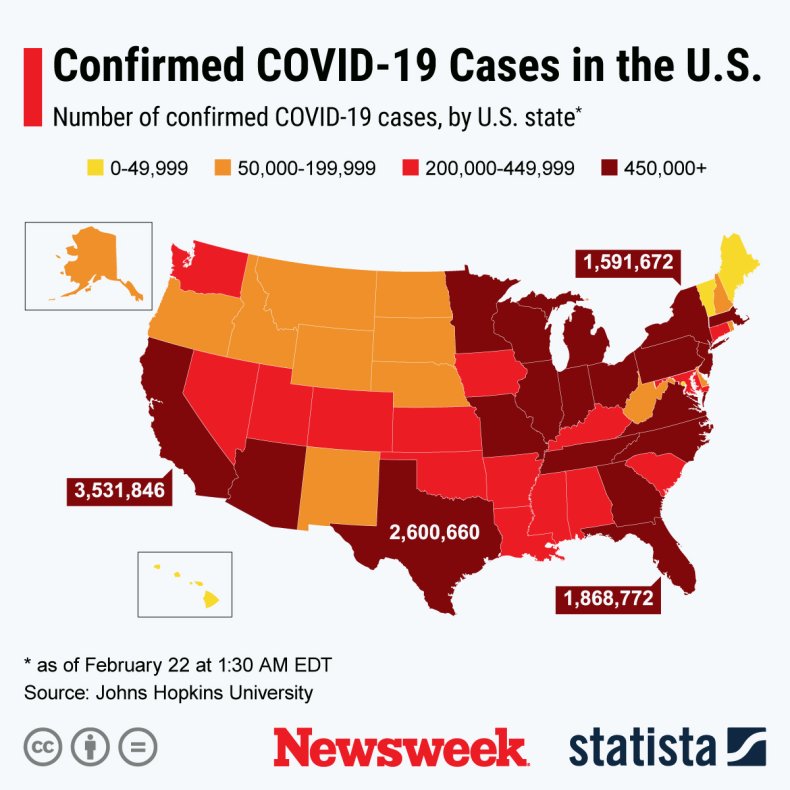 Newsweek, in partnership with NewsGuard, is dedicated to providing accurate and verifiable vaccine and health information. With NewsGuard's HealthGuard browser extension, users can verify if a website is a trustworthy source of health information. Visit the Newsweek VaxFacts website to learn more and to download the HealthGuard browser extension.