COVID Vaccines Offered to Donors Who Gave Over $10,000 to Washington Hospital
Exclusive online access to COVID-19 vaccination appointments at Overlake Medical Center & Clinics in Washington state, which was offered to people including donors who had given more than $10,000 to the facility, was reportedly shut down following a call from the office of Gov. Jay Inslee.
Last week, vaccination slots at the hospital system's public registration site were reportedly fully booked through March. But the donors who had access to appointments "by invite" only were sent an access code that allowed them to register for vaccination bookings, according to The Seattle Times.
The chief development officer at the Bellevue hospital system, Molly Stearns, was reported to have sent an email on Friday to around 110 donors informing them that slots were available.
"Dear Overlake major donors..." the email read. "We're pleased to share that we have 500 new open appointments in the Overlake COVID-19 vaccine clinic, beginning this afternoon and tomorrow (Saturday, Jan. 23) and next week."
In addition to donors, the vaccination appointments were offered to Overlake's board members as well as some patients, volunteers, employees and retired health providers, amounting to around 4,000 people in total, according to the hospital.
Those who registered for an appointment were supposed to be eligible for the vaccine under state rules, according to the email.
In a statement posted on its website on Wednesday, Overlake said: "Recently, in an effort to notify people of additional, immediate-term vaccine appointments that had become available, we sent emails to approximately 4,000 members of the Overlake community, including volunteers, retired nurses and physicians, all employees and about 100 donors from our Foundation database.
"All communications made clear that people must show proof of eligibility under current Washington state requirements to ultimately be vaccinated, no matter who they are or how they are affiliated with us.
"We recognize we made a mistake by including a subset of our donors and by not adopting a broader outreach strategy to fill these appointments, and we apologize. Our intent and commitment has always been to administer every vaccine made available to us safely, appropriately, and efficiently."
Overlake's chief operating officer, Tom DeBord, had previously acknowledged the concerns over the email. "We're under pressure to vaccinate people who are eligible and increase capacity," DeBord said. "In hindsight, we could certainly look back and say this wasn't the best way to do it."
Last week, the state announced an expansion of the eligibility criteria for COVID-19 vaccinations. In a statement on Friday, the Washington State Department of Health said: "The vaccine is available to anyone 65 and older, and all people 50 and older who also live in a multigenerational household.
"This is in addition to populations eligible during phase 1A including health care workers at high risk for COVID-19 infection, first responders, people who live or work in long-term care facilities, and all other workers in health settings who are at risk of COVID-19," the statement said.
The latest expansion of eligibility saw a rush of senior residents attempt to bag an appointment, which reportedly crashed scheduling software for several medical systems.
"Our system was overtaxed," DeBord said, and Overlake was forced to launch a new scheduling tool. But following more technical issues, there were still 1,400 appointments to fill that weren't easily listed in the old or new systems, The Seattle Times reported.
In a bid to fill as many slots as possible, Overlake contacted people whose emails were available, including some patients, retirees, major donors and board members, according to DeBord.
"We thought that was the most efficient way to add slots," DeBord told The Seattle Times. "It was never intended to be a donor event," he added, noting that he understood why the move was being perceived negatively.
Access to the exclusive vaccine appointments was shut down on Tuesday morning after a policy adviser to Inslee was reported to have called the hospital on Monday, encouraging it to cut off the access, according to The Seattle Times.
Asked whether similar incidents had been reported at any other hospitals in the state, a spokesperson for the governor's office told Newsweek: "We are not aware of other facilities doing what Overlake did. Someone brought it to the attention of our office and we thought it was absolutely the wrong thing to be doing right now."
At a news briefing on Tuesday, Inslee said: "If in fact they [Overlake] were giving preference to some VIP list, that's not the way to do it. That is not acceptable for us. We need to give everybody a fair shot at the vaccine ... we've got to maintain public credibility in the system. I'm told that whatever they were doing has stopped, and that's good news."
Last week, Inslee announced the state's goal of administering 45,000 vaccine doses a day.
In a statement on Monday, the governor's office said: "The state's current seven-day rolling average was 23,960 doses administered.
"The governor also announced a record number of COVID-19 vaccines administered in a 24-hour period, with around 40,000 doses reported as of Monday. Washington also officially passed 500,000 vaccine doses administered and reported."
Inslee said on Monday: "We have taken action, we expanded our distribution and infrastructure and it is working.
"We still have a long way to go, but if Washingtonians have proven anything throughout this pandemic, it is that we are up to the task. We have taken action, and we will continue to improve until we meet and exceed our goals," he added.
A total of 960,800 doses have been distributed across the state and 507,610 doses have been administered, according to Tuesday's report from the Centers for Disease Control and Prevention.
Total confirmed cases in Washington have passed 305,500, with more than 4,200 deaths reported as of Thursday, according to Johns Hopkins University.
This article has been updated with comment from Overlake Medical Center & Clinics and the governor's office.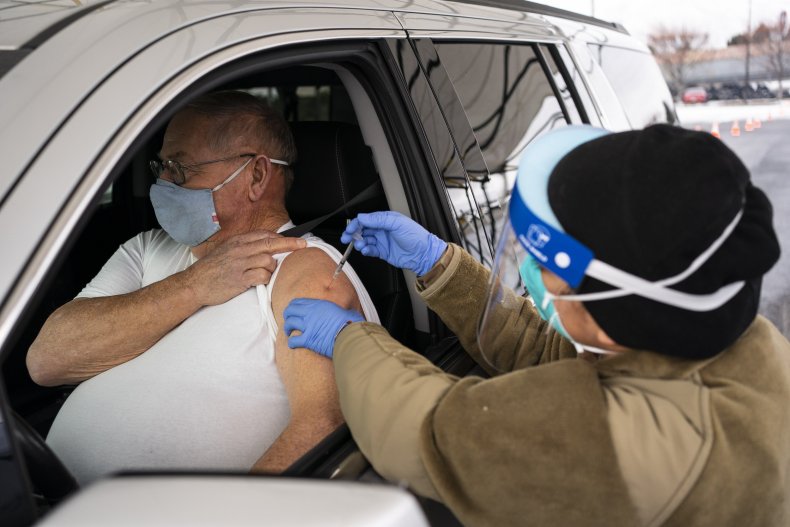 The wider picture
The novel coronavirus has infected more than 100.9 million people, including just over 25.6 million in the U.S., since it was first reported in Wuhan, China.
More than 2.1 million people have died worldwide and more than 55.8 million have recovered as of Thursday, according to Johns Hopkins.
The graphic below, produced by Statista, illustrates countries with the highest rate of vaccination.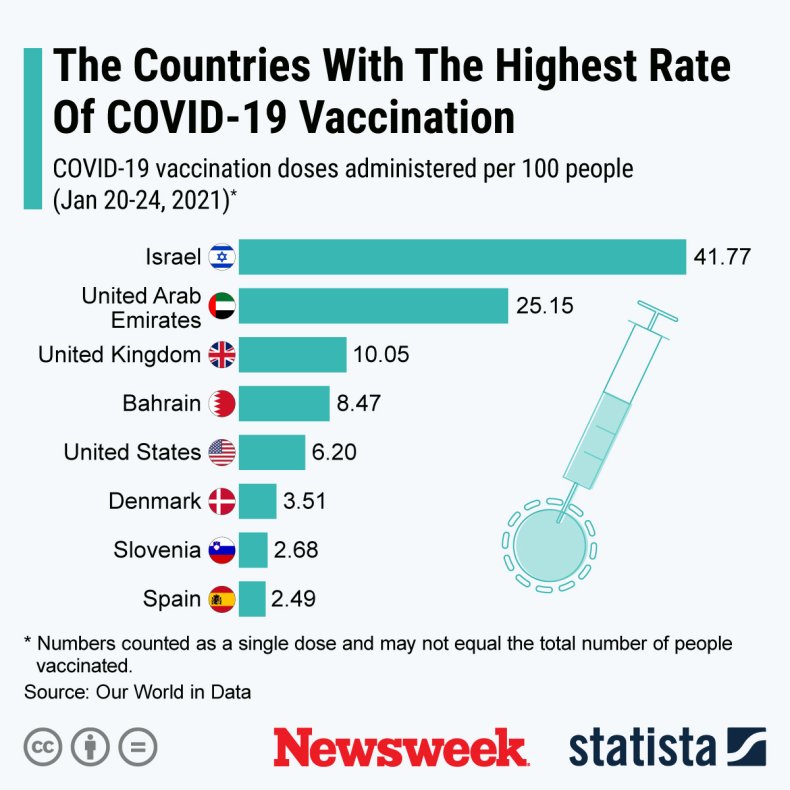 The graphic below, also produced by Statista, illustrates the percentage of people around the world who would or would not take a COVID-19 vaccine if it was available.