Dillons COVID Vaccine Registration Details and How to Book an Appointment
Dillons, a division of the Kroger supermarket chain, is offering COVID-19 vaccinations at select locations across the country. Those eligible can register to receive the vaccine by booking an appointment on the Dillons website.
The website notes: "Our family of pharmacies has received a limited supply of the COVID-19 vaccine in select areas and our licensed health care professionals are partnering with federal and state agencies to administer the doses in accordance with each jurisdiction's rollout plans.
"As doses are allocated to us, we are administering in accordance with jurisdiction-defined eligibility," and the company is offering both, Pfizer and Moderna vaccines, depending on the jurisdiction allocation, the website advises.
How to book COVID-19 vaccinations at Dillons
Those wanting to book an appointment can see a list of states where slots are available at the Dillons website. Customers can also see more information on current eligibility and quantities of available vaccines for each state at the website.
The company notes: "The COVID-19 vaccine is not available at Little Clinic locations at this time."
To schedule a booking, customers can click on the "check appointment availability" hyperlink for the state where they'd like to schedule their vaccination. This will open up a new page where customers will need to answer various questions as part of the website's "COVID-19 Vaccine Eligibility" assessment.
Customers are advised to check the Dillons website, which is updated regularly, for the latest information on vaccine appointment availability and eligibility criteria.
Below are the locations where COVID-19 vaccinations are currently available at select Dillons stores (according to the latest up of the website on February 19, 2 p.m. ET), listed in alphabetical order:
Alabama
Alaska
Arizona
Arkansas
California
Colorado
Delaware
Florida
Georgia
Idaho
Illinois
Indiana
Kansas
Kentucky
Louisiana
Maryland
Michigan
Mississippi
Missouri
Montana
Nebraska
Nevada
New Mexico
North Carolina
Ohio
Oregon
South Carolina
Tennessee
Texas
Utah
Virginia
Washington
Washington, D.C.
West Virginia
Wisconsin
Wyoming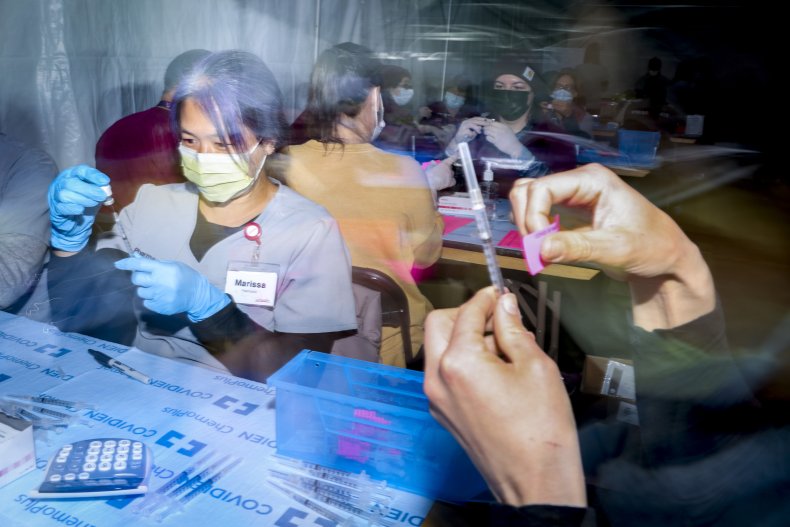 The wider picture
The novel coronavirus has infected more than 111 million people, including over 28.1 million in the U.S., since it was first reported in Wuhan, China.
More than 2.4 million people have died worldwide and more than 62.8 million have recovered as of Monday, according to Johns Hopkins University.
The graphic below, produced by Statista, illustrates countries with the highest number of COVID-19 vaccine doses administered per 100 people.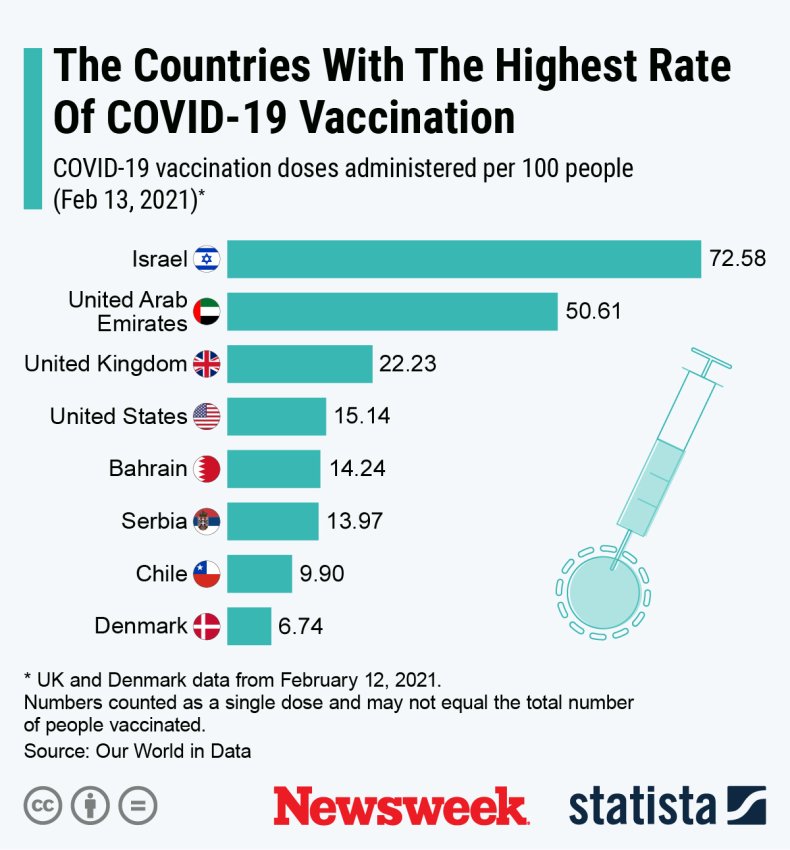 Newsweek, in partnership with NewsGuard, is dedicated to providing accurate and verifiable vaccine and health information. With NewsGuard's HealthGuard browser extension, users can verify if a website is a trustworthy source of health information. Visit the Newsweek VaxFacts website to learn more and to download the HealthGuard browser extension.