Could COVID Vaccine Passports Become Mandatory? Here's What the WHO Says
As total coronavirus cases worldwide approach 73 million, "proof of vaccination for COVID-19 vaccine will be essential for public health purposes," a spokesperson for the World Health Organization Regional Office for Europe (WHO/Europe) has told Newsweek.
"Having trustworthy and reliable proof of vaccination for COVID-19 vaccine will be essential for public health purposes, such as studies on vaccine effectiveness, vaccine impact, coverage monitoring and monitoring of adverse events following immunization.
"Proof of vaccination can be important also at individual level and for sectors other than health, when vaccination status is linked to existing national legal frameworks (for example where vaccination is a school entry requirement, mandatory vaccination for certain categories, etc)," the WHO/Europe spokesperson added.
Speaking to Newsweek, a spokesperson for the WHO said: "It is important to distinguish between [a] certificate of vaccination, which is the familiar card which shows what vaccines a person has received, and a requirement of vaccination to occur prior to travel. WHO is currently exploring how the common vaccination record could be done electronically.
"So far, the only vaccine that is required for travel is a yellow fever vaccine from yellow fever endemic areas to other countries. Any similar requirement for COVID-19 vaccines would have to be as per the International Health Regulations and would happen with debate and engagement with our Member States.
"We will need to secure enough supply and access to safe and effective vaccines before such a certificate would be feasible.
"It is also important to make a distinction between an 'immunity passport'—something WHO does not recommend—and such a vaccine requirement for travel," the WHO spokesperson told Newsweek.
Back in April, the WHO published guidance regarding immunity passports, noting: "Some governments have suggested that the detection of antibodies to the SARS-CoV-2, the virus that causes COVID-19, could serve as the basis for an 'immunity passport' or 'risk-free certificate' that would enable individuals to travel or to return to work assuming that they are protected against re-infection.
"There is currently no evidence that people who have recovered from COVID-19 and have antibodies are protected from a second infection," the WHO warned at the time.
The WHO is currently looking into "smart vaccination certificates," which would provide a personal digital vaccination certificate for individuals. Earlier this month, the WHO called on experts worldwide to apply to contribute to the specifications, standards and design of these certificates. The deadline for applications closed on Monday.
The WHO/Europe spokesperson told Newsweek: "Proof of vaccination is usually based on records at facility level and certificates issued by service providers after immunization. Experiences with loss of vaccination certificates, facility records difficult to retrieve, falsification of certificates triggered interest to develop Smart Vaccination Certificates, using the Yellow Card as a model.
"Smart Vaccination Certificates to enable trustworthy ascertainment of vaccination status for COVID-19 could be useful for public health purpose as explained above. Their use for legal purpose requires development of legal frameworks that are currently not yet in place.
"There is also ongoing collaboration between DG-SANTE [Directorate-General for Health and Food Safety], WHO and others to discuss use of digital solutions such as Smart Vaccination Certificate to support COVID-19 vaccination monitoring.
"To support countries in identifying possible suitable digital solutions, WHO has established a Memorandum of Understanding [MOU] on digital health between WHO and the Estonian Government. The MOU will facilitate exploring the technical solution proposed by Estonia and engaged interested countries," the WHO/Europe spokesperson told Newsweek.
Earlier this week, Israel announced it will issue a "green passport" to residents who have received the COVID-19 vaccine, becoming the first country to do so.
"This passport will show that a person is vaccinated and will give a number of advantages such as not needing to quarantine, entry to all kinds of culture events, restaurants, and so on," the Ministry of Health's Director-General Chezy Levy told Israel's Channel 12.
The green passport would allow residents to travel abroad without having to be tested for the virus, as currently required, Israeli Minister of Health Yuli Edelstein said.
Back in late November, the International Air Transport Association (IATA), which has nearly 300 member airlines across the globe, announced it is at the final development stage of the IATA Travel Pass, a mobile app "allowing travelers to store and manage certifications for COVID-19 tests or vaccines."
The IATA noted: "The information provided through the IATA Travel Pass can be used by governments requiring testing or vaccination proofs as a condition of international travel during and after the COVID-19 pandemic.
"A critical aspect is the fact that the information supplied is verified. It is a secure means to manage health requirements, much more efficient than paper processes," the IATA added.
The app is expected to be available at iOS and Android stores from March 2021, according to the IATA.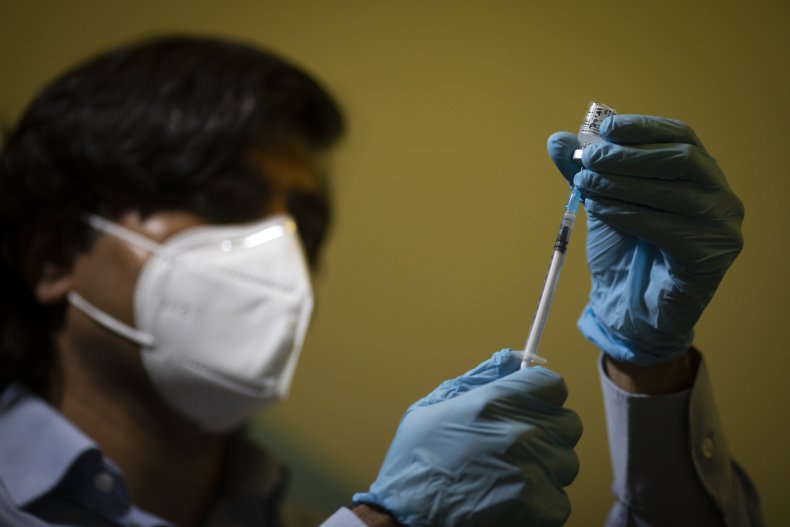 The wider picture
The novel coronavirus has infected more than 72.9 million people, including over 16.5 million in the U.S., since it was first reported in Wuhan, China.
More than 1.6 million people have died worldwide and over 41.3 million have recovered as of Tuesday, according to John Hopkins University.
The graphic below, provided by Statista, shows the countries with the highest COVID-19 death tolls.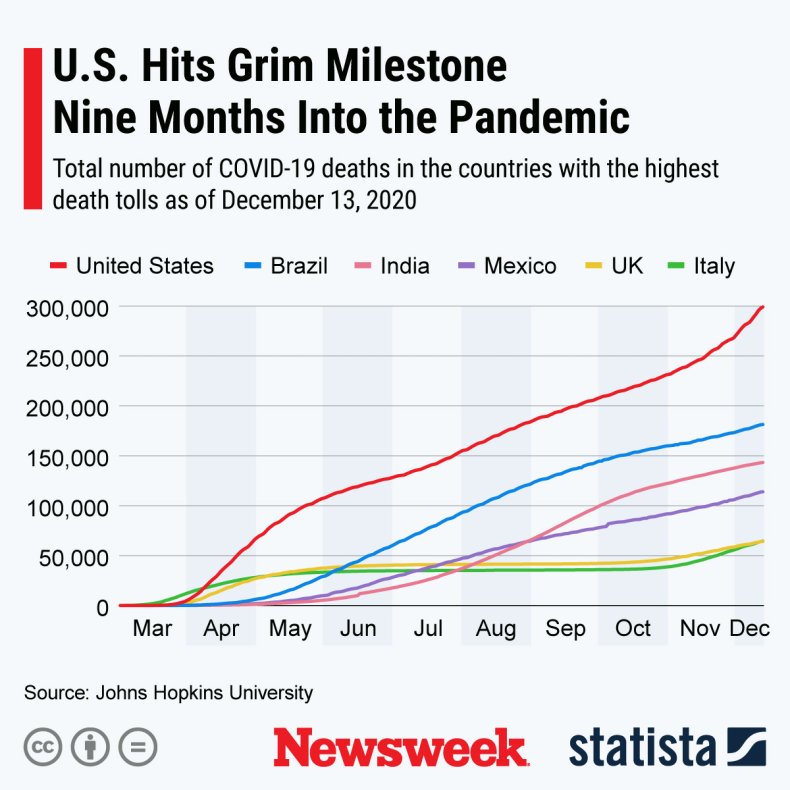 The graphic below, provided by Statista, shows countries with the most COVID-19 cases.