Coronavirus Update: Mexico Teases U.S. Border Clamp-Down, Death Toll Rises in England
Infections of COVID-19 continue to spread around the world, with more than 149,000 confirmed cases and at least 5,600 deaths linked to the new coronavirus outbreak.
Tens of thousands of confirmed cases have been recorded across Italy, Spain, Iran, and South Korea — with governments and health officials now attempting to limit the spread of the disease, which is believed to have originated last December in Wuhan, a city in China's Hubei Province.
The figures are constantly in a state of flux, but the situation has escalated in recent days to the point of Europe being considered the "epicenter" of the outbreak by the World Health Organization (WHO) Director-General.
"More than 132,000 cases of COVID-19 have now been reported to WHO from 123 countries and territories. Five thousand people have lost their lives, a tragic milestone," Dr Tedros Adhanom Ghebreyesus said at a press conference at the organization's HQ in Geneva, Switzerland.
Newsweek subscription offers >
"Europe has now become the epicenter of the pandemic with more reported cases and deaths than the rest of the world combined, apart from China. More cases are now being reported every day than were reported in China at the height of its epidemic," Tedros continued on Friday.
The WHO said yesterday that five new countries or regions - Jersey, Réunion, Saint Vincent and the Grenadines, Cuba and Guyana - had reported cases of COVID-19 in the past 24 hours.
Aside from China, which has recorded over 80,800 cases, Italy has said 17,660 people have been positively affected. It is followed by Iran at 12,729 confirmed cases, and South Korea at 8,086. Here's the latest COVID-19 news from across the world:
Mexico teases border clamp-down
Newsweek subscription offers >
A Mexican health official indicated during a press conference yesterday that the country, which has reported 26 COVID-19 cases and zero deaths at time of writing, could tighten its border with the U.S. to limit the spread of the illness, which has now touched nearly all American states.
"If it were technically necessary to consider mechanisms of restriction or stronger surveillance we would have to take into account not that Mexico would bring the virus to the United States, rather the United States could bring it here," said health minister Hugo Lopez-Gatel, Reuters reported.
Netherlands cases spike
The COVID-19 situation in the Netherlands worsened this morning, with health officials from the National Institute for Public Health and Environment confirming a dramatic spike in cases.
They said two patients had died of the novel coronavirus since Friday, describing the victims as being elderly with underlying conditions. In total, 12 people in the country have now died from the disease. A total of 136 patients were or have been admitted to a hospital linked to the illness.
Officials said: "As of yesterday, 155 new people have been tested positive for COVID-19, the disease caused by the new coronavirus. This brings the total positive tested people to 959.
"Fewer new positive tests were reported today than yesterday. An explanation is that the test policy has been adjusted. From March 12, people with mild complaints will no longer be tested because there is a national measure to stay at home with the first complaints.
"In addition, more is being tested among risk groups. On March 12, the government also called on people to reduce social contacts. It is too early to see the effect of this measure."
Spain health figures rocket, lockdown imminent
Novel coronavirus cases in Spain rose by 1,500 on Friday, with more than more than 5,700 people now infected, health officials said, according to BBC News. The country recorded 136 deaths linked to COVID-19 by this morning — and a government-issued lockdown of affected areas is imminent.
Reuters reported today that all citizens will have to stay home except to purchase food, go to work, or for medical emergencies under the plans. It is expected to last at least two weeks.
It comes after planes operated by low-cost airline Jet2 were forced to turn around mid-light after the company announced that it was canceling all flights to Spain due to COVID-19.
Jet2 said, "In response to local measures introduced throughout Spain...including the closure of bars, restaurants, shops, and activities including any water sports, we have taken the decision to cancel all flights to mainland Spain, the Balearic Islands and the Canary Islands with immediate effect.
The airline added, "We are contacting our customers who are currently in these destinations, and who are due to travel, to advise them of their options, so we urge customers not to call us."
Rwanda confirms first case of COVID-19
Officials in Rwanda, East Africa, confirmed the first case of novel coronavirus in the country, saying an Indian citizen who arrived from Mumbai on March 8 had tested positive for the virus.
The health ministry said the patient had no symptoms upon arrival but later reported himself to a health facility on March 13. The ministry added: "He is currently under treatment in stable condition, isolated from other patients. The tracking of all contacts has been conducted for further management."
Italy infections rise, but citizens stand strong
Italy has been badly affected by COVID-19. Between Thursday and Friday this week, the death toll spiked by 250 people, with a total of 1,266 now dead from the outbreak. According to The Guardian, the death toll in Lombardy region rose by 76 to 966 on Saturday, with new cases rising by 1,865.
Despite the country facing a nationwide quarantine, videos surfaced this week showing citizens singing and playing musical instruments from their home balconies, showing solidarity in the time of crisis.
Death toll rises in England
The National Health Service (NHS) said today that ten patients who tested positive for the coronavirus have now died, bringing the death toll in the country to 21. As of 9 a.m today, 37,746 people have been tested in the UK. 36,606 were confirmed negative and 1,140 were confirmed as positive
"I am sorry to confirm 10 further patients who have tested positive for COVID-19 in England have sadly died. All 10 individuals were in the at-risk groups," said Chief Medical Officer Professor Chris Whitty in a statement, The Telegraph reported. The victims were not identified by name. A baby tested positive for the novel coronavirus after being born at a London hospital, The Independent reported.
Russia to restrict travel of foreign nationals
Russia - which has reported 47 confirmed infections - released a statement today indicating that foreign nationals would soon be restricted from entering the country via its land borders with Poland and Norway. Citizens of Belarus and any official delegations would be exempt, officials confirmed.
China's cases may be slowing, data shows
The novel coronavirus may have started in China, but The Guardian reported today that the number of locally transmitted infections has been exceeded by those from overseas for the first time.
The report cited data from the country's National Health Commission, which claimed China had 11 new cases on Friday, with four of those being locally transmitted. The remaining appeared to have come from people coming over from Italy, the U.S. and Saudi Arabia — indicating spread may be slowing.
World Health Organization advice for avoiding spread of COVID-19
Hygiene advice
Clean hands frequently with soap and water, or alcohol-based hand rub.
Wash hands after coughing or sneezing;
When caring for the sick; before; during and after food preparation; before eating; after using the toilet; when hands are visibly dirty; and after handling animals or waste.
Maintain at least 1 meter (3 feet) distance from anyone who is coughing or sneezing.
Avoid touching your hands, nose and mouth. Do not spit in public.
Cover your mouth and nose with a tissue or bent elbow when coughing or sneezing. Discard the tissue immediately and clean your hands.
Medical advice
If you feel unwell seek medical care early and call local health authorities in advance.
Stay up to date on COVID-19 developments issued by health authorities, follow guidance.
Mask usage
Healthy individuals only need to wear a mask if taking care of a sick person.
Wear a mask if you are coughing or sneezing.
Masks are effective when used in combination with frequent hand cleaning.
Do not touch the mask while wearing it. Clean hands if you touch the mask.
Learn how to properly put on, remove and dispose of masks.
Clean hands after disposing of mask, do not reuse single-use masks.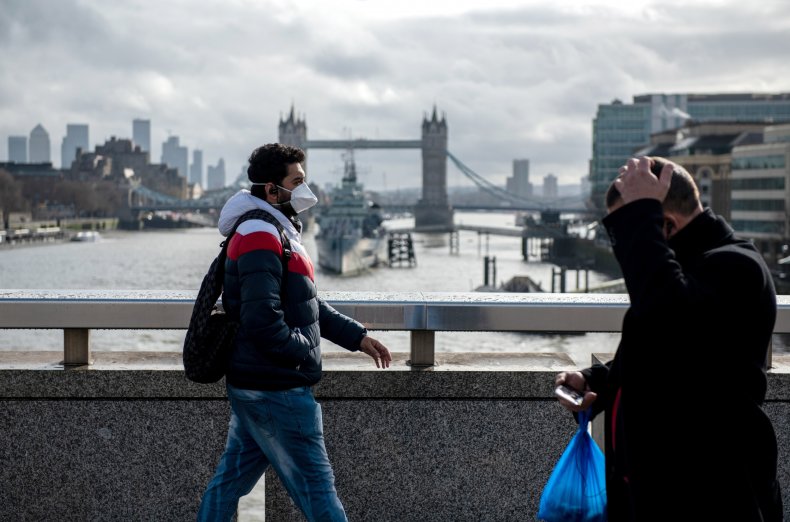 Coronavirus Update: Mexico Teases U.S. Border Clamp-Down, Death Toll Rises in England | News