The Coronavirus Crisis Is Proving We Need More Women Governors and Mayors | Opinion
A year that was supposed to be all about the presidency has suddenly become all about the governors. With the federal response to coronavirus lagging, national attention has turned to a group of lesser-known executive leaders now leading the fight against COVID-19.
The spotlight that has names like Andrew Cuomo and Mike DeWine trending has also exposed the lack of diversity in our nation's executive offices. Case in point: A piece published in The Washington Post praising governors' "presidential-style leadership" did not include a single woman. A CNN list of the next five governors to watch on coronavirus included only one (Michigan's Gretchen Whitmer).
Although only nine of the nation's 50 governors are women, a high-water mark first reached in 2004—none are black. One is Hispanic, the sole woman governor of color.
Nevertheless, across the country and across party lines, women executives have been stepping up in big ways—proving why we need more of them in governors' mansions and city halls.
Whitmer was among the first governors in the nation to take the difficult, decisive action to close all K-12 schools and public universities.
Maine Governor Janet Mills was granted emergency powers to lead the state through the crisis.
New Mexico Governor Michelle Lujan Grisham, the nation's only Latina governor, quickly moved to prevent people from hoarding supplies from stores.
Oregon Governor Kate Brown, the country's first openly LGBTQ governor, issued a decisive executive order to keep Oregonians at home.
And South Dakota's first woman governor, Kristi Noem, is helping the state brace for infection rates that will peak later than much of the rest of the country.
In Chicago, Mayor Lori Lightfoot, the city's first openly LGBTQ, black woman mayor, set a national standard with her plan to rent thousands of empty hotel rooms and reopen a shuttered hospital to house coronavirus patients.She also issued a viral video, using humor to encourage residents to stay home.
Governor Gina Raimondo's strong leadership in Rhode Island has inspired young girls to set up podiums in their living rooms to conduct their own daily briefings.
And in Washington, D.C., Mayor Muriel Bowser is fighting to make sure the city receives a fair share of COVID-19 relief funding.
Together, women governors paint a picture of leadership that is competent, commanding and calm under pressure. That's nothing new for women. Yet Americans still tend to associate executive-grade toughness, sureness and assertiveness with men. Why?
At the Barbara Lee Family Foundation, we've spent the past 20 years studying women executive officeholders and candidates. Our research has consistently shown women face an impossible bind: If they don't show strength, voters don't think they are qualified. If they act too tough, they're unlikeable. It's one of the many reasons why, although voters have been increasingly comfortable seeing women serve as members of a legislature, they have long been uneasy about electing women to executive roles.
But crises clarify—and this one is showing why we need more women in these crucial leadership roles.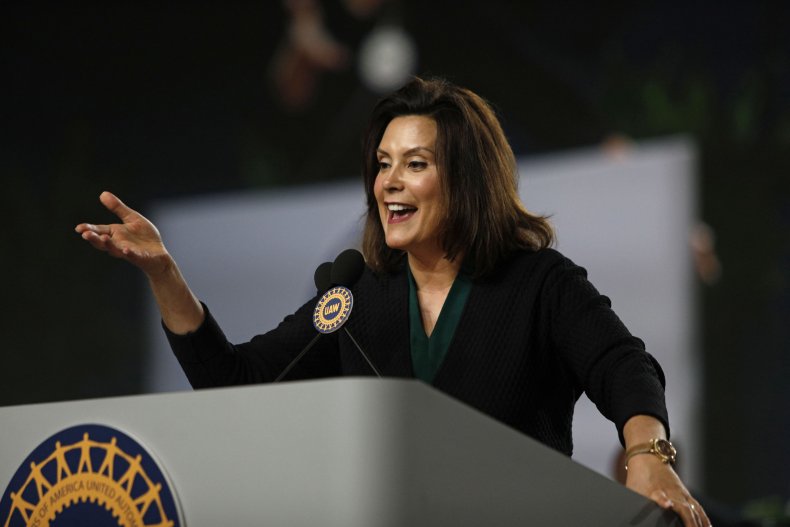 First, women come to the job prepared. Our research has found that voters continue to hold women to different and higher standards when it comes to qualifications. That means no woman who reaches the mayor's or governor's office gets there by accident—she must be highly accomplished and capable on day one.
Second, women executives bring diverse, critical perspectives to the decision-making table. Consider the impact of mayors like San Francisco's London Breed, the first woman of color to hold her position and a former resident of the city's public housing. She's led the way in imposing a moratorium on coronavirus-related evictions and socially distant housing for the homeless. Or Mayor Linda Gordon of Lexington, Kentucky—a registered nurse who understands firsthand the challenges facing health care workers, nearly 80 percent of whom are women.
And, let's not forget the many, many state and local executives who are now among the mothers tasked with balancing work and child care.
Crises always hit the most vulnerable in our society hardest; more diverse perspectives catch more blind spots, ensuring the burden doesn't fall disproportionately on women, especially women of color.
Finally, and importantly, just by doing their jobs, women governors and mayors pave the way for more leaders like them.
Our latest research shows that voters support action-oriented candidates for governor. The top trait voters listed when rating electability was "can handle a crisis." This moment of enormous visibility, where women governors and mayors are at the top of the hour—and the top of their game—shows young women and girls, and voters everywhere, that women are effective leaders.
This crisis is reshaping our society, our economy and our lives at warp speed. Let's make sure it also reshapes our notion of what executive leadership looks like.
Barbara Lee is president and founder of the Barbara Lee Family Foundation, which seeks to elevate women in the fields of politics and contemporary art.
The views expressed in this article are the writer's own.