Coronavirus Death Risk Could Be Higher for Patients With High Blood Pressure, Chinese COVID-19 Doctor Claims
People with high blood pressure could be at greater risk of dying from COVID-19, the disease caused by the new coronavirus, according to a doctor in China working on the outbreak.
Professor Du Bin, who was sent to the city of Wuhan where the outbreak started in December last year, told Bloombergthat of a group of 170 patients who died in the city, almost half had the condition also known as hypertension.
High blood pressure, which affects tens of millions of U.S. adults, means the heart must work harder to pump blood around the body. This is a risk factor for heart disease, heart attacks and strokes.
Du, director of the intensive care unit at Peking Union Medical College Hospital in the Chinese capital of Beijing, said on the phone from Wuhan: "That's a very high ratio."
"From what I was told by other doctors and the data I can see myself, among all the underlying diseases, hypertension is a key dangerous factor," he said.
Older people, who are an at-risk group, and those with high blood pressure are a "key focus" for him and his colleagues.
His claims have not been published in a peer-reviewed journal, a process that allows experts to assess research to ensure it is of a high standard. Addressing this, Du said: "Though there is no research published on that yet, we believe hypertension could be an important factor in causing patients to deteriorate, leading to a bad prognosis."
Sanjaya Senanayake, professor of infectious diseases at The Australian National University, told Newsweek when such an observation is made: "The first question is whether it is accurate or not." If the finding holds up to analysis, he said, then the question is whether high blood pressure causes people to die of COVID-19 or if the two factors are simply linked. It isn't clear whether it is an association or an example of causation, said Senanayake.
It could be that people with hypertension are likely to be older and have other underlying health issues. "Therefore, they are more prone to a severe bout of COVID-19. It is not that the hypertension per se leads to an increased susceptibility to death," explained Senanayake.
"Causation means that hypertension can lead to increased susceptibility to death. For this to occur, it needs to be a biologically plausible explanation. One possibility is the effects that long-term hypertension can have on the cardiovascular system might affect the outcome when someone gets COVD-19," said Senanayake. "Such effects on the heart include hypertensive cardiomyopathy where the pumping of the heart is affected."
Dr. Eduardo Sanchez, chief medical officer for prevention at the American Heart Association, told Newsweek a JAMA study published two weeks ago on 72,314 cases of COVID-19 in China through February 11 showed there "appears to be an increased risk of more severe complications including death for people with high blood pressure." The death rate was highest for people with cardiovascular disease at 10.5 percent, compared with 6 percent for those with hypertension.
"COVID-19 is a new coronavirus, so we are still learning about its pathology—how it is transmitted, the symptoms and severity of how it attacks the body, and understanding of which individuals are most vulnerable to severe complications and death," said Sanchez.
"We are not at all surprised that individuals with cardiovascular disease, hypertension and diabetes in China experienced worse outcomes," he said. "It is why we strongly encourage people with these conditions to get the annual influenza vaccine. The guidance from the CDC [U.S. Centers for Disease Control and Prevention] acknowledges that people with cardiovascular disease, hypertension and diabetes are at increased risk for influenza and viral pneumonia and should exercise a greater degree of prevention/protection from COVID-19."
"For heart and stroke patients, prevention is key. Your risk is not higher for getting the coronavirus as a patient, but if you do get it you have a higher chance to suffer complications, just as you do with the seasonal flu. Patients should speak with their primary care doctor or cardiologists for specific concerns." Sanchez explained. (The World Health Organization's advice for preventing the spread of COVID-19 is outlined in the box beneath the map below).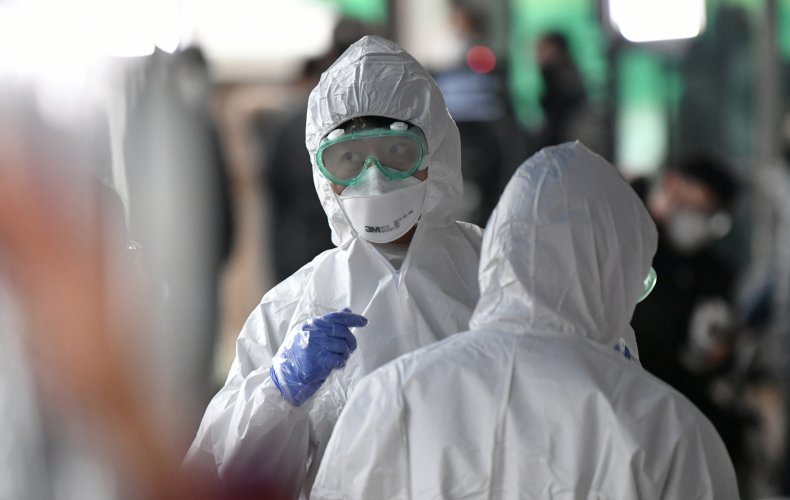 His observation came the day a study was published in The Lancet detailing the risk factors that might make an adult more likely to die from COVID-19. The team looked at 191 patients in two hospitals in Wuhan, 137 of whom were discharged and 54 died in hospital by January 31. Of the total, 48 percent had an underlying condition, with high blood pressure the most common and present in 30 percent of patients, followed by diabetes, and coronary heart disease.
The team found those with diabetes or coronary heart disease were more likely to die, as well as those with the symptoms of sepsis, or blood clotting problems, but didn't mention high blood pressure.
Keith Neal, emeritus professor in the epidemiology of infectious diseases at the University of Nottingham, U.K., who was not involved in the research, said of the paper in a statement: "The risk factors for death of severe illness and increased age are already recognized and common to nearly all infections. Underlying health conditions associated with infection has also been previously reported."
Since the outbreak of COVID-19 started in Wuhan, over 4,200 people worldwide have died in over 119,000 cases according to a virus tracker by Johns Hopkins University and indicated in the map by Statista (accurate as of March 10) below. A total of 65,000 people who have tested positive for the virus have recovered. Most of the deaths have occurred in Hubei, at over 3,000.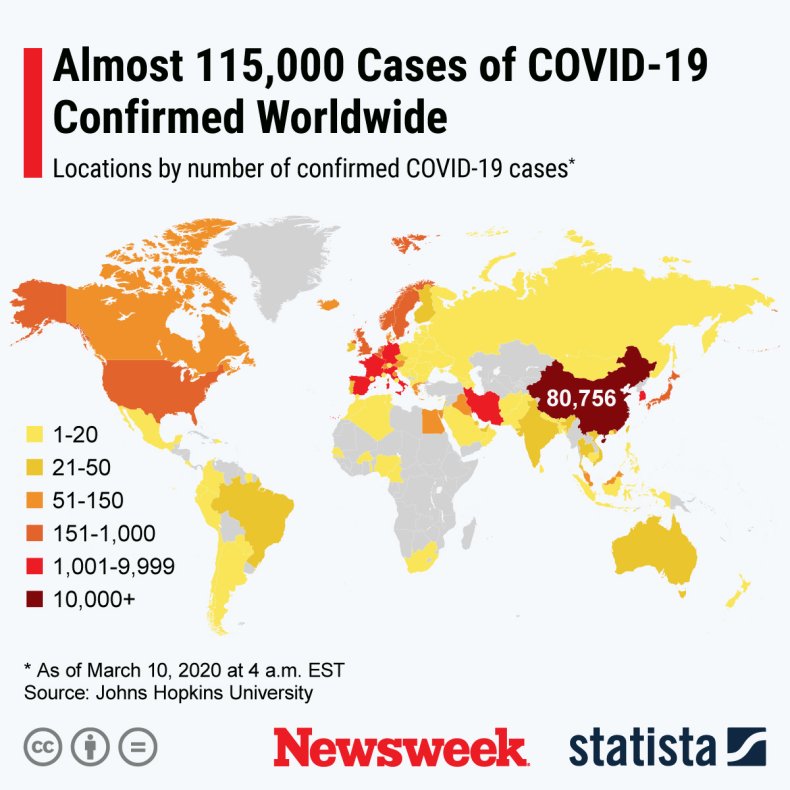 World Health Organization advice for avoiding spread of coronavirus disease (COVID-19)
Hygiene advice
Clean hands frequently with soap and water, or alcohol-based hand rub.
Wash hands after coughing or sneezing; when caring for the sick; before; during and after food preparation; before eating; after using the toilet; when hands are visibly dirty; and after handling animals or waste.
Maintain at least 1 meter (3 feet) distance from anyone who is coughing or sneezing.
Avoid touching your hands, nose and mouth. Do not spit in public.
Cover your mouth and nose with a tissue or bent elbow when coughing or sneezing. Discard the tissue immediately and clean your hands.
Medical advice
If you feel unwell (fever, cough, difficulty breathing) seek medical care early and call local health authorities in advance.
Stay up to date on COVID-19 developments issued by health authorities and follow their guidance.
Mask usage
Healthy individuals only need to wear a mask if taking care of a sick person.
Wear a mask if you are coughing or sneezing.
Masks are effective when used in combination with frequent hand cleaning.
Do not touch the mask while wearing it. Clean hands if you touch the mask.
Learn how to properly put on, remove and dispose of masks. Clean hands after disposing of mask.
Do not reuse single-use masks.