Coronavirus Death Toll in America Surpasses 400,000
Nearly a year into the pandemic, America passed another grim milestone on Tuesday as the nation surpassed 400,000 deaths from COVID-19, more than any number of American battle deaths in a single war.
President Donald Trump considers himself a wartime president because of the battle the country was fighting against COVID-19 for the bulk of his final year in office. As he prepares to leave office on Wednesday, President-elect Joe Biden, who campaigned heavily on his ability to be the pandemic leader America needs, will inherit a nation that faces a "concerning" new strain and continuously sees more than 3,000 daily deaths from the novel coronavirus.
"That's staggering to state the obvious," Biden said on Friday about the looming milestone. "I know the pain that so many of you are experiencing right now."
On Tuesday, a Johns Hopkins University tracker recorded 400,002 deaths in the United States. The death toll from the pandemic is higher than the American deaths seen in battle during any single war, according to the Department of Veterans Affairs, and is higher than World War II, America's deadliest war, by about 108,000 deaths.
America has recorded the most deaths of any country, and the Institute for Health Metrics and Evaluation (IHME) predicted that the number of lives lost could surpass 566,000 by May 1. The country also leads in the number of cases. On Monday, the U.S. passed the mark of more than 24 million people who have been infected. That number could rise to more than 38 million by May, according to IHME.
"We didn't get into all of this overnight. We won't get out of it overnight either. But we will get through it, and we'll get through it together," Biden said during his Friday speech.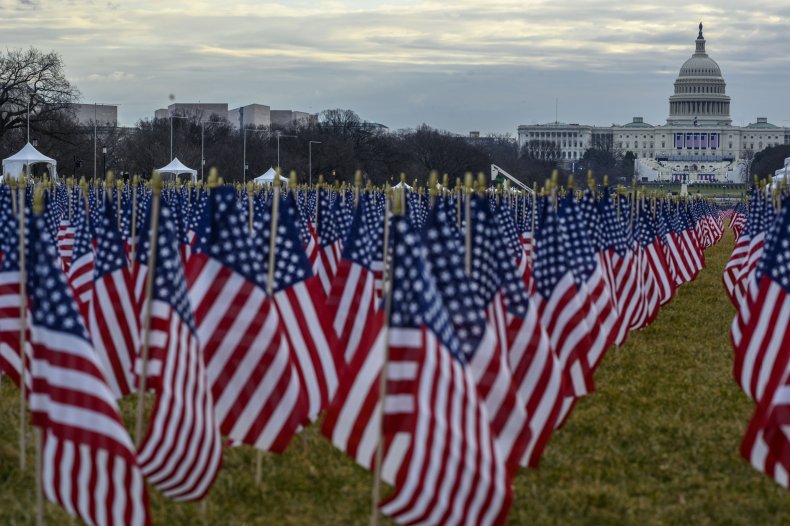 Biden made COVID-19 a priority of his campaign and has lofty plans for combating the pandemic in his first 100 days in office. He intends to mandate masks "where he can under the law," including federal buildings and public transportation and to vaccinate 100 million people in three months.
Trump was unable to meet his administration's goal of vaccinating 20 million people by the end of December, requiring him to vaccinate more than 6 million people each week since Pfizer received an Emergency Use Authorization. Biden's goal of vaccinating 100 million people in 14 weeks will require him to vaccinate more than 7 million people weekly, but it's a goal that Dr. Anthony Fauci, director of the National Institute of Allergy and Infectious Diseases (NIAID), considers achievable.
"The issue of getting 100 million doses in the first 100 days is absolutely doable," Fauci said on NBC News' Meet the Press on Sunday. "The feasibility of his goal is absolutely clear, there's no doubt about that, that can be done."
About 80 percent of America's deaths are among people 65 years of age and older, according to the Centers for Disease Control and Prevention (CDC) and the vaccine is considered one of the key players in ending the pandemic and protecting lives. But, getting it into people's arms has proven to be a slower process than promised.
As of Friday, more than 31 million doses were distributed, but only about 12 million have been administered, according to the CDC. Fauci attributed this in part to states taking the CDC's recommendations to vaccinate by risk groups as restrictions and not just guidelines. If there are more doses than people in the priority group, Fauci advocated for states to move down the list of groups instead of throwing out doses.
While doable, Biden doesn't seem to be taking the task lightly and called it one of the most "challenging operational efforts" the country has ever undertaken.