Dead Bodies Stored in Coolers As Arizona Coronavirus Deaths Surge
Novel coronavirus cases in Arizona have hit over 182,000, with deaths approaching nearly 4,000, according to the latest report Thursday by Johns Hopkins University. The climbing death toll has seen dead bodies transferred to cooling units as the state copes with a surge in fatalities.
Twenty-two bodies in Maricopa County, the home of state capital Phoenix, were moved from the medical examiner's office to coolers to create space for other cases requiring investigation.
The medical examiner's office has hit 85 percent capacity, which triggered the move, the director of the Maricopa County Department of Emergency Management, Robert Rowley, confirmed to 12 News.
"There's been a sharp increase in deaths in Maricopa County," he noted, adding: "We just wanted to make sure we always had plenty of extra space."
The medical director for disease control at the Maricopa County Health Department, Dr. Rebecca Sunenshine, said at a news conference Wednesday: "We did see a significant increase in the number of deaths in June and July. We know that many of those are due directly to COVID-19."
The executive director of the Arizona Board of Funeral Directors & Embalmers, Judith Stapley, told 12 News: "There is a spike in deaths for sure. Funeral homes are working their tails off to serve Arizona consumers."
Maricopa County has reported 2,204 novel coronavirus deaths, more than half of the state's total COVID-19 death count of 3,932.
Last month, the county rented 14 refrigerated units that could store up to 280 bodies and more than double morgue capacity ahead of the expected surge in deaths, Reuters reported.
The units are available for storing bodies through mid-January. The latest measure was reported to be the first time, in at least a decade, that the medical examiner's office had to acquire refrigeration space.
The seven-day rolling average of daily new COVID-19 deaths in Arizona has been climbing since early June, rising on a sharper incline from around July 5 to 23, before mostly dropping, according to data compiled by Worldometer.
The three-day average of daily new cases in Arizona began increasing on a steeper incline from late May, peaking at 4,300 on July 1, after which it has been mostly declining, according to data compiled by Johns Hopkins University.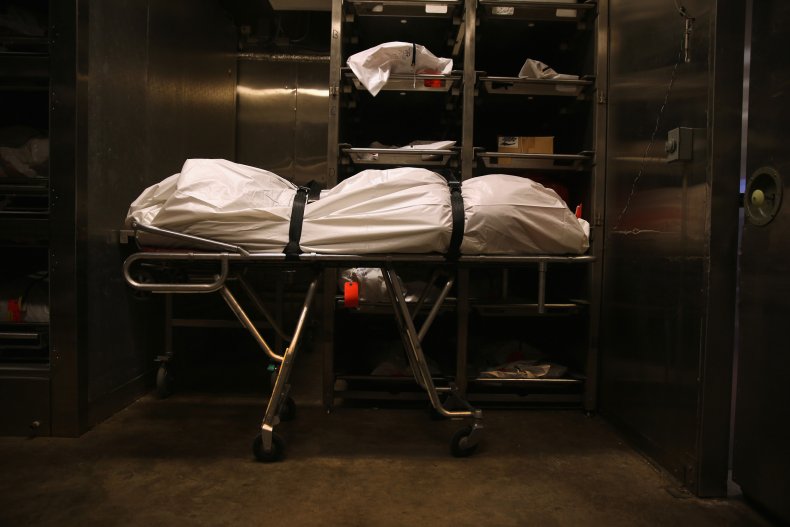 Over 18.8 million people globally have been infected since the virus was first reported in Wuhan, China, including more than 4.8 million in the U.S. Over 11.3 million globally have reportedly recovered from infection, while more than 707,700 have died, as of Thursday, according to the latest figures from Johns Hopkins University.
The graphics below, provided by Statista, illustrate the spread of COVID-19 cases in the U.S.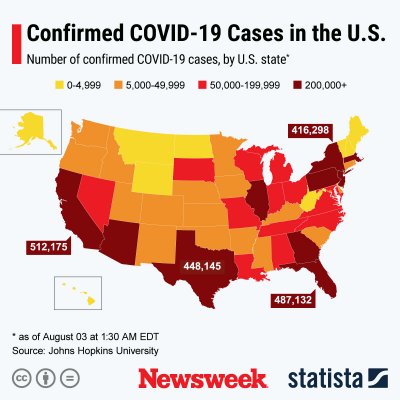 The graphic below, provided by Statista, illustrates countries with the most COVID-19 cases.