Coronavirus Deaths in Georgia Surpass 1,000 as State Reopens
The novel coronavirus death toll in Georgia has now surpassed 1,000, amid the state's reopening plans.
According to a tracker provided by Johns Hopkins University there are at least 1,036 deaths in Georgia, as well as over 24,000 confirmed cases.
The increasing number of cases and deaths in the state comes as Georgia begins to lift its coronavirus lockdown measures, such as reopening nonessential businesses like barbershops, hair salons and bowling alleys.
Georgia Governor Brian Kemp's decision to reopen the state has been questioned by some, as the state has not yet met the reopening guidelines outlined by the White House.
The guidelines for states to reopen include an array of different criteria, such as the downward trajectory of documented COVID-19 cases over a 14-day period. The guidelines also include requirements for hospitals, which must be able to treat all patients without crisis care, have a robust testing program for health care workers, and an emerging antibody testing program.
Georgia has yet to meet a number of the guidelines to reopen, but has continued to move forward with Kemp's orders, allowing movie theatres to resume operations and restaurants to offer dine-in service, in addition to other nonessential businesses opening up again.
Throughout the state's reopening process, Kemp has received criticism from many, including President Donald Trump.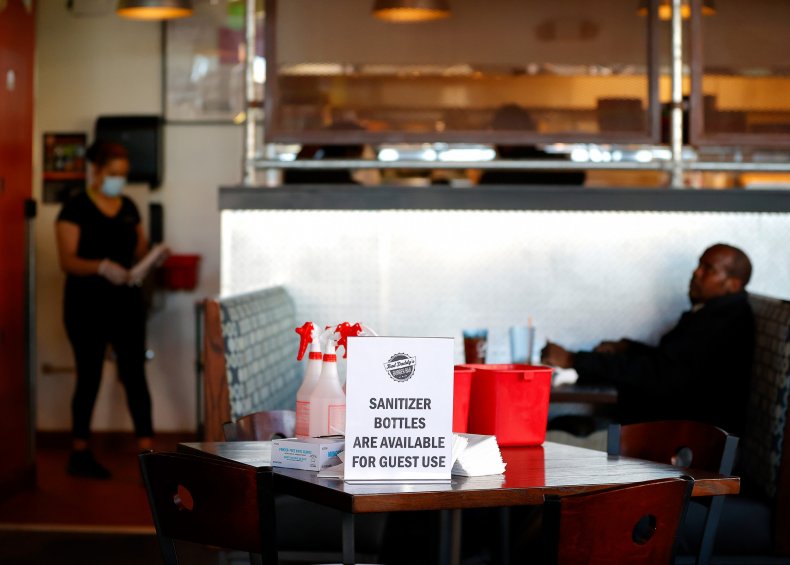 During a White House coronavirus task force briefing last Wednesday, Trump stated that he "strongly" disagreed with Kemp's decision to reopen.
"I told the governor of Georgia, Brian Kemp, that I disagree strongly with his decision to open certain facilities," Trump said. "I think it's too soon, and I love the people. I love those people that use all of those things, the spas, the beauty parlors, the barbershops, tattoo parlors, I love them. But they can wait a little bit longer, just a little bit—not much —because safety has to predominate."
In addition to Trump's remarks, South Carolina Senator Lindsey Graham and Michael Fowler, a coroner in the city of Albany, Georgia made similar comments.
"I respect what South Carolina Governor @henrymcmaster announced yesterday – a small reopening of our state's economy with a focus on social distancing. I worry that our friends and neighbors in Georgia are going too fast too soon," Graham wrote in a tweet.
In a recent story published by The Washington Post, Fowler wrote about the issues he has faced as a coroner during the pandemic, suggesting that the state could have waited a little longer to reopen.
"I'm always driving, going back-and-forth between nursing homes, the hospital and the morgue. All these roads should be empty if you ask me. But now I see people out running errands, rushing back into their lives," Fowler wrote. "And it's like: 'Why? What reason could possibly be good enough?' Sometimes, I think about stopping and showing them one of the empty body bags I have in the trunk. 'You might end up here. Is that worth it for a haircut or a hamburger.'"