Coronavirus Deaths in Massachusetts Surpass 4,000 as Large Crowd of Protesters Gather Outside State House Demanding Reopening
Protesters descended upon the Massachusetts State House in Boston Monday, demanding an end to stay-at-home orders enacted by Governor Charlie Baker. Baker extended the orders until May 18 in April, although they were originally slated to end on Monday.
Known as the Liberty Rally, the protest occurred on the same day that information from the Massachusetts Department of Public Health released Monday showed 86 new fatalities attributed to the coronavirus, bringing the state's total deaths to 4,090.
Massachusetts conservative radio host Jeffrey Kuhner posted about the rally on his Twitter feed on Sunday, encouraging people to attend.
"Media wants to blackout coverage," Kuhner tweeted in part. "Don't let them! Pass the word around. Boston's Patriots are RISING!"
Kuhner also spoke at the protest, referring to the governor as "King Charlie 'Faker.'"
"You are not our dictator and we are not your servants," Kuhner said Monday. "We are proud patriots letting you know, not asking, but demanding, end the shutdown now."
"Massachusetts is the cradle of liberty where America's revolt against tyrannical government began," read a website designed to promote the demonstration. "We are calling upon the citizens of our state to come out in force on May 4th to demand that the Governor and his minions let the people get back to work. It's time to re-open Massachusetts and restore liberty."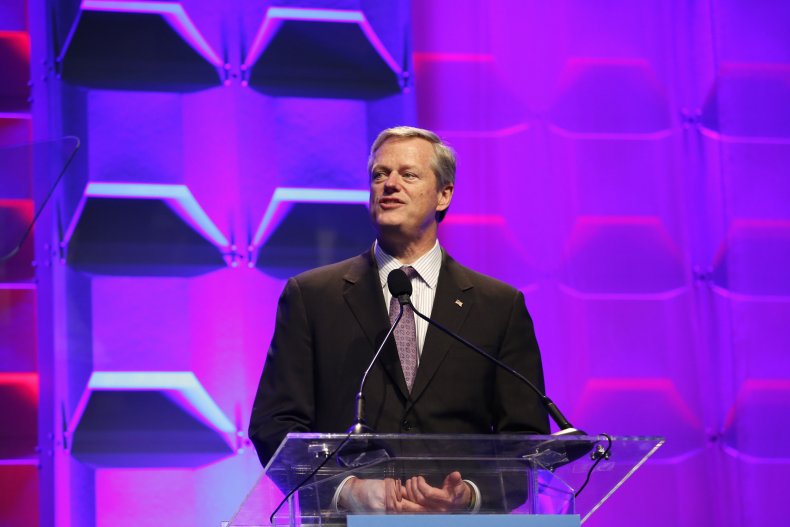 Baker emphasized that while the state was seeing some results from its mitigation efforts, state leaders would still rely on data to make final decisions about when to reopen.
"We do believe and buy into the guidance that we've gotten from experts in the field that you need to see downward trends in a number of key indices associated with this virus for some period of time before you can actually reopen, and that's the reason why we created the reopening task force, and it's why we've spent so much time working with our colleagues in the health care community to develop a set of indices that we report on every single day," Baker said during a Monday news briefing.
"And as I said in my remarks, you know, after a really long time of not seeing much positive traction at all with regard to those measures, in the course of the past few days, we've actually started to see some positive downward trends," Baker continued.
Newsweek reached out to both Kuhner and Governor Baker's office for comment. This story will be updated with any response.
In April, Baker said he had formed a Reopening Advisory Board for Massachusetts which would, according to a press release, advise the administration "on strategies to reopen the economy in phases based on health and safety metrics." While a report is expected from the advisory group by May 18, "public health data and guidance from health care experts will dictate the timeline of the reopening process."
Baker announced an order Friday for all Massachusetts residents over the age of 2 to wear face masks in public situations where the maintenance of social distancing guidelines is not feasible. Face coverings are also required by any individual using Massachusetts mass transit. Employees at essential businesses must also wear face masks.
"This order builds on that same idea that everyone doing a small thing, all the time, can go a long way to improving everyone else's ability to avoid the virus," Baker said Friday.