Coronavirus Deaths in New York Continue to Fall as State Sees New Lowest Rate In Three Weeks
Coronavirus-related deaths in New York state reached their lowest daily toll on Friday with Governor Andrew Cuomo reporting 422 deaths, the lowest number since April 1 when 391 people died from the virus.
State hospitalizations connected to the virus have also gone down 25 percent since their highest point on April 13, according to Cuomo. The number of high-risk patients on ventilators has also fallen for nearly 12 consecutive days, Cuomo added.
But while the number of newly confirmed cases has decreased from nearly 11,000 per day during the first week of April to 6,000 per day now, the fact that the number of new cases remains in the thousands concerns Cuomo.
While new hospital admissions for the virus dropped 5 percent over the last week, they had dropped 35 percent the previous weekend, meaning that they're not decreasing as fast.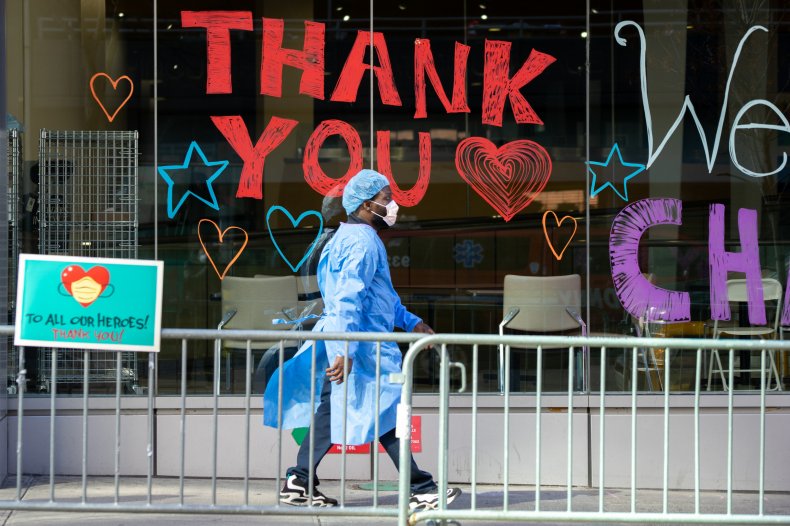 "We are encouraged by the data which suggest the curve is flattening in New York and we are working with the city and state to begin the strategic drawdown of resources," said a spokesperson for the Federal Emergency Management Agency (FEMA).
On Friday, FEMA announced it plans to shut down the makeshift field hospital set up by the federal government at the Javits Center convention hall in New York City by May 30.
The Javits Center had been intended as an emergency field hospital meant to take the pressure off of overcrowded local hospitals in the midst of the epidemic. However, the 2,500-bed center remained mostly empty, only ever admitting around 500 patients total, due to its strict admission requirements that only allowed recovering Covid-19 patients after meeting criteria on a 25-point checklist for admission, according to Business Insider.
In a Tuesday appearance on MSNBC, Cuomo said his state would also no longer need the Navy medical ship, the USNS Comfort, since hospitalizations in New York City have begun decreasing. Cuomo reportedly told President Donald Trump that the ship should be sent anywhere else where it's needed more.
"It was very good to have in case we had overflow, but I said we don't really need the Comfort anymore," Cuomo said to MSNBC anchorwoman Nicolle Wallace. "It did give us comfort but we don't need it anymore, so if they need to deploy that somewhere else, they should take it."
Despite the decline in overall numbers, New York remains the national hotspot of the epidemic with 263,000 confirmed coronavirus cases and 15,740 deaths so far—the highest number of both among U.S. states so far.