The majority of Americans are in favor of moving non-violent offenders out of prison and into alternative programs during the coronavirus pandemic, a study has found.
Conducted by Beacon Research and Shaw & Company Research and released by the Justice Action Network and #cut50, the poll—which was carried out between July 23 and 27—found that of 1,504 people surveyed, two thirds (66 percent) were in favor of moving non-violent offenders out of prison due to the risks posed by the virus, which causes the respiratory disease COVID-19.
That share was even higher when it came to prisoners over the age of 60, with people in their sixties and above believed to be more at risk of suffering serious health consequences from COVID-19.
While Republicans were the least likely to support such a measure, six in ten (59 percent) were in favor of moving older prisoners into home detention, compared with 65 percent of independents and 78 percent of Democrats.
"Public health and public safety don't have a political party, and that's exactly why a majority of Americans from the left, right and center support these reforms," said Holly Harris, Executive Director of Justice Action Network, in a statement shared with Newsweek.
"They understand that addressing the COVID-19 crisis in our justice system is a matter of life-and-death for thousands of incarcerated people, corrections staff, their families, and their surrounding communities," Harris said.
So far, the coronavirus outbreak in the U.S. has led to the deaths of at least 766 people in federal and state prisons, according to The Marshall Project, a non-profit platform covering criminal justice issues.
In the week of July 28th, deaths appeared to spike, with federal and state prisons seeing a collective 53 deaths in a single week after experiencing 10 consecutive weeks in which fewer than 45 people died after numbers surged in April and May.
The below chart from Statista shows the U.S. states with the most COVID-19 cases generally.
In state prisons, Texas has seen the most deaths, with 102 people dying of COVID-19, while Ohio has seen the second highest number of deaths, with 88 people dying of the disease, according to The Marshall Project.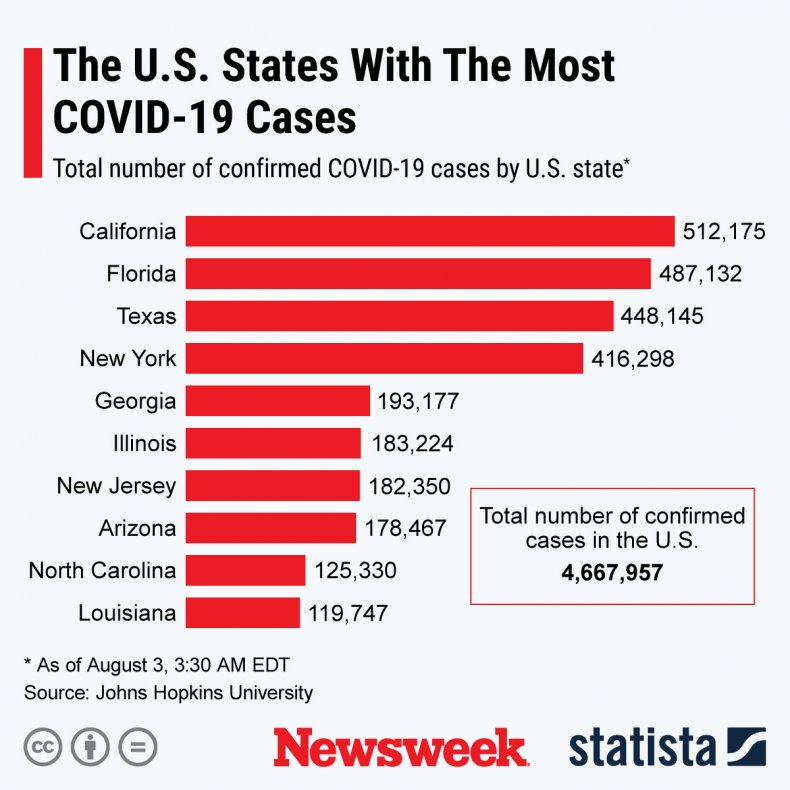 Of the 766 people who have died, at least 105 have died in federal prisons, according to data from the Bureau of Prisons (BOP).
Only four of those deaths, however, have happened in home confinement.
Since late March, the BOP has been releasing inmates considered at risk of suffering serious health consequences as a result of contracting coronavirus, as per a memo released by Attorney General William Barr.
In the months since, at least 7,282 prisoners have been released to home confinement, according to the BOP's website.
Meanwhile, of the 128,601 federal inmates in BOP-managed institutions and 13,806 in community-based facilities, 2,353 federal inmates have "confirmed positive test results for COVID-19 nationwide," according to the bureau, while at least 8,256 inmates have recovered from the virus.
In addition to supporting the release of non-violent offenders from prisons amid the pandemic, the majority (53 percent) of those polled said they believed America's criminal justice system is failing.
The vast majority were in support of bringing major reforms to the criminal justice system, including the creation of a national use-of-force standard (85 percent) creating national standards for body camera footage (82 percent) and increasing funding for rehabilitation and job training for prisoners (83 percent.)
"An overwhelming majority of Americans across every conceivable divide want to see policing and criminal justice reform, making these rare areas of bipartisan agreement between Republican and Democratic voters," said Daron Shaw, of Shaw & Company Research in a statement.
The data, Shaw said, suggested that "voters want action on criminal justice reform, and they are prepared to reward politicians who champion criminal justice reform and reject those who stand in the way."