Exclusive: Defense Department Expects Coronavirus Will 'Likely' Become Global Pandemic in 30 Days, As Trump Strikes Serious Tone
As President Donald Trump assured the public his administration was properly handling the new coronavirus, a document from the Department of Defense showed that officials are preparing for the possibility that COVID-19 may have a significant global impact.
The warning came as part of Thursday's Joint Chief of Staff daily intelligence brief and, according to a document obtained by Newsweek, officials expect COVID-19 will "likely" become a global pandemic within the next 30 days.
Officials have expected global cases would spread. On Tuesday, the National Center for Medical Intelligence (NCMI) raised the Risk of Pandemic warning. It went from WATCHCON 2, a probable crisis, to WATCHCON 1, an imminent crisis, due to sustained human-to-human transmission outside of China, according to a report summary obtained by Newsweek.
COVID-19 has touched every inhabitable continent, infecting more than 82,000 people worldwide since it was first identified last December, including potentially 65 people in the United States. Of the cases in the U.S., the Centers for Disease Control and Prevention (CDC) confirmed two were of unknown origin, indicating the possibility of community spread. Then on Saturday, a woman in Washington state became the first death in America.
As COVID-19 continues to spread worldwide, the risk to DoD members deployed throughout the world increases, and one service member has already tested positive. United States Forces Korea (USFK) confirmed Tuesday that a 23-year-old soldier stationed at Camp Carroll, located in Waegwan, South Korea, was the first service member known to have the virus and his wife tested positive on Saturday.
"The DoD is concerned not only the impact COVID-19 has on mission readiness, but the risk to inadvertently spread the virus to the U.S. by returning members who may have been exposed," a senior Pentagon official told Newsweek.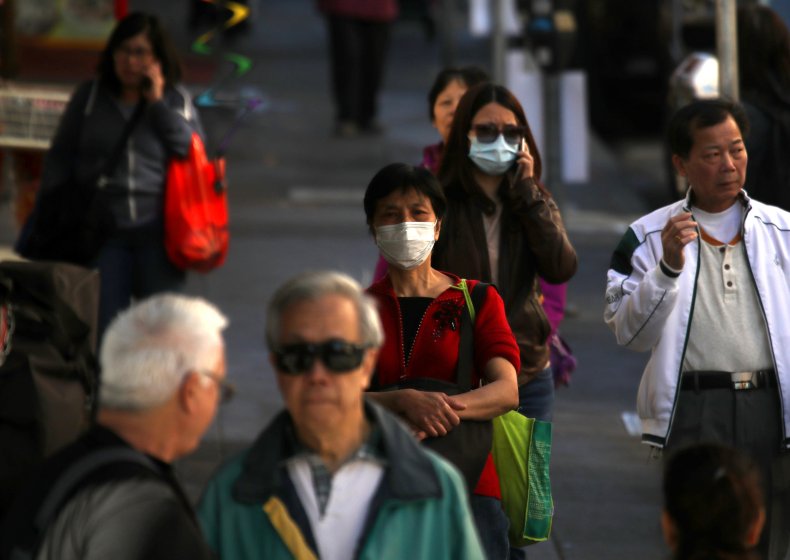 When asked for comment, Jessica R. Maxwell, a DOD spokesperson, said the DoD has "contingency plans in place and are taking steps to educate and safeguard our military and civilian personnel, family members and base communities in preventing widespread outbreak." But ultimately, "Commanders of individually affected geographic commands will be and are issuing specific guidance to their forces as their situations may require."
The military has already taken steps to curb the spread of the virus, including prohibiting service members, DoD civilians and contractors from traveling to mainland China, as well as nonessential travel to South Korea. USFK service members are also restricted from attending non-essential off-installation activities, such as going shopping or to bars and movie theaters and eating at restaurants.
Health officials from the CDC and Department of Health and Human Services maintain the risk to the general public is low, as the U.S. hasn't seen sustained community spread. But, they're preparing for that moment and Dr. Nancy Messonnier, CDC's director of the Center for the National Center for Immunization and Respiratory Diseases, said it was inevitable.
"It's not so much a question of if this will happen anymore but rather more a question of exactly when this will happen and how many people in this country will have severe illness," Messonnier said.
The use of the term "pandemic" in the briefing documents described a global outbreak, whereas an "epidemic" would be confined to a country," a senior Pentagon official told Newsweek. During a pandemic, a large number of people in several countries or continents are affected, according to the CDC.
The World Health Organization has rejected classifying the outbreak as a pandemic, claiming it doesn't change response measures and can cause unnecessary fear. But, that's where the situation is headed, according to Messonnier. She said two criteria of a pandemic–a virus causing illnesses resulting in death and sustained person-to-person spread–have already been met and we're moving "closer" to meeting the third criteria: worldwide spread.
"This is very serious," President Donald Trump, the commander in Chief, said on Saturday. For members of the military who deploy and travel worldwide, the spread of COVID-19 poses a new risk to their health and safety.